A beautifully moist poached chicken with oyster sauce, sauteed onions, fried shallots and fresh cilantro.
By Christina Soong-Kroeger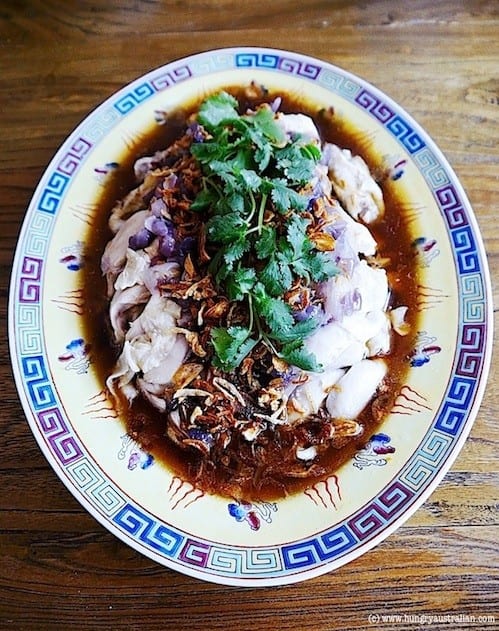 Silky Chinese Chicken was inspired by a dish my dad once made when I was still living at home. I made it recently for our Chinese New Year family dinner and it was received with surprise and delight.
Well, to be perfectly frank, what my dad said was,"this is actually quite good" in tones of sheer amazement.
Being an Australian Born Chinese or ABC, my response to his lukewarm praise was, "well, thanks a lot, Dad. Glad I could make something edible for you."
Dad laughed and explained that he had to temper his praise because I'm his daughter. To the Chinese way of thinking, it would have been unseemly to praise me too much.
So him saying, "this is actually quite good" could be translated to mean, "wow, this is sensational! You're a rockstar!" in Western terms.
Lessons in cultural differences aside, Silky Chinese Chicken dish is delicious and very easy to make. You poach a chicken gently until it is moist and succulent. Then you simply spoon over a sauce made from oyster sauce, chicken stock, soya sauce and sugar before garnishing with sauteed onions, deep-fried shallots and fresh coriander. And that's it. Too easy.
See Also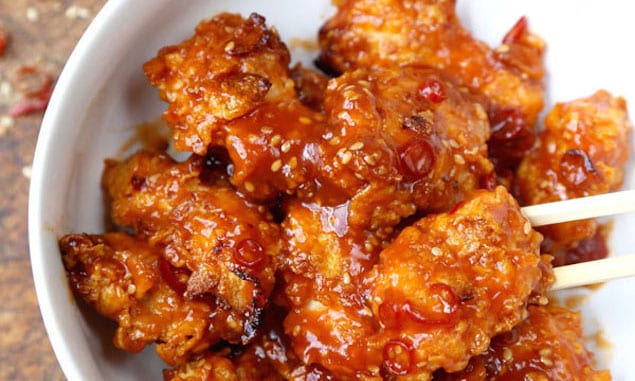 This is Chinese comfort food, but comfort food that could equally hold its own as part of a dinner party menu. Serve it with plain rice and fried Asian greens for a simple, everyday feast.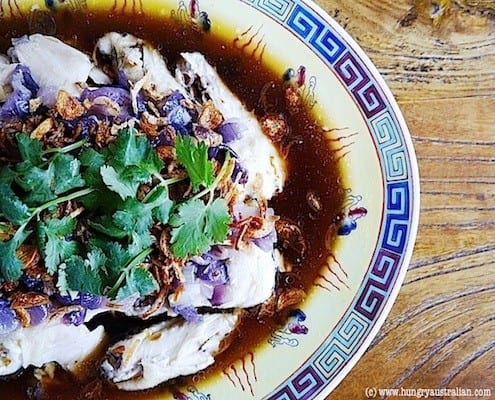 Dining Down Under: Silky Chinese Chicken
A beautifully moist poached chicken with oyster sauce, sauteed onions, fried shallots and fresh cilantro.
Author:
Christina Soong-Kroeger
Ingredients
1 free-range chicken
1 quart water
1 4cm piece fresh ginger, peeled
1 onion, peeled and roughly chopped
6 whole cloves garlic, peeled and roughly chopped
1 carrot, peeled and topped
3 red onions, peeled and sliced
3 garlic cloves, minced
Three tablespoons oyster sauce (I like MegaChef brand)
1 tablespoon light soy sauce
1 teaspoon brown sugar or grated palm sugar
1 tablespoon Shaoxing wine
Fried shallots
Instructions
Wash chicken and cut off excess fat.
Bring water to boil in large pot with ginger, one onion, six cloves garlic and carrot.
Once water is boiling, drop in chicken and then bring back to a gentle simmer.
Simmer chicken gently for 40 minutes until cooked through. Lift chicken out of pot (I find inserting a wooden spoon into the cavity the easiest but watch out for hot dripping soup) and place on chopping board to cool. Strain stock, removing onion, carrots, ginger and garlic and then set aside – you'll need three quarters of a cup of stock for the sauce and you can use the rest as a basis for a soup.
Meanwhile, get on with frying the onions. Heat up a tablespoon of oil in a large fry pan and then add three sliced onions and three minced garlic cloves. Cook over a low-medium heat, stirring occasionally until soft and caramelising - around 15 minutes. Tip out onto a plate lined with kitchen paper to absorb excess grease and set aside.
Next, make the sauce by mixing three quarters of a cup of chicken stock from the pot with three tablespoons oyster sauce, one tablespoon soy sauce, one teaspoon sugar and one tablespoon Shaoxing wine. Bring to boil and then cook for 8-10 minutes over medium heat until sauce has reduced slightly. Set aside.
While the sauce is cooking you can start cutting up the chicken with a cleaver or heavy knife. Separate the wings and drumsticks from the body along the joints, then cut along the backbone and remove each breast. Remove skin if you wish and then cut into small pieces and arrange on serving plate. Make sure you choose a plate that is deep enough to accommodate the sauce as well.
To serve, ladle sauce over chicken and then spoon over sauteed onions. Cover with fried shallots and then garnish with fresh coriander.
Christina Soong-Kroeger
Christina publishes The Hungry Australian - a collection of recipes, reviews and stories about food - and is a regular contributor to Sumptuous. Her writing has appeared in the China Daily and That's Shanghai while her photography regularly appears on Foodgawker, Tasteologie and Photograzing. After eating her way around Shanghai, London, Hong Kong, Leeds and Melbourne, she now calls Adelaide, South Australia, home again.