Dimes is a comfortable neighborhood joint serving up a varied menu at affordable prices.
By Mitch Weinstein.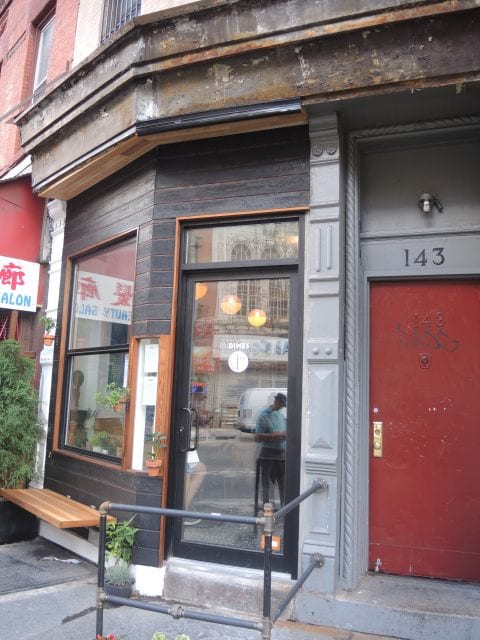 It goes something like this, the scene at an L.A. restaurant on the boulevard…
Waiter: "What will you be having, sir?"
Alvy (looking sorta askance at the menu): "I'll have the alfalfa sprouts and mashed yeast."
I'm sure you know that's from one of Woody Allen's finest movies, Annie Hall, and if you've never seen it, just…oy. C'mon – it won 4 Oscars including best picture, best director and best actress. See it sometime.
Where does that bring me? Oh yeah, Dimes, a cute brand-spanking-new little place that hovers at the triangle formed where Division meets Canal – the lower, lower east side – aka Chinatown. There's the requisite semi-legal bus stop, a newly opened tattoo parlor right next door (the neighborhood's happening like crazy right now) and also some scaffolding – why not.
Back to Woody, Annie Hall, and that L.A. California scene. When I first looked at Dimes' menu, I thought of the alfalfa sprouts/mashed yeast line, as stuff like herbed barley, spiced quinoa, chia seeds, acai bowls and wilted kale all appear. I said to Significant Eater as we decided at our tiny two-top: this place could be on Potrero Hill in San Francisco just as comfortably as it sits on Division…which is fine by me.
I breathed a sigh of relief as I dug a little deeper into the menu – there's bacon and sausage to be found, and breakfast is served all day. The breakfast sandwich the guy at the next table had looked good – and in my future – but today we were having lunch. Sig Eater wanted the chilled noodles with that wilted kale plus eggplant, mango, chili, basil and for a supplement of $2, a hard-boiled egg…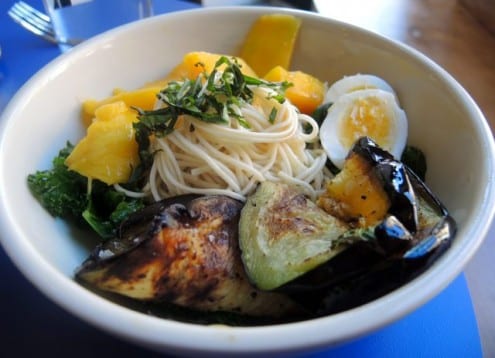 It hit the spot, and $2 for that perfectly cooked egg is ok by me. Both the bowls and The Big Salad are available vegetarian like, or you can pick a protein to add to your what-starts-out-as-vegetarian bowl and make it even better. Another protein (yes, it's a menu category) available yesterday was house-pickled salmon, with cucumber and a green-grape jalapeño relish. It actually rocked…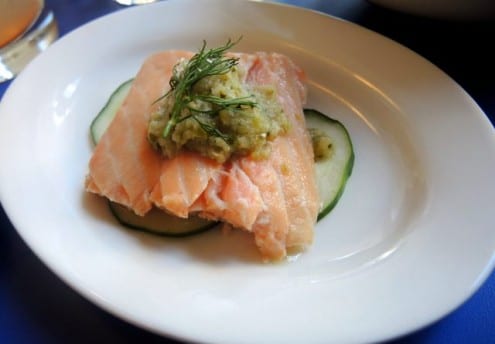 I paired the salmon with one of their two tartines; an almost-a-puree of spicy beet spread atop some good toasted bread and topped with slices of that perfect hard boiled egg, dill and microgreens. Calling Annie!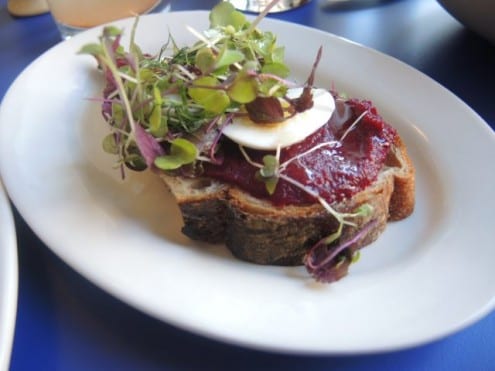 To drink, a cayenne lemonade, good for the sinuses I kept telling myself…it was spicy hot but it could've been a little lemony-er and a little sweeter too. Much better was Sig Eater's perfect cold-brew, made from Cafe Integral's tasty Nicaraguan beans. A brown-sugar cube (demerara, of course) at the bottom and you're having a coffee old-fashioned.
I love this place. It's practically across the street. Can't wait to go back to try that breakfast sandwich, and they have a lunch set priced at $12.50 – pick a protein and two of their 3 daily vegetable offerings. Friday they were doing a brisk take-out biz, and Saturday they were packed when we walked by going to and from NY Noodletown – hey, a guy's gotta have his roast pork too, you know.
Go? I don't think there's a need to rush because I'm sure they're gonna be here for a long time. For us, on the lower, lower east side, Dimes is just what the neighborhood ordered.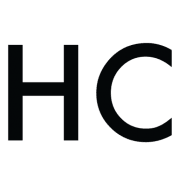 Mitch Weinstein
Mitch Weinstein is an avid seeker of good food, culinary school grad and writer of the blog Tasty Travails. When not cooking at home, he is on the hunt for that next delicious restaurant meal, great market or maybe even a cocktail. He regularly contributes to the food and drink forums on mouthfulsfood.com, eGullet.org, Chowhound.com and others.