Kristina Wiley glazes away at a fine cut of pork tenderloin and ends up with a great Easter ham alternative.
Text And Photo By Kristina Wiley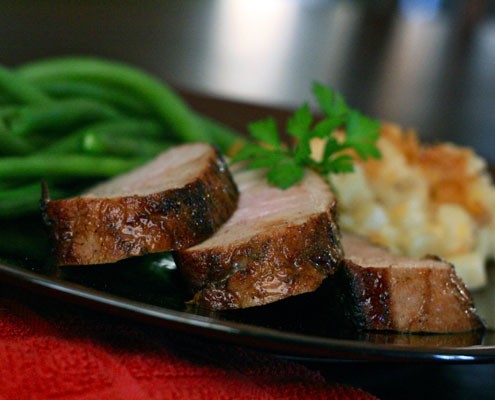 With Easter fast approaching, I had every intention of making a ham the other night – a nice beautiful glazed ham. I walked over to my Publix (thrilled that I live practically in it's backyard), and marched myself right over to the cooked ham section. Hello, disappointment! $17.99 for a whimpy little teeny tiny ham (that's not even sliced!)?! PULEEZE – like I was going to spend that on a weeknight dinner for just me and my husband! Think again.
I decided to get creative and took a few steps over and saw some beautiful pork tenderloins staring me in the face.  I wondered how a ham glaze would taste on a pork tenderloin?  At $7.99 for nearly 2 lbs of pork, I thought it was worth a shot!
I started pouring a little of this, a little of that into a small bowl to create a glaze that I thought would taste fabulous. And you know what, it DID.  Sometimes experiments just work out like that (Enter: Halleluja Chorus)!
This pork tenderloin was to. die. for. (and that is coming from someone who is not all that into 'the other white meat').  The hubs could not stop talking about it (that's how I know he really really likes something).
See Also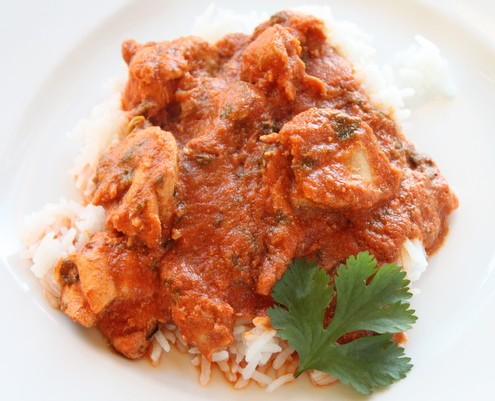 Looking for a new twist on the usual Easter classic? Try this!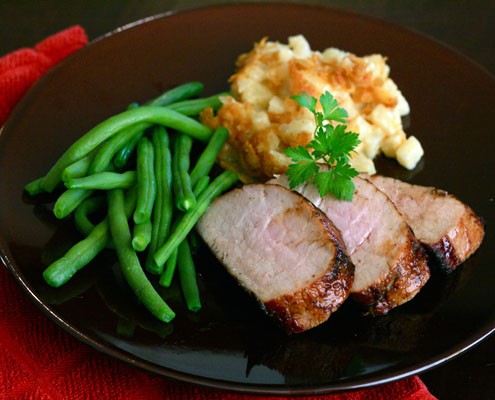 Print
Dijon Honey-Maple Glazed Pork Tenderloin
A twist on the classic glazed ham: Savory and Sweet Glazed Pork Tenderloin.
Author:

Kristina Wiley

Prep Time:

12 hours

Cook Time:

25 mins

Total Time:

12 hours 25 minutes

Yield:

4

1

x
1.5

–

2

lb (

680

–

907

g) Pork Tenderloin (Mine was 1.7 lbs)

1/3 cup

(

65 g

) Packed Brown Sugar

1

TBS (15 ml) Dijon Mustard

1

TBS (15 ml) White Vinegar

1

TBS (15 ml) Honey

1

TBS (15 ml) Maple Syrup

1/2

(2 ml) tsp Black Pepper

1/4

(1 ml) tsp Allspice
Instructions
Rinse and pat dry pork tenderloin. Place into a large ziplock bag and set aside. Mix remaining ingredients together in a small bowl. Reserve 3 TBS of the mixture and set aside. Pour remainder of mixture into the plastic bag over the pork. Push as much air out of the bag as you can and seal it. Make sure the mixture coats the pork thoroughly (using your hands to move the liquid inside of the bag). Allow to marinate for 12-24 hours (I usually do this the night before).
Pull pork out of the refrigerator 30 minutes prior to cooking. Preheat oven to 400º. Heat 1-2 TBS canola oil in a large oven-safe skillet (I used my cast iron) over medium high heat. Sear the pork on all sides (about 5 minutes in total).
Place entire skillet into the oven and bake until the internal temperature of the pork reaches 150°F (about 15-20 minutes). Remove from oven and also remove pork from skillet and place onto a cutting board. Allow to rest for 8-10 minutes before slicing. Slice across the grain into half inch thick pieces and serve.
Kristina Wiley
Kristina Wiley is the South Florida blogger behind the blog My Life as a Mrs. She is passionate about food, entertaining, and life. She writes about cooking as a joy that can be used to bring friends and family back together around the dinner table; be it quick and easy weeknight meals or full on multi course dinner parties.