Steen Hanssen is first disappointed with the small glasses served at a Kneipe in Cologne, but that quickly gives away for the sensational taste of the beer.
Text By Steen Hanssen – Illustration by Johanna Kindvall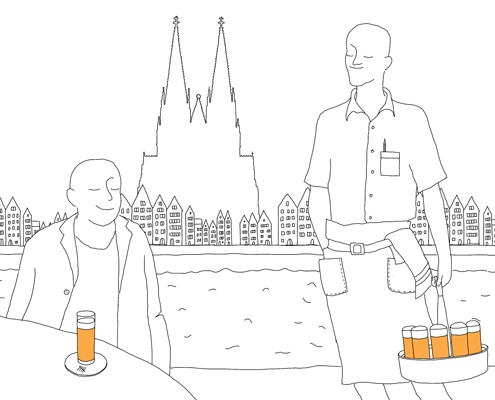 Ten years ago I first visited Cologne (or Köln in German), a beautiful city at the Rhine in the German state of North Rhine-Westphalia. Colonia Claudia Ara Agrippinensium was founded by the Romans around year 50 and dedicated to Agrippina, wife of emperor Claudius. Most people will associate Cologne with it's magnificent twin towered Gothic Cathedral, or perhaps Eau de Cologne (Kölnisch Wasser as it's called here) will ring a bell, for me however the unique attribute of Cologne is the local golden ale called Kölsch and the traditions surrounding it's consumption.
So I entered a Kneipe (pub) in the Altstadt (old city) overlooking the Rhine with it's bustling river boat traffic and seconds after seated, without ordering, the waiter (called Der Köbes in Cologne) places a test tube like tall shot glass of beer in front of me.
The immediate disappointment that beer in Germany could be served in such tiny amounts quickly gave way to the jolt sensation of pure deliciousness and crisp sparkling freshness as I downed the 0.2 litre Kölsch brew in one gulp.
A good Köbes (the Kölsch waiter) will normally hover around the floor, focused and authoritarian with a Kölsch-Kranz (Kölsch-wreath as illustrated above) and elegantly replace empty glasses with fresh Kölsch shots without you needing to order. This brilliant practice will only stop when you decide to place your beer mat on top of your glass.
Though being somewhat related to a Czech style Pilsner, the warm fermented and chilled served Kölsch is a clear straw colored ale with a distinct less bitter & tangy hop flavour. It's foremost characteristic is the energetic and crisp sensation requiring you to drink it fast (preferably in one or two gulps). The use of hop as a flavouring agent in German beer brewing goes back to the 11th century and is also the key ingredient in the similar but darker Altbier (Old beer) from the neighbouring city of Düsseldorf, for centuries locked in fierce competition with the Cologne Kölsch and you will be well advised to order the correct beer in the correct city.
There are of course also Biergartens and bars that serve Kölsch in larger and more managable half liter glasses, but please don't be tempted and frequent only the ones that honor the traditional 0.2 Litre small Kölsch.
Prost!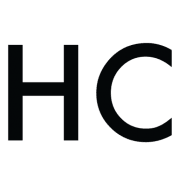 Steen Hanssen
Steen Hanssen is a Berlin based food writer who loves to eat, drink, cook, read, write and think about good food and beverages. Though Kierkegaard argues it'll lead to failure and despair, Steen embraces the aesthetic sphere of existences striving for novelty, pleasure seeking while edging towards the perfect asparagus experience. Steen is also a contributor to Serious Eats.