Heat Up the Kitchen With Farmers Market Asparagus Vichyssoise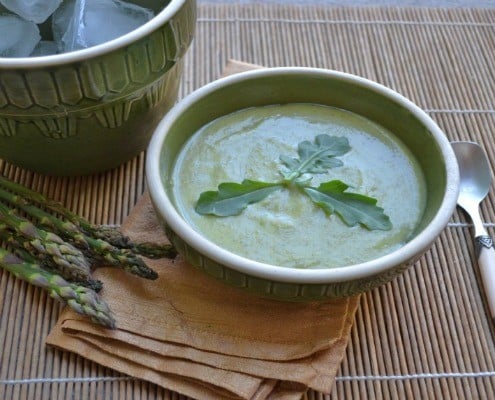 This is the season for the last of the Spring asparagus, the delightful fragrance of chives, mint, chervil and tarragon filling the air to season your dishes.
By Valerie Harrison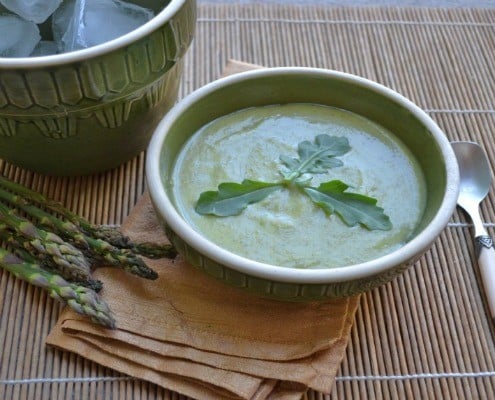 While Spring is when everything seems to come alive, summer is an all too swift reminder of lazy, hazy days of lying on the beach, grilling outdoors, and doing all that you can to prevent a heat induced coma. It is the season for the last of the Spring asparagus, the delightful fragrance of chives, mint, chervil and tarragon filling the air to season your dishes.
In the summer the days are longer and the markets are bursting with the colours of the bountiful fruits and vegetables of the season that are gleaned from our gardens, forests, markets and window boxes. I for one can't resist enjoying more of the longer, warmer days with meals in the great outdoors. Instead of welcoming friends in from the cold, I relish ushering them outside for lingering dinners on the deck. Is it just me, or does everything taste better when eaten outside? Whether it's a camp site, your cottage, the beach or your own backyard, dining outside offers the perfect opportunity to entertain outdoors enhanced by mother nature.
I found myself with a glut of the seasons last spears of asparagus, some baby arugula and leeks. In a few short days I will be on vacation so what better time to clear the fridge of perishables and make room for the next season of fruits and vegetables. There are many obvious advantages to cooking with fresh, seasonal ingredients we find at our markets this time of year. The produce tastes richer, fresher, and is more nutritious. The beauty is in their pure simplicity. The standout flavours are the fresh, natural ingredients themselves such as the sweet taste of a carrot or the pop of a freshly shelled pea.
This recipe is loosely based on one from the Aerie Resort and Spa on Vancouver Island. The resort was a haven for those who enjoy fine wines and gourmet cuisine. We found creative menus inspired by fresh local ingredients mixed with a dash of incredible ocean views.
There is no better way to enjoy the seasons bounty when the temperatures rise than with a delicious, simple chilled soup. This twist on a classic vichyssoise soup is perfect for an alfresco meal in the great outdoors. Your soup can be prepared in the cooling breezes of a summer morning, blitzed with a blender and served care free for supper that night without heating up the kitchen. You don't even have to eat it chilled if you don't want to, but do try it! Served hot, this leek and potato soup is known as asparagus potage parmentier. Served cold, it's called asparagus vichyssoise.  This soup can be served in shot glasses as an appetizer. No matter how you choose to serve it, enjoy!!!!

Farmers Market Asparagus Vichyssoise
There is no better way to enjoy the seasons bounty when the temperatures rise than with a delicious, simple chilled soup. This twist on a classic vichyssoise soup is perfect for an alfresco meal in the great outdoors.
Recipe Type:
appetizer, soup
Ingredients
2 tablespoons olive oil
cup chopped leeks
2 garlic cloves, minced
1 tablespoon grated lemon zest
2 cups asparagus (cut into ½ inch pieces)
cup chopped peeled Yukon gold potato
3 cups chicken or vegetable stock
1 sprig lemon thyme
cup creme fraiche or Greek extra-thick yogurt
1 cup + ½ cup baby spinach or baby arugula, stems removed if necessary
4 asparagus spears, blanched and sliced diagonally
Instructions
In saucepan, heat oil over medium-high heat. Add chopped leeks and garlic; sauté for 1 minute. Add lemon zest, asparagus and potato; sauté for 1 minute more. Add stock and lemon thyme sprig. Bring to a boil; reduce heat and simmer for 12 minutes or until potatoes are done. Remove thyme sprig and discard.
In the bottom of a blender add 1 cup of spinach or arugula, ¼ cup at a time. Add ¼ cup spinach and 1 ladle of soup into blender and puree. Season to taste with salt and pepper. Repeat the process until all of the soup is pureed. (Alternatively add spinach or arugula to pot on the stove and puree with immersion blender. Add spinach or arugula ¼ cup at a time). Pass soup through a strainer. Stir in ¼ cup creme fraiche or yogurt and season to taste with salt and pepper.
Slice 4 asparagus spears on the diagonal. Thinly slice ½ cup arugula or spinach for garnish. Bring a small pot of salted water to a boil. Blanch the asparagus tips for 1 minute. Drain and run under cold water to lock in the color.
Garnish soup with asparagus tips and arugula or spinach. Serve hot or cold.
Valerie Harrison
Valerie is the author of More Than Burnt Toast living in British Columbia, Canada. Join Valerie as she explores the worlds cuisine using local and sustainable ingredients found in the Pacific Northwest. Every day we should be inspired and excited about what we are eating even if it just means making use of a wonderful find at our local farmers market.