These low carb detox cauliflower mushroom bowls are packed with veggies and a delicious almond pesto! They're a whole30 compliant, vegan and paleo friendly meal that is only 200 calories!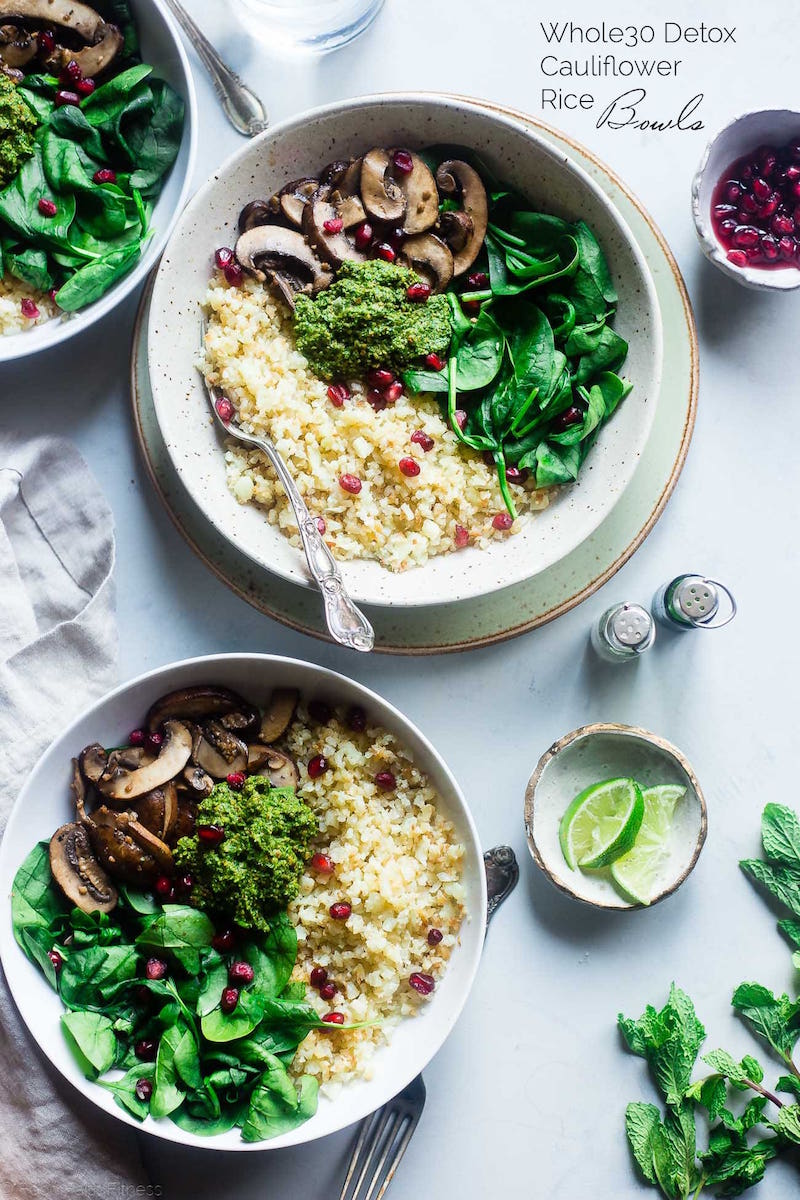 You're about to hate me in 3…2….1
The Holiday season is OVER.
BUTBUTBUT, the ONE upside to not having an excuse to down an impressive amounts of soft, chewy, spicy-sweet cookies at EXCESSIVE speeds is that now our bodies can actually start to, you know, RUN properly due to getting good nourishment and all that stuff that comes along with it being January.
You have every excuse to eat a Kale Salad Recipe OR a bowl of tender-crisp cauliflower, meaty mushrooms and the most insanely flavorful, herb-packed pesto for lunch, and your coworkers won't secretly call you a "granola cruncher" behind your back.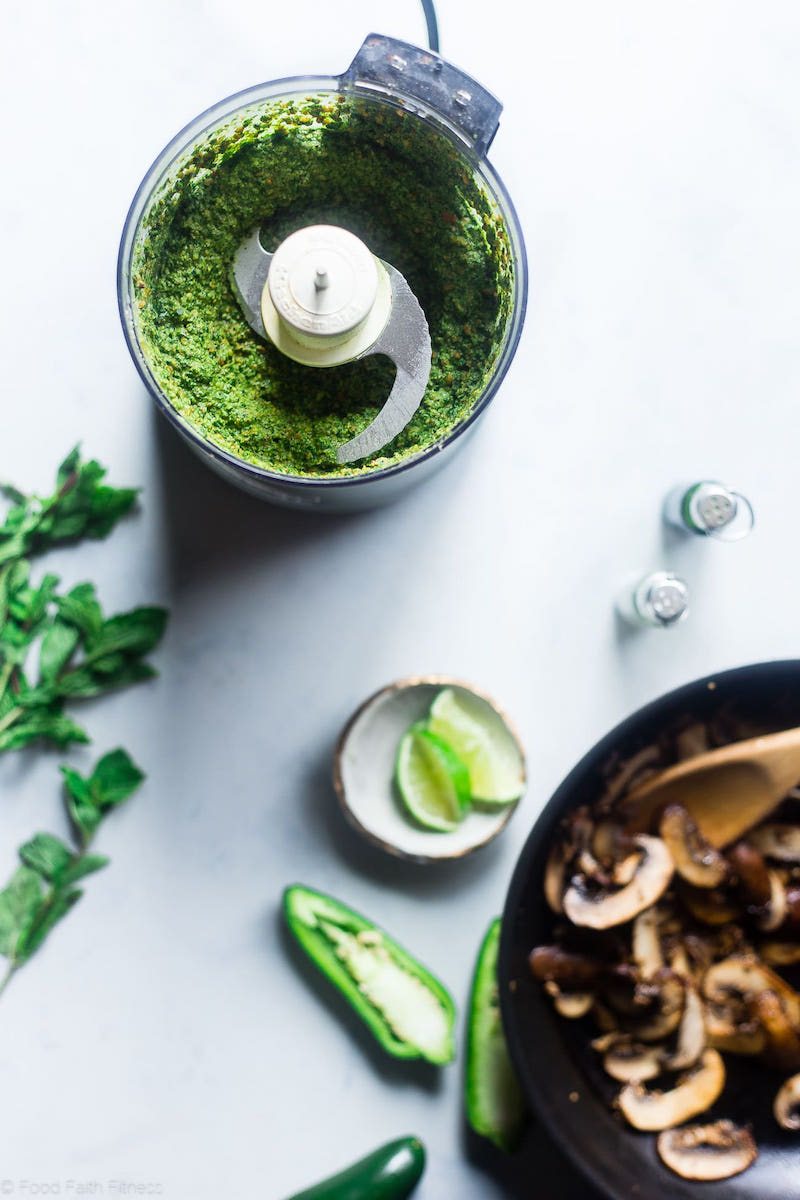 Anyway. We're going to park our faces on the above mentioned bowl of cauliflower, mushrooms and pesto… with POMEGRANATE seeds.
You're not at all confused that I am putting a bowl of cauliflower rice in front of your faces and singing it's vegetably-delicious praises. Cauliflower rice is my jam. My soul-food. My spirt-veg. My E'RYTHANG.
But, mushrooms? We don't eat those often. Mostly because I only sometimes like them. Do you ever have weird moments in your life where some days a food just sends your taste buds into a pitter patter, and some days it sends them into hiding? SO WEIRD RIGHT?!
Mushrooms make this otherwise super light and vegetal-packed bowl feel MEATY and super filling swirling around inside your hungry belly. They add the mandatory "chew factor" that makes you NOT feel like you're eating a bowl of detoxifying, superfresh and INSANELY healthy things that rabbits probably eat too.
The pesto. OH THE PESTO. It looks eerily similar to the pesto from the lentil coconut curry with cashew cilantro pesto we ate awhile back, except with almonds. If I could smear this pesto all over both our faces in some sort of bonding ritual, I would. It would bring us closer together because it is THAT good.
The fresh mint really tones down the earthiness of the mushrooms, so that you get just a sense of forest-like undertones mingling through each garlicky bite. Of course the pesto is also heavy on the cilantro because when is any food I tell you to eat NOT?
See Also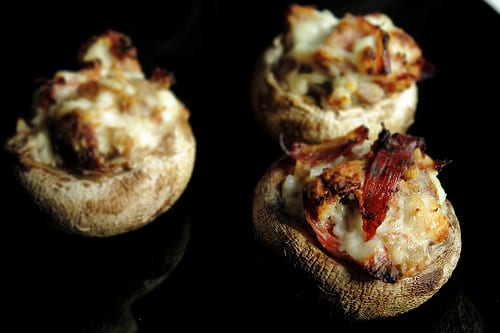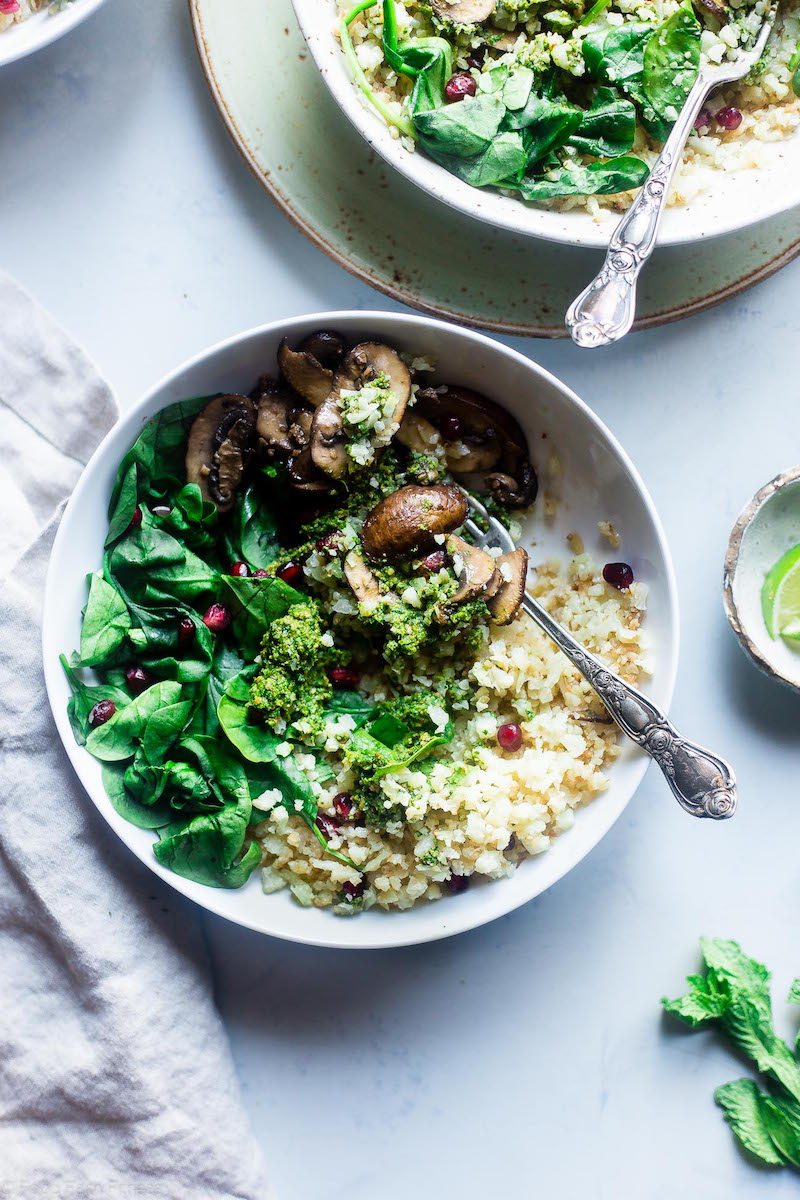 Cilantro. It's the GOOD STUFF.
I promised you more words on pomegranates, which is really just going to be a confession: I had random leftover pomegranate seeds in my fridge so I put them on the bowl because my eyeballs told me that there was just TOOMUCHGREEN happening, with no idea how it would work in my mouth.
And, liiiike, it happened to actually taste YUM, add some addicting crunchy crunchy texture AND an extra dose of superfoods which adds to the level of "healthy-detox-making-your-skin-glow" that is all up and inside this bowl of veggies.
Extra pretty. Extra healthy. Extra reasons to nail down your lunch plans.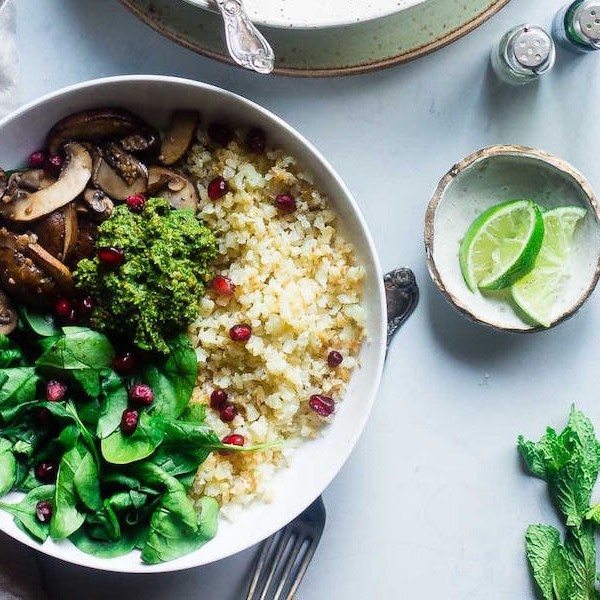 Taylor Kiser
Ingredients
For the pesto:
1/4

cup

almonds

about 42 grams

1

cup

fresh cilantro

packed and roughly chopped, plus additional for garnish

1/4

cup

fresh mint

lightly packed and roughly chopped

1/2

tablespoon

minced fresh jalapeño

1

teaspoon

fresh lime juice

1/4

teaspoon

salt

pinch

of black pepper

1

tablespoon

extra virgin olive oil
For the bowl:
6

cups

cauliflower florets

2

tablespoons

extra virgin olive oil

divided

salt and pepper

3

cups

cremini mushrooms

2

teaspoons

minced fresh garlic

8

cups

spinach

packed

1/2

cup

pomegranate seeds
Instructions
Pre heat your oven to 375°F. Spread the almonds onto a small baking sheet and bake until golden brown and "nutty" smelling, about 7-10 minutes. Set aside.

Place the cauliflower into a large food processor and process until rice-like.

Heat 1 tablespoon of the olive oil in a large pan over medium heat and add in the cauliflower rice and a pinch of salt and pepper. Cover and cook, stirring occasionally until lightly golden brown, about 10 minutes.

Heat 1 tablespoon olive oil in a separate medium pan on medium heat. Add in the sliced mushrooms, garlic, and a pinch of salt and pepper, and cook, stirring occasionally, until the mushrooms are golden brown and fork tender, about 8-10 minutes.

While the vegetables cook, add the toasted almonds into a SMALL food processor (mine is 3 cups) and pulse until broken down into small crumbs. Add in the cilantro, mint, jalapeno, lime juice, salt, and pepper and process until the herbs are broken down.

With the food processor running, stream in 2 tablespoons water and olive oil, stopping to scrape down the sides as necessary, until the pesto is smooth and creamy.

Add the spinach into the pot with the cauliflower rice (but don't mix it in, just let it sit on top of the cauliflower) and cover. Let the spinach sit for 2-3 minutes until it lightly wilts.

Divide the spinach between 4 bowls, followed by the cauliflower rice, mushrooms, and the pesto. Finally, sprinkle the pomegranate seeds on top and garnish with extra cilantro.

Mix around and DEVOUR!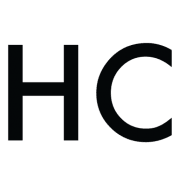 Taylor Kiser
Taylor is the blogger, recipe developer, photographer and general mess maker behind the blog "Food Faith Fitness." She is a Christian who is constantly trying to learn how to keep Christ at the center of her daily life. Taylor is also a health and fitness enthusiast who loves creating delicious recipes, with a healthy spin. However, Taylor also believes that moderation is key, so sometimes it's ok to just go and eat a cookie!