Delectable Almond Tart with Rum Bananas and Caramel Cream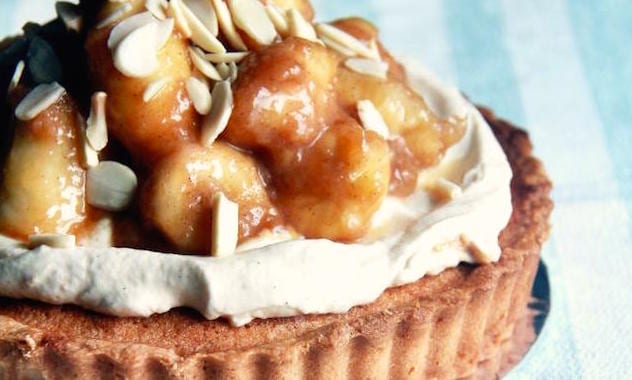 A buttery tart filled with frangipane and topped with caramel-rum bananas and a caramel whipped cream. Rich and decadent, just how we like it.
By Amanda Koh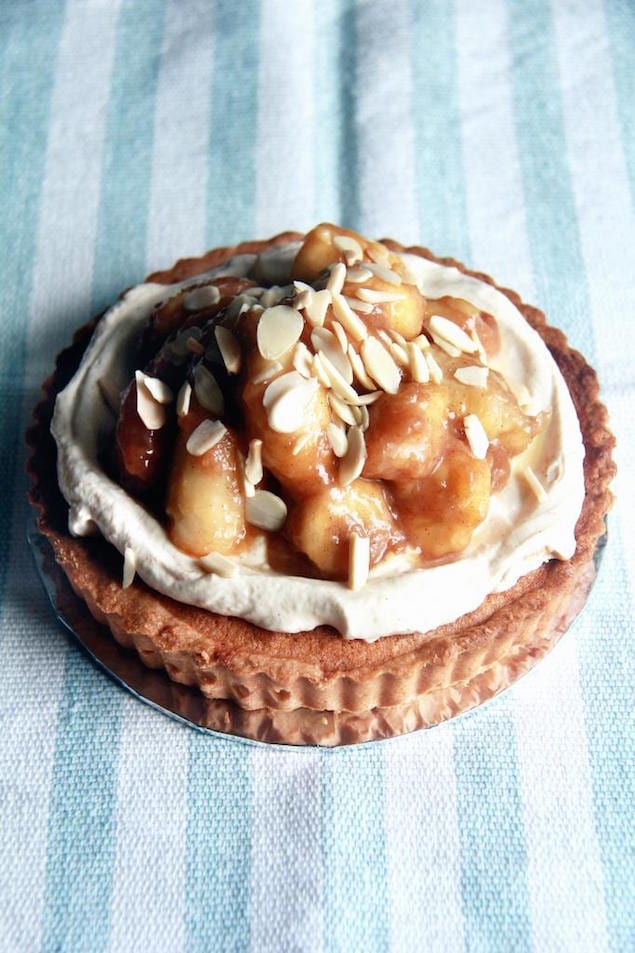 It's filled with frangipane (almond cream) and topped with sliced bananas coated with a sticky caramel laced with rum and cinnamon that sit atop a generous spread of cream whipped together with the caramel. Divine medley of flavours.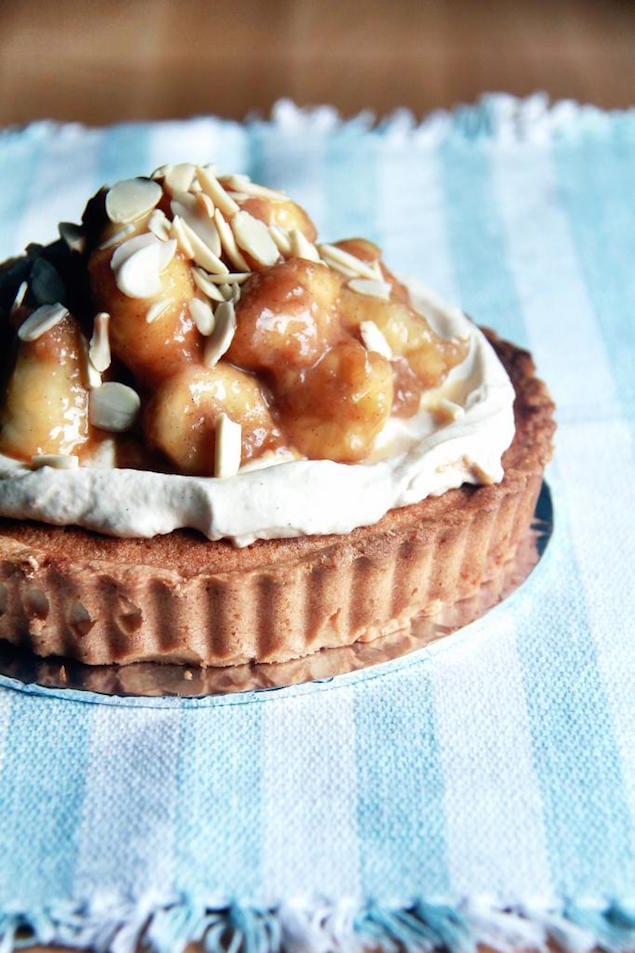 See Also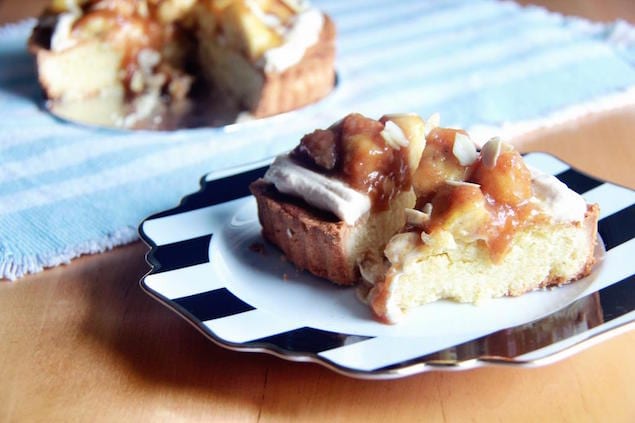 Head here for the fabulous crust recipe.

Delectable Almond Tart with Rum Bananas and Caramel Cream
A buttery tart filled with frangipane and topped with caramel-rum bananas and a caramel whipped cream. Rich and decadent, just how we like it.
Recipe Type:
Baking, Dessert
Ingredients
For the frangipane:
60g (2 ounces) butter
60g (2 ounces) sugar
1 egg
1 tbsp rum
20g (0.7 ounces) cake flour
60g (2 ounces) ground almonds
For the bananas:
2 to 3 bananas, thickly sliced on a diagonal
4 tbsp sugar
20g (0.7 ounces) butter
1 tbsp rum
½ tsp cinnamon
For the caramel cream:
100ml (3.3 ounces) heavy cream
2 to 3 tbsp of the cooled caramel from the bananas
For assembly:
almond flakes and pistachios, toasted and cooled (optional)
Instructions
For the frangipane:
Cream the butter until smooth. Add in the sugar and beat until light and fluffy. Beat in the egg bit by bit and stir in the rum. Stir in the cake flour and ground almonds until combined.
Scrape into the prepared crust and bake at 170C (340F) for around 40 minutes or until brown. Cool completely.
For the bananas:
Place the sugar in a saucepan and heat on medium heat until the sugar has melted and caramelized. Immediately remove from heat and stir in the butter and rum. When the mixture is smooth, return to low to medium heat and stir in the sliced bananas, ensuring that they're evenly coated. Stir for 30 seconds. Stir in the ground cinnamon and remove from heat. After the mixture has cooled to room temperature, chill in the fridge until completely cold.
For the caramel cream:
Whip the cream and caramel until medium stiff peaks.
For assembly:
Spread the caramel cream on top of the tart. Arrange the bananas on top of the cream, remembering to make the center a little higher than the rest. Sprinkle with the toasted nuts.
Amanda Koh
After successfully producing her first batch of chocolate chip cookies at the age of twelve, Amanda has since become a baking fanatic. She likes to make a variety of desserts and documents them on her blog, Crumbs and Cookies. While eating the final product is usually the best part about baking, she secretly finds the process even more fun. You may also find her on Instagram @carramellatte and Pinterest @crumbsxcookies.