Date Olive Oil Banana Bread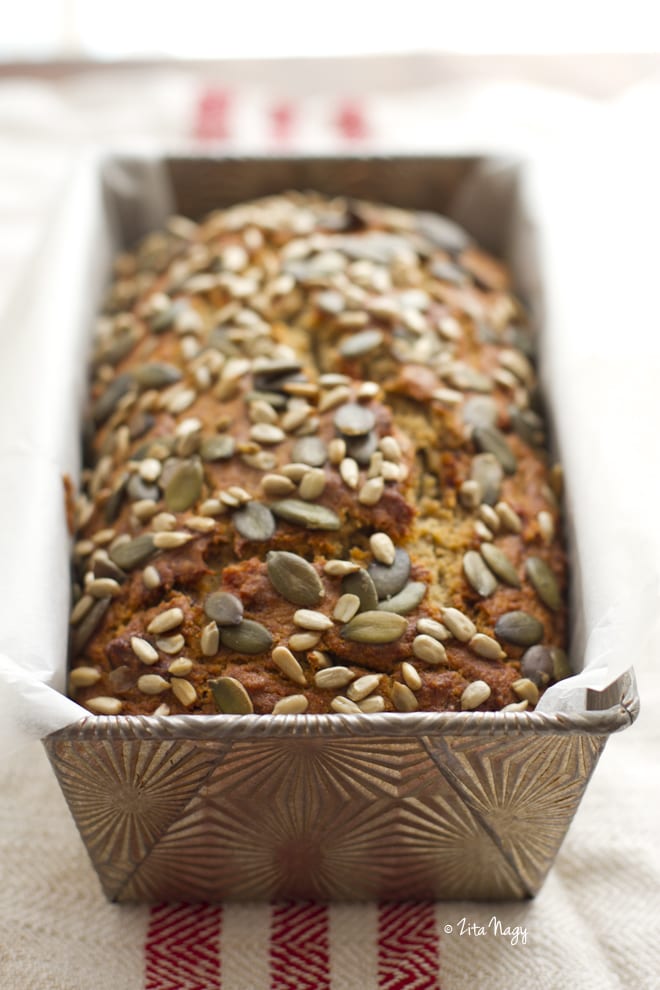 This one doesn't contain sugar, it is sweetened with dates and bananas. It's moist, delicious and also gluten-free.
By Zita Nagy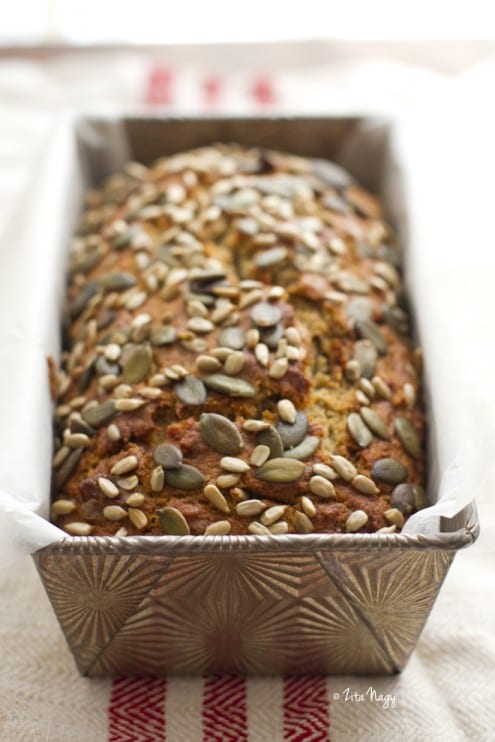 Banana bread is the all time favourite classic bread in our household. I tried many recipes and all of them gave the perfect result. This one doesn't contain sugar, it is sweetened with dates and bananas. It's moist, delicious, also gluten-free and sweet enough without sugar. It's also crisp because of the toasted sunflower- and pumpkin seeds on top. It's perfect and wonderful for an afternoon tea/coffee session or for breakfast (toasted).

Date Olive Oil Banana Bread
This one doesn't contain sugar, it is sweetened with dates and bananas. It's moist, delicious and also gluten-free.
Author:
Zita Nagy, inspired by My Darling Lemon Thyme
Ingredients
- 1 cup dates (about 9 pieces), pitted, chopped
- 2 tablespoons boiling water
- 1 teaspoon baking soda
- 1 and ½ cups brown rice flour
- ½ cup millet flour
- 2 teaspoons baking powder
- 3 bananas, peeled and mashed with a fork
- ½ cup extra virgin olive oil
- 2 organic or free-range eggs
- 1 vanilla bean, split and seeded
- grated zest of 1 lemon
- sunflower seeds, pumpkin seeds
Instructions
In a small bowl mix together chopped dates with baking soda and boiling water. Set aside. Line a 23 cm (9 inch) long loaf pan with parchment paper. Preheat the oven to 180C (356F).
In a bowl combine the dry ingredients: rice flour, millet flour, baking powder. In another bowl mix together the wet ingredients: mashed bananas, olive oil, eggs, lemon zest and vanilla. Pour the wet ingredients mixture into the dry one, stirring until just combined. Fold dates, hot water and baking soda in.
Pour the mixture into the loaf pan, sprinkle the top with sunflower- and pumpkin seeds and bake it on 180C (356F) for about 60 minutes. It's ready when the cake tester (or toothpick) comes out clean.
Zita Nagy
Zita's love for cookbooks and delicious food started at the age of 9. Whenever she went home from school her little brother and she would wait for mom to make dinner for them. Until the dinner was ready, she was turning the pages back and forth and was staring at photographs of amazingly looking dishes in mom's cookbooks to kill her appetite somehow. She couldn't have known then, that she would be collecting cookbooks after reaching adulthood and would still be, just like in her childhood, staring at awesome photos of delicious dishes. The only difference is that she does the cooking now. She loves traveling, going to the organic market and browsing foodblogs. Her vegetarian food and travelblog is Zizi's Adventures.