Bananamilk you say? If you enjoy dairy-free beverages, you must try this one. We did and we loved it. It's the perfect addition to so many recipes, but we really loved it in our waffle batter.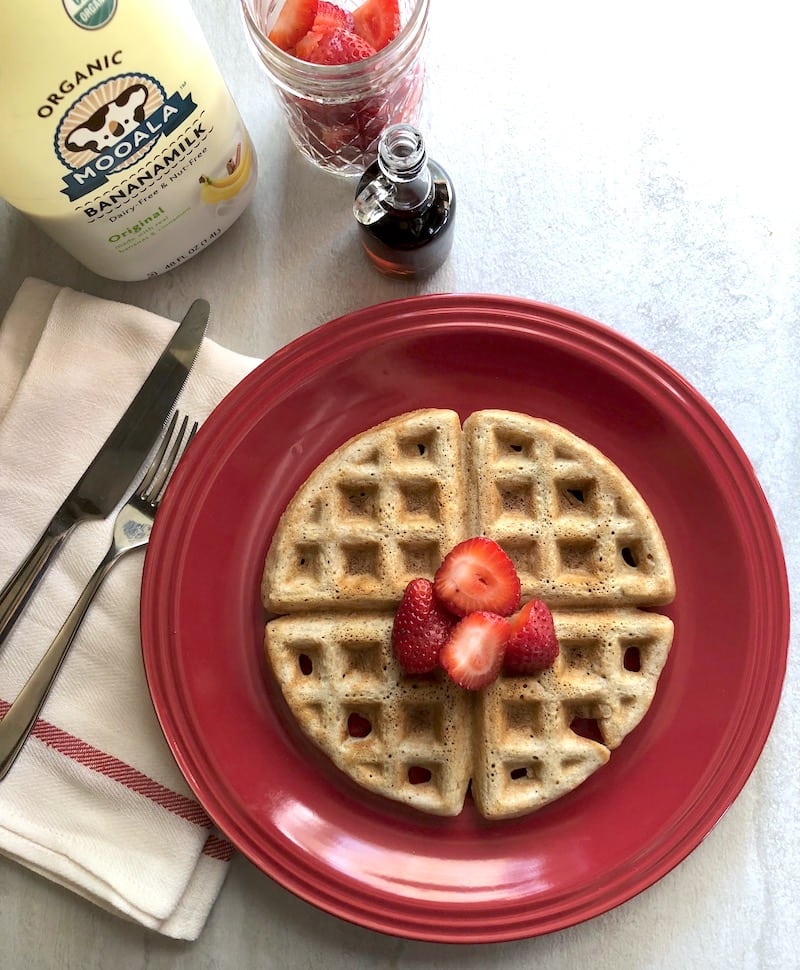 The next time you're at your grocery story, look for Mooala. Mooala is the leading maker of organic, nut- and dairy-free bananamilk. Made with pureed bananas, roasted sunflower seeds, and a touch of cinnamon and salt, Mooala Bananamilk is so, so delicious. We've tried it in our morning coffee, cereal to make soft serve ice cream and our go-to batch of waffles. Not only does Mooala make a variety of bananamilks (Original, Chocolate and now Strawberry), the brand makes Original and Vanilla Bean Almondmilk.
To us, this milk tastes like a traditional dairy-free beverage, but it smelled of beautiful banana bread complete with cinnamon. Glorious!
Check out our recipe for dairy-free sourdough waffles made with the bananamilk and a bonus recipe for a bananamilk soft serve. What would you make with Mooala bananamilk?
Here are a few more ideas:
Chocolate Pumpkin Loaf — Just when you thought a pumpkin loaf couldn't get any more decadent, we added chocolate. Chocolate Bananamilk adds a creamy, luxurious flavor to a traditional banana bread that you're sure to love.
Turmeric Vanilla Bean Latte — Your typical latte just got so much better with Mooala Vanilla Bean Almondmilk, which will remind you of grandma's homemade ice cream but with way less calories.
Thanksgiving Smoothie — Make the biggest food holiday of the year last a little longer and without the guilt or turkey hangover. Seasonal pecans, sweet potatoes, banana and cinnamon blend together perfectly with a little help from Mooala Vanilla Bean Almondmilk.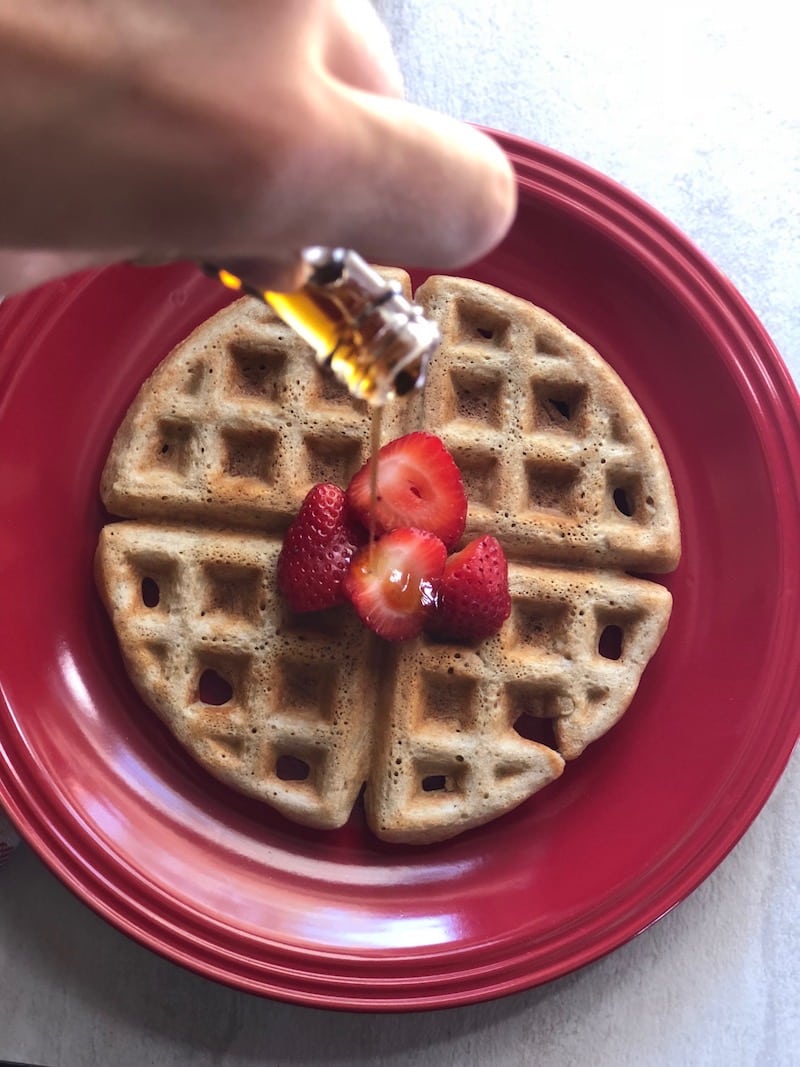 Print

Dairy-Free Sourdough Waffles Made with BananaMilk
---
1 1/2 cups

banana milk

1/2 cup

melted and cooled coconut oil or other oil

1/2 cup

(stirred down ripe sourdough starter)

2 cups

flour (can be a mixture of all purpose and whole wheat)

1 1/2 teaspoons

sugar

2

eggs (room temperature)

1 teaspoon

sea salt

1/2 teaspoon

baking soda

1/2 teaspoon

cinnamon
---
Instructions
The night before, Add banana milk and the melted and cooled coconut oil to a large mixing bowl. Then add your ripe sourdough starter and mix thoroughly with a whisk. Sprinkle the sugar on top and whisk in your flour, a little at a time, until incorporated.
Cover the bowl and let sit at room temperature overnight.
In the morning, sift the baking soda, salt, and cinnamon onto the top of the batter. Crack the eggs and place the whites in one clean bowl and the yolks in another. Whisk the egg whites until they form stiff peaks. Lightly scramble up the egg yolks in the second bowl. Pour the yolks into the batter and lightly stir through. Then, using a spatula, fold the eggs whites into the batter until just incorporated.
Cook in your smoking hot waffle iron until done to your liking.
Notes
Based on the recipe from www.theperfectloaf.com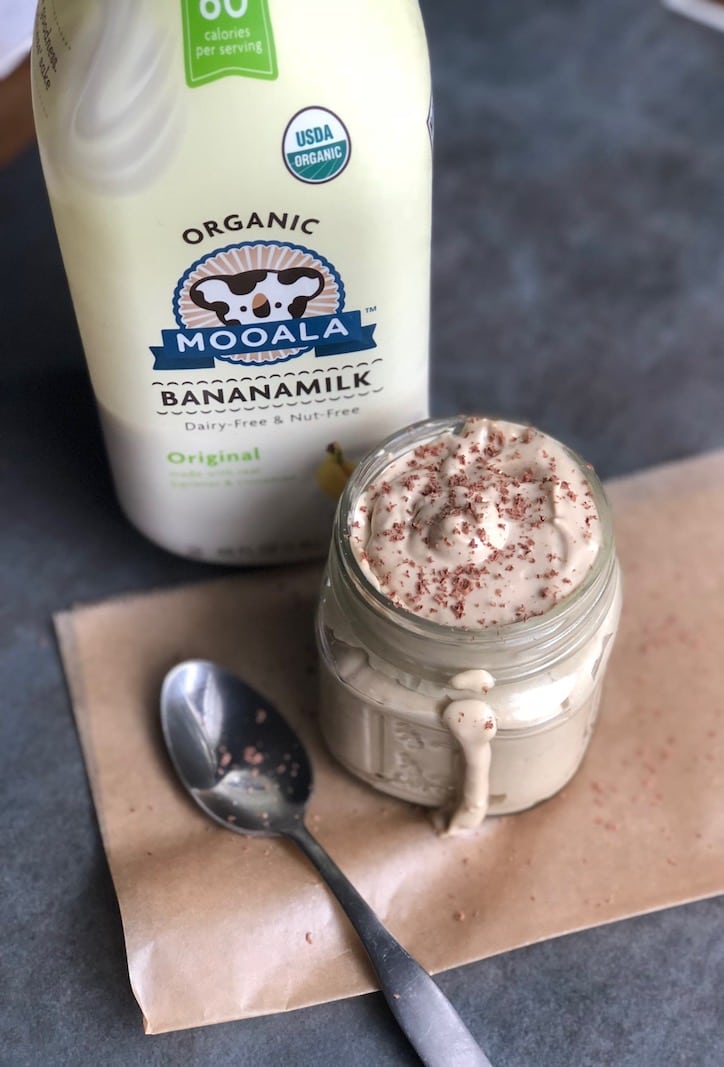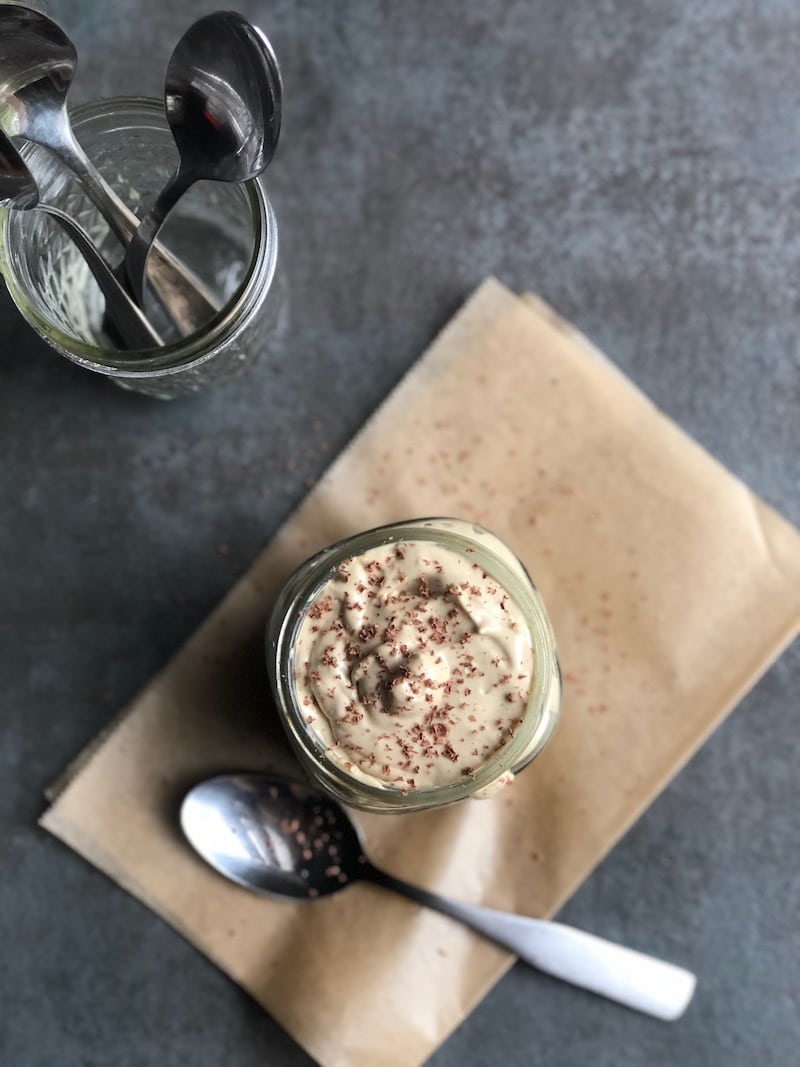 Print
15 oz

can full fat coconut milk

1 cup

250g No Sugar Added sunflower seed butter

1/4 cup

90g maple syrup (or sweetener of choice)

1 tsp

vanilla extract

1/4

to

1/3

of a cup bananamilk
Dark chocolate shavings (for garnish)
---
Instructions
Shake the can of coconut milk so the liquid and solid parts are evenly mixed.
Pour into an ice cube tray or mini muffin pan and freeze overnight.
The next day, combine all the ingredients in a blender and blend until smooth, adjusting the amount of bananamilk based on desired consistency.
Serve immediately or transfer to a piping bag and swirl into cups/cones.
Keep leftovers in the freezer. Remove from the freezer 10 minutes before eating, or break apart and re-blend for an even creamier consistency.
Notes
Adapted from www.feastingonfruit.com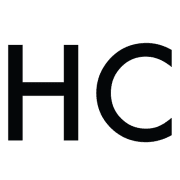 Honest Cooking
The Honest Cooking editorial team handpicks inspiring culinary stories to share with you that we think are beautiful. We strive to create an inspiring place for culinary exploration, salivating recipes, interesting personalities and stories.