Dairy-Free Banana Oat Smoothie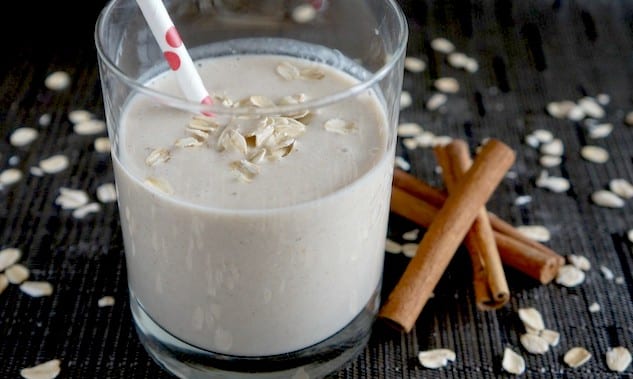 Welcome to the Banana Oat Smoothie, a cross between breakfast oatmeal and a morning shake that will fuel you. Made creamy with almond milk to give your skin a glow, the dairy-free drink is rich in Vitamin E. It is perfect as a snack or blended breakfast with protein-rich almond milk, fiber filled oats, creamy banana and a drizzle of sweet agave.
By Carolyng Gomes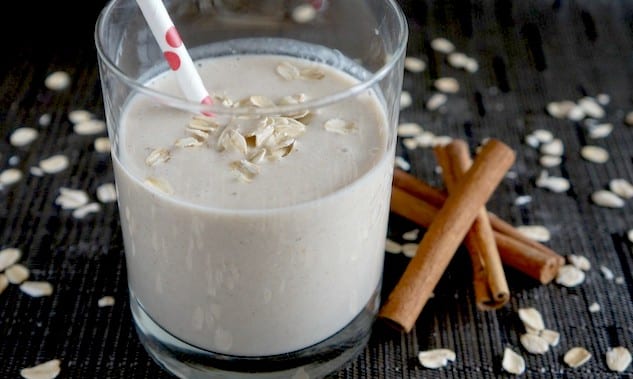 Some mornings it is just so hard to get up. Welcome the Banana Oat Smoothie, a cross between breakfast oatmeal and a morning shake that will fuel you without wasting precious chewing energy.
Like I said, this is a happy marriage between oatmeal and shake. As such, it has all of the makings of a luscious and creamy oatmeal. 1 cup of almond milk provides the creamy texture we love from a good shake as well as one gram of fiber and one gram of protein! Almond milk is also rich in Vitamin E, which is essential to a healthy immune system and also supports healthy skin and vision.
An FGF Tidbit – Vitamin E is found in nuts, like almonds, but is also found in eggs and dark leafy green veggies like kale and spinach.
Oats are also on the ingredient list be they are full of fiber, which in turns keeps us filled up. This packed smoothie has half of a banana thrown in too. Creamy, sweet and rich, bananas are known for their high potassium content. Potassium aids the cardiovascular system by helping the body maintain normal heart function and blood pressure. Bananas are a natural antacid, helps your body absorb calcium which leads to stronger bones and can help you with number two, which all together helps you with number one – that's you!
A touch of vanilla, dash of cinnamon and agave in case your banana wasn't as ripe as you'd like, and together this smoothie is a power breakfast! Of course, this doesn't have to be an only morning staple. Enjoy this smoothie as a snack anytime of day for a boost that will keep you energized and focused until your next meal.
Remember, everything we put in our bodies affects us as a whole. From the foods we eat to the stresses of daily life, if I've learned anything its that I need to treat my body kindly because the longest, most intimate and rewarding relationship we as human beings will ever have is the one we have with our bodies.
So treat it well. And treat yourself to a Banana Oat Smoothie!

Dairy-Free Banana Oat Smoothie
Welcome to the Banana Oat Smoothie, a cross between breakfast oatmeal and a morning shake that will fuel you. Made creamy with almond milk to give your skin a glow, the dairy-free drink is rich in Vitamin E.
Ingredients
1 cup almond milk
½ cup oats
½ banana, frozen
½ tsp vanilla extract
½ tsp cinnamon
1 tsp agave
Instructions
Add all ingredients to blender and pulse until fruit is in small chunks.
Increase speed on blender to mix all ingredients until creamy and smooth.
Carolyng Gomes
Carolyng loves to eat, loves to cook and loves to eat more. To her a recipe is more a list of suggestions, saving time doesn't mean sacrificing on flavor and when in doubt, a splash or two (well, a nice pour) of wine never hurts. Welcome to her Cocina Latina, where South American and Latin fusion dishes are always on the menu.