PARTNER POST: Discover how delicious dairy-free sweet and savory cooking can be with DREAM Ultimate Almond.
Made with almonds instead of cow's milk, these creamy panna cotta make for a delightfully nutty dessert that is cool enough for a hot summer day.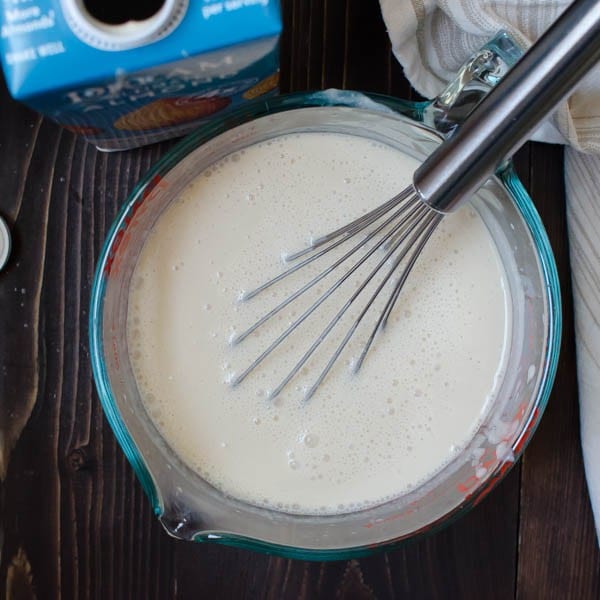 Panna Cotta is a silky, creamy, custardy revelation! Usually made from milk and cream with a little sugar and gelatin to give it that soft jiggly texture. It's not as firm as regular gelatin desserts that you can swish and squish between your teeth (oh, is that just me?) No, panna cotta barely holds its shape until it hits your tongue, where it promptly dissolves into a barely-there-bliss. Am I overselling? Seriously, this stuff ROCKS!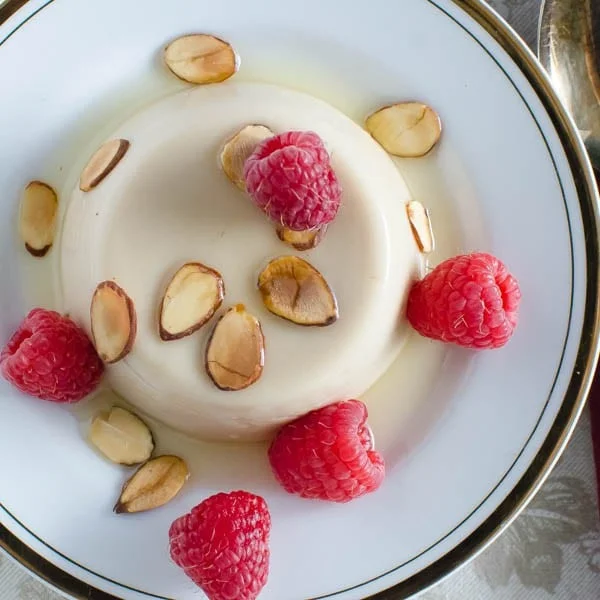 When I was approached by the makers of Dream Ultimate Almond, to create a dish using one of their Dream Ultimate Almond products, I immediately thought of panna cotta. Well, I may have also thought of ice cream and curry — but I decided on panna cotta.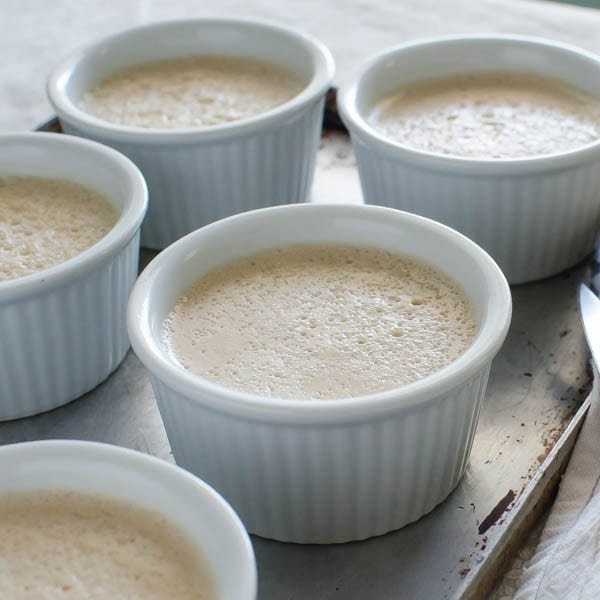 These beverages have 4x more California almonds which gives it 5 grams of plant based protein in every serving, making it much richer and thicker than its regular counterpart. They sent me the shelf stable variety (but it's also available in the refrigerated section) and when I poured it into my measuring cup, it was thick like buttermilk. I whisked it and ran it through a fine mesh sieve, to make sure I'd have an ultra smooth custard.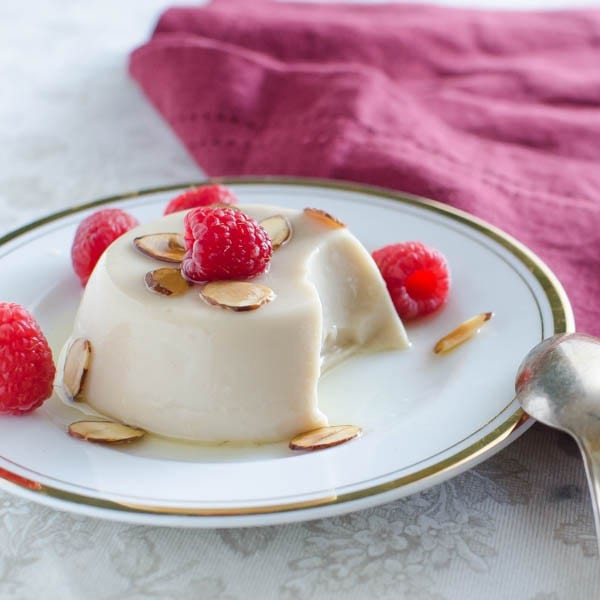 Making the panna cotta took about 10 minutes (and that's because I was taking pictures for 5 of those minutes). Just sprinkle the gelatin over the liquid and let it bloom. Then heat over a medium low heat, just until the gelatin is completely dissolved.
Creamy, luscious, not overly sweet with a definite nod to that famous Toasted Almond Cocktail! I like mine with a sprinkle of crunchy toasted nuts, a drizzle of amaretto and fresh raspberries. Oh-ma-Gawd!
&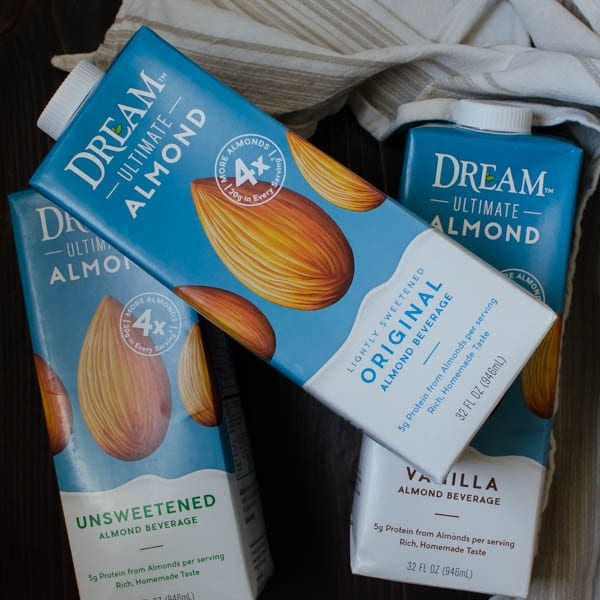 See Also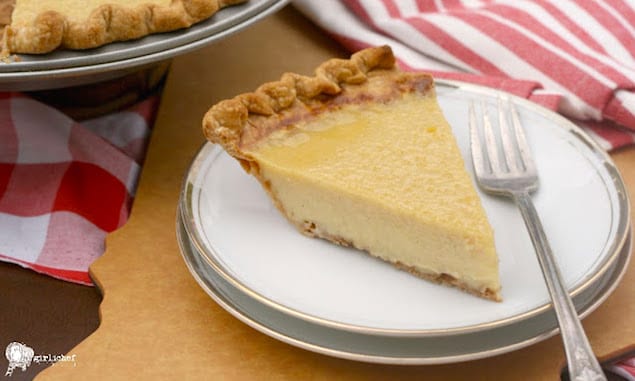 The new DREAM Ultimate Almond beverage can be found now at Whole Foods and soon at your local Sprouts. Click here for a coupon.
For more inspiration, check out this grilled Caesar salad with a dairy-free dressing: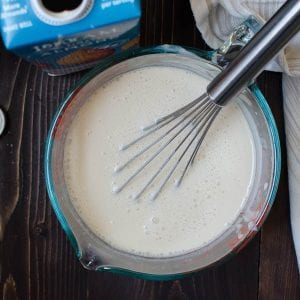 Lisa Lotts
Ingredients
3

cups

Dream Ultimate Almond Beverage

unsweetened

2 1/2

teaspoons

gelatin - this is a little more than one envelope

1/3

cup

sugar

2

tablespoons

DiSaranno or other amaretto flavored liquor

2

tablespoons

Kahlua - or other coffee flavored liquor
Garnish
1/4

cup

sliced almonds

lightly toasted

drizzle of amaretto for each serving

fresh raspberries
Instructions
Shake the almond beverage well before opening. Pour into a medium bowl or measuring cup. If the liquid looks lumpy, whisk it smooth, then run it through a fine mesh sieve to remove any lumps. Transfer to a medium saucepan. Sprinkle the gelatin over the liquid and set aside for a few minutes until the gelatin starts to bloom.

Place the saucepan over medium low heat and stir until the gelatin dissolves completely, but do not heat the beverage to the point where it starts to smoke or boil -- that will de-activate the gelatin. To check that the gelatin is dissolved, dip your spoon into the liquid and look at the back of it for telltale clear grains -- if they're there, it's not fully dissolved.

After the gelatin has dissolved, add the sugar and stir until it's completely dissolved.

Stir in the amaretto and coffee liquors.

Spray 4 ounce ramekins with vegetable spray. Use a paper towel to wipe the spray evenly around the ramekin removing any excess and just leaving a fine film.

Divide the panna cotta mixture evenly among the ramekins and refrigerate until set -- At least two hours and up to overnight.

You can serve directly in the ramekins or for a more dramatic effect, add warm water to a bowl and hold the body of the ramekin in the water, not quite to the rim, for a few seconds. Run a very thin knife blade around the top edge of the panna cotta and place a plate upside down on top of the ramekin. Invert the panna cotta onto the plate.

Drizzle about one teaspoon of amaretto over each panna cotta. Sprinkle with toasted almonds and raspberries. Serve.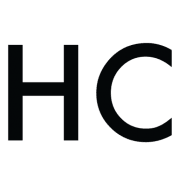 Lisa Lotts
Lisa is a South Florida based food blogger who derives inspiration from a diverse family food-background, which includes southern comfort foods, traditional French and Caribbean cuisine. On her blog, Garlic and Zest, she explores fresh, innovative flavors and the inexorable link between food and family. Her approachable fare tastes like home.