This Bengali vegetarian stir-fry is a perfect for a light meal for breakfast or dinner.
By Rinku Bhattacharya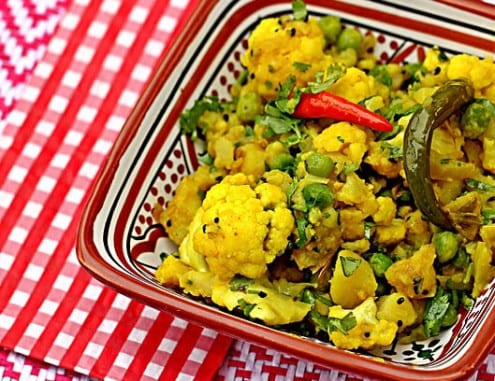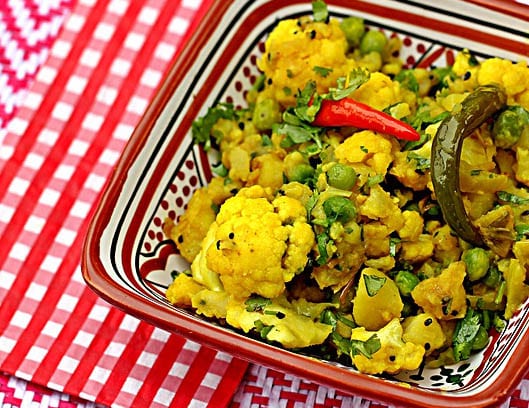 Curried Potatoes and Cauliflower
This Bengali vegetarian stir-fry is a perfect for a light meal for breakfast or dinner.
Author:
Rinku Bhattacharya
Ingredients
2 tablespoons oil (peanut or mustard)
1 teaspoon nigella seeds (kalo jire or kalonji)
1 medium sized white onion, cut into a fine dice
1 tablespoon freshly grated ginger
1 Idaho potato, peeled and diced (about ¾ cup)
Salt to taste
¾ teaspoon turmeric
½ head of cauliflower, cut into small pieces (11/2 cups about ¾ pound)
¾ cup water
Handful of frozen peas
Chopped cilantro
Instructions
Heat the oil on medium heat for about a minute and add in the nigella seeds and wait till the seeds begin to sizzle.
Add in the onion and cook until the onions is soft and transluscent.
Add in the ginger and sauté lightly for 30 seconds or so.
Add in the potato and the salt, turmeric and chilies and mix well. Stir the mixture well and cover and cook on low heat until the potatoes are partially cooked.
Add in the cauliflower and mix well.
Add in the water and the peas and simmer the mixture stirring occasionally until the vegetables are soft and the water is absorbed.
Mix well, stir in the cilantro and serve.