Curried Lentil and Butternut Squash Soup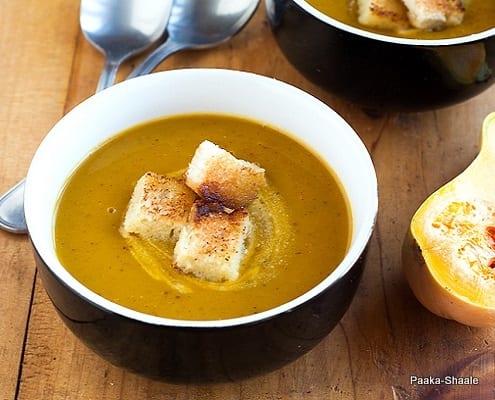 This version of the butternut squash soup is really simple to make. All it takes is a handful of ingredients and a few minutes to whip up this delicious and rich soup.
By Nandita Nataraj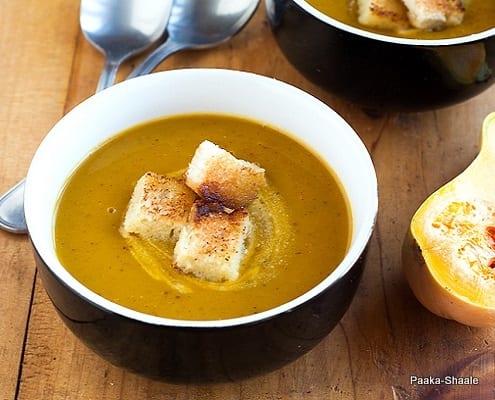 I have come to believe that the combo butternut squash and lentils is a match made in heaven. And if these  ingredients are flavored with the humble curry powder, then the soup is taken to a different dimension all together.
This version of the butternut squash soup is really simple to make. All it takes is a handful of ingredients and a few minutes to whip up this delicious and rich soup. The addition of curry powder, along with the minced garlic, makes the soup spicy and hearty. The cream gives body and texture and on the whole this is a very filling soup. One bowl of this soup along with some fresh croutons can make a filling dinner for me. Try serving this soup with some Indian breads like naan or Paratha. Or just ladle this soup over a bowl of Basmati rice to make your meal more substantial.
Curried lentil and butternut squash soup
Ingredients
Butternut squash-1 med, peeled, deseeded and diced
Masoor dal or orange lentils- ⅓ cup
Curry powder- 2 tsp
Salt to taste
Vegetable stock- 4 cups
Cream- 2 tbsp. for garnish
Bay leaf-1
Garlic- 2 cloves, minced
Olive oil- 1 tbsp.
Pepper- ½ tsp
Croutons to serve
Instructions
•Pressure cook the lentils for 3-4 whistles or till completely cooked and keep aside
•Heat the olive oil in a thick bottomed pan. Add the bay leaf and the minced garlic and fry till the raw smell goes.
•Add the diced butter nut squash and fry for two mins. Add the salt and the vegetable stock, mix well and bring the mixture to a boil. Turn the heat down and all the squash to cook covered for 15-20mins till tender.
•Discard the bay leaf and tip in the cooked lentils and mix well. Using a hand blender or food processer blitz the mixture until smooth.
•Season with pepper and serve garnished with cream and some croutons on the side.
Notes
•This soup is extremely versatile. You can add more vegetables like carrots, sweet potato or turnips along with the squash. •To make this soup low cal, you can use thick coconut milk to garnish instead of cream. •If you feel the mixture is thick after blending, then add more water to make the soup thin and reheat it •I have used the curry powder sparingly. Increase the quantity if you want to make your soup more spicy. •This soup can also be had along side naan or any other Indian bread
Nandita Nataraj
Nandita was born, bred and spread in India, but right now lives in Tanzania where her quest for simple and exotic pleasures of food led to the creation of the blog Paaka-Shaale. She believes that food is not just a means to feed a body. But it is also meant to appeal the mind and satiate the soul.