Carrots really find their groove in the companionship of curry and coconut milk.
By Jessica Smith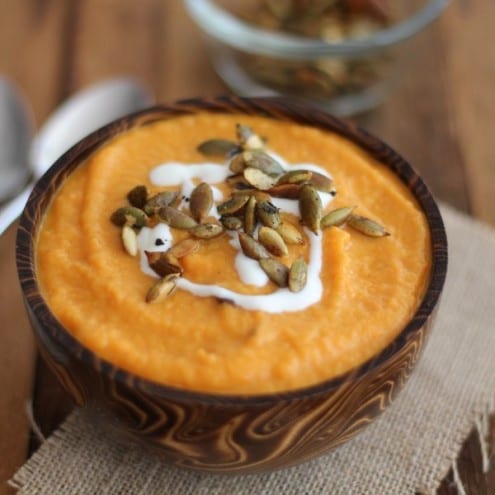 After two years of living in Thailand, I submit that everything is made better with coconut milk. Soups in this country are remarkable things, intensely flavored with rich broths, fresh spices, and often, with sweet, creamy coconut milk. The fresh stuff has consistently proven to be an odyssey for me to obtain, but I keep the infinitely more accessible store-bought variety in my pantry all the time. It makes me think that veganism wouldn't be half bad. I'd take coconut milk over the dairy version just about any day of the week.
See Also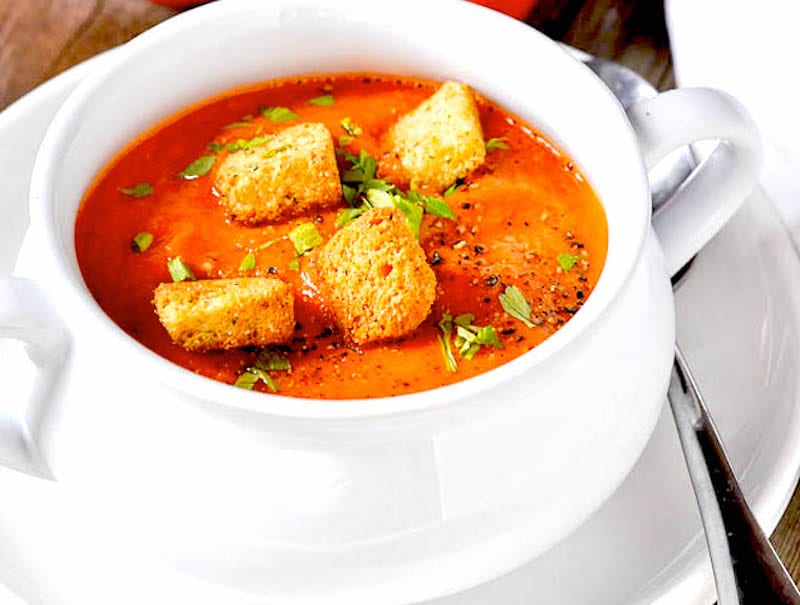 I made carrot soup twice last week. The first version was pretty standard – a bit of cumin, but no cream or milk. It was good, and we ate every last spoonful, but it left me wanting more. Something with the slightest indication of heat and even more fragrant spice to complement the carrots. Something with coconut milk. The carrots really found their groove in this version of the soup. It was a subtle shift that made a huge difference. And don't miss those pepitas (pumpkin seeds) on top – they are toasty and crunchy and pretty, to boot.
Print
Curried Carrot Soup
Carrots really find their groove in the companionship of curry and coconut milk.
Author:

Jessica Smith

Yield:

4

1

x
1 Tablespoon

, plus 1 teaspoon extra virgin olive oil, divided

½ cup

raw pepitas (pumpkin seeds)

2.5

pounds carrots, diced

1

regular yellow onion, finely chopped

1 tsp

. yellow curry powder (see note)
Pinch cayenne pepper

6 cups

low-sodium vegetable broth

2/3 cup

light coconut milk
Juice squeezed from ½ small lime
Salt and pepper, to taste
Plain yogurt, for topping (optional)
Instructions
Place a soup pot over medium heat. Heat 1 tsp. olive oil and add the pepitas.
Cook the pepitas, stirring frequently, until they turn golden and fragrant, about 4 minutes.
Transfer the pepitas to a paper towel to cool. Sprinkle liberally with salt and pepper. Return the pot to the burner and add the remaining 1 tablespoon of olive oil.
Add the carrots to the pot and cook until they begin to soften and look damp, about 5 minutes.
Add onions, curry powder, and cayenne and sauté until the onions become soft, 5 minutes.
Add broth and bring to a boil. Reduce to a low simmer, cover and cook until carrots are very tender, about 20 minutes.
Transfer soup to a blender in batches (or use an immersion blender in the pot) and blend until very smooth. Return the soup to the pot and heat just until it begins to bubble.
Turn off the heat and add the coconut milk, lime juice, and salt and pepper, to taste.
Serve immediately, topped with a drizzle of plain yogurt and the toasted pepitas.
Notes
I used mild yellow curry powder (such as Madras powder) in my version, but you could easily use just about any variety of curry paste in this recipe – red, yellow, or panang (available in the Asian sections of many grocery stores) would all be wonderful and each would produce a unique flavor.
Jessica Smith
Jessica Smith is a native of the American Midwest, currently living in Thailand where she writes about food and travel throughout Southeast Asia. Jessica believes that the best way to understand a place is through its local cuisine.