Kathy Bechtel with a deliciously nutty, rustic dish from Northern Italy.
By Kathy Bechtel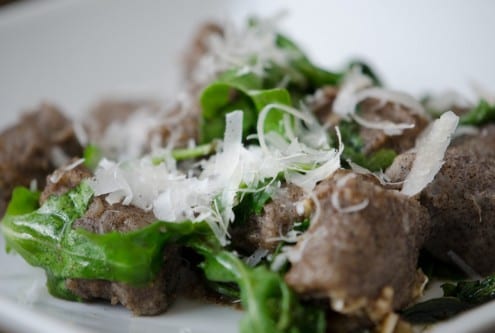 Pasta, a food synonymous with Italy, is not as common in the Northeastern regions as are other starches, most notably polenta, risottos and gnocchi. Gnocchi we see on just about every menu on our hiking and cycling tours, usually, but not always potato based. Gnocchi are basically poached dumplings, probably the very first form of pasta, shaped by cutting a strip of dough into little pieces and cooking them in boiling water. Originally, they were probably made from just flour and water, but then evolved to incorporate any sort of leftovers one might have on hand. The result is a wonderful variety of regional variations. Among the options, you can find gnocchi based on stale bread, ricotta and other cheeses, semolina, buckwheat, spinach, meats like speck and even spleen.
Just one anecdote to demonstrate the central role gnocchi plays in the cuisine of Northern Italy: In Verona, a city in the midst of some of the best wine regions in Italy, a UNESCO World Heritage site, and a place we visit quite frequently on our tours, the last Friday of Carnival each year is celebrated by feasting on gnocchi. The Papa del Gnoc leads a procession through town, carrying an enormous gnocco on an oversized fork. After the procession, the entire city sits down to a bowlful of gnocchi.
The secret to a light gnocchi is to use as little flour as possible. The exact amount can vary, depending upon the humidity of your kitchen and the amount of water in the type of potato you use. The drier you can keep the potatoes, the less flour you will need, the lighter the gnocchi. I prefer to bake the potatoes, rather than boil, for just this reason. I also allow the riced potatoes to come to room temperature before combining with the flour, as they tend to sweat as they cool down.
See Also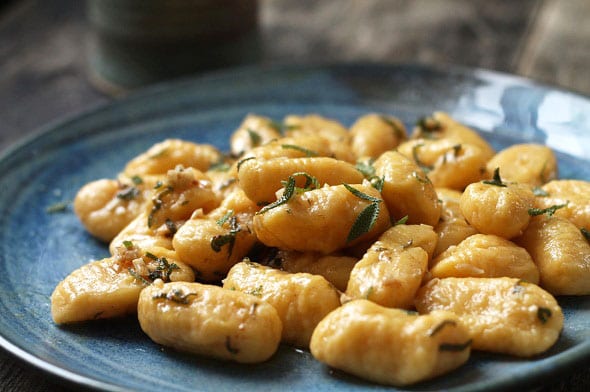 I have several friends who are turning to gluten free diets for health reasons, and ask if I have any recipes for them. I've enjoyed buckwheat gnocchi in Italy, and as buckwheat does not contain gluten – in spite of it's name, it is not related to wheat – I decided to try my hand at a gluten free gnocchi. Buckwheat is an ancient grain, particularly adapted to cultivation in colder climates and high altitude, as its' growing season is short compared to other grains. It was a very common crop in Northeastern Italy, and across the globe in the 18th and 19th century, but cultivation declined sharply in the 20th century when the use of nitrogen fertilizer came into vogue, to which corn and wheat respond strongly.
Many buckwheat gnocchi recipes call for a mix of buckwheat and wheat flours, so I was concerned that the flavor of a pure buckwheat version would be a bit overwhelming. I was very pleased with the results with just the buckwheat, a nutty, rustic dish to be sure. For something a bit more elegant, you could use a mix of buckwheat and rice flours to keep gluten free.
Buckwheat Gnocchi with Browned Butter Sauce and Arugula
Kathy Bechtel with a deliciously nutty, rustic dish from Northern Italy.
Ingredients
2 pounds baking potatoes, cleaned
1 cup buckwheat flour, plus more for dusting
1 tablespoon kosher salt
1 large egg, beaten
4 tablespoons unsalted butter
1 clove garlic, minced
4 cups arugula
Kosher salt and freshly ground pepper
Grated Parmegiano Reggiano or grana cheese
Instructions
Roast the potatoes for 40-50 minutes, or until done. Make sure they are quite tender, as they will not rice properly.
Let the potatoes cool for a few minutes. As soon as you can handle them cut each potato in half, scoop out the flesh and place it in a ricer. Rice directly onto the counter. Spread out the potatoes over the counter, and allow the potatoes to cool to room temperature
Add the flour and the salt and mix well. Add the egg, and quickly knead everything together into a sticky dough, working as quickly as possible. The secret to tender, light gnocchi is add as little flour as possible.
Fill a small pan with water and bring to a boil. You will use this to test the texture of your gnocchi. Take a small piece of dough, about the size of a grape, and drop it into the boiling water. It will cook for about a minute, and then should rise to the surface. Let it cook for one more minute, then remove it from the water. If, rather than sink and then rise, it breaks apart, add a bit more flour to the dough and knead again. Once you get a test one that sinks and then rises without blowing apart, you are ready to move on to the next step. You should have a test gnocchi that is cooked through, but still soft and light.
Dust the counter with buckwheat flour. Divide the dough into 6 equally sized pieces. Take one of the pieces and place it on the floured counter top. Using the palms of your hands, roll the piece out into a ½ inch thick log, which will be about 12 inches long. Cut the log into 1-inch lengths, and place the individual gnocchi onto a sheet pan that has been dusted with flour. Repeat with the remaining pieces of dough.
Fill a large pot with water, bring to a boil and season with salt. Add the gnocchi to the boiling water in small batches. Once they have risen to the top, allow them to cook for one more minute, then scoop them out with a slotted spoon and lay them on a baking sheet to cool. At this point, they are ready to use in your favorite sauce or baked gnocchi dish.
Heat the butter in a large saute pan over medium high heat. Keep a careful eye while allowing the butter to melt, and then brown. When the butter is just beginning to turn a golden brown and take on a nutty aroma, add the garlic and arugula, cook for another 30 seconds.
Ladle the cooked gnocchi into the butter in the saute pan, add the cheese and gently combine. Adjust seasonings and serve immediately.
Kathy Bechtel
Kathy Bechtel's obsession with food and cooking began as a teenager. After years following a traditional career path as a telecommunications engineer, she left to attend culinary school and wine training, and is now combining her passions for food and wine, the outdoors, and travel as owner and Culinary Tour Director of Italiaoutdoors. In this role, Kathy leads small bicycle, skiing and walking tours that explore the authentic regional cuisines, local products and undiscovered wines of Northeastern Italy.