Irish Soda Bread with Cheese and Herbs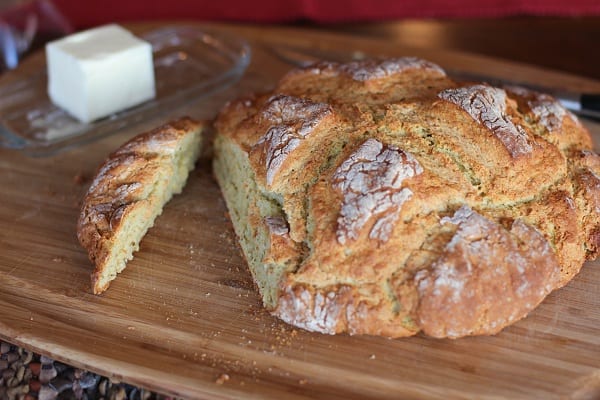 What happens when Irish Soda Bread meats herbs and cheese? Nothing but fancy, fancy things.
By Julia Mueller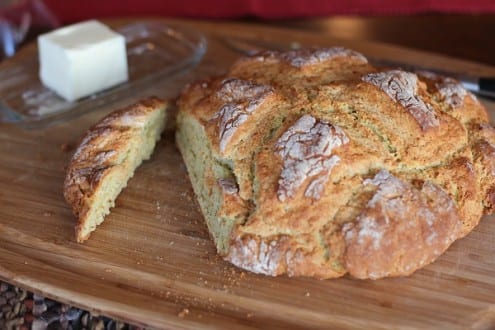 Truth: the first time I baked bread, it was without a spec of yeast. I love me some active dry cultures and the art of rising dough but temperature criteria and patience don't jive with me on an empty stomach. Gazing lovingly at a crunchy-on-the-outside and soft-on-the-inside rustic bread without yeast in less than an hour sounds farcical, but haste, it's true! All this can be yours with just two simple words: baking soda.
Irish soda bread is my all-time favorite bread to bake. It is non-judgmental of your relationship with yeast, happens to take way less time than pesky yeasty bread and it's free form. Think outside the loaf pan. This bread can be made with various flours to suit your fancy (and your flour inventory). I used Gluten-Free All Purpose Flour, which is a combination of various flours – mostly garbanzo bean flour and tapioca starch. You can replace the GF flour with equal parts all-purpose (or a combination of all-purpose and whole wheat).
There are a myriad of possibilities with this bread. I've made sun-dried tomato/basil as well as roasted garlic Irish soda bread using the same recipe below and have yet to be disappointed. What happens when Irish Soda Bread meats herbs and cheese? Nothing but fancy, fancy things. Irish soda bread, meet soup…soup, Irish Soda Bread. Do we need to leave you alone? I thought so.
Irish Soda Bread with Cheese and Herbs
What happens when Irish Soda Bread meats herbs and cheese? Nothing but fancy, fancy things.
Ingredients
4 cups gluten-free all-purpose flour (Bob's Red Mill)
1 teaspoon baking soda
1 teaspoon salt
½ teaspoon rubbed sage
½ teaspoon thyme
½ teaspoon oregano
Cracked pepper
1 cup grated gruyere cheese (or parmesan or asiago)
2¼ cups buttermilk
Instructions
Preheat oven to 450 degrees
In a large mixing bowl, add all ingredients except for the buttermilk and whisk to combine.
Form a well in the flour
Pour in the buttermilk
Using a spoon, stir the buttermilk into the flour, making small circles first then working your way outward to incorporate all the flour.
Form the dough into a ball in your hands and turn it out onto a floured surface. The dough will be sticky. Kneed the dough a few times then form it into a disc about 2" thick. You can sprinkle some flour on the disc. Place the dough on a lightly oiled baking sheet.
Using a serrated knife, gently cut an X into the dough, about ½" to 1" deep.
Bake the bread 20 minutes and then lower oven heat to 400 degrees and bake 27 to 30 minutes or until the bread is golden-brown and sounds hallow when tapped.
Notes
Replace the Gluten-free flour with equal parts all-purpose flour or a combination of all-purpose and whole wheat
Julia Mueller
As a fitness and nutrition enthusiast, Julia writes a food blog called The Roasted Root, where she share recipes that are mostly vegetable and meat based along with stories of her travels and day-to-day activities. Julia loves enjoying fresh home cooked meals with her friends and family, and the process of developing recipes, photographing, and sharing them.