Crostata alla Nutella celebrates the richness and sweetness of the famous hazelnut spread. This is a recipe for both children and adults to enjoy.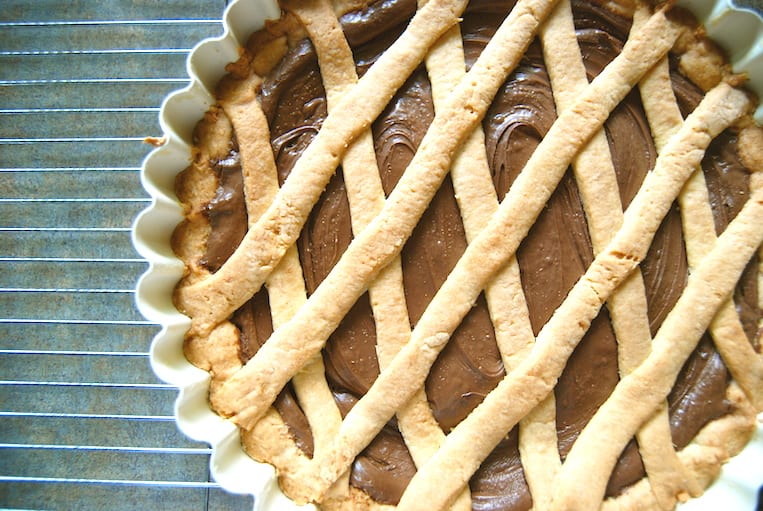 Today's recipe is an tribute to Nutella, that delicious, chocolate-hazelnut spread meant for kids but secretly loved by adults, too.
Nutella was originally a solid chocolate and hazelnut creation, and later a spread named Supercrema, created in the 1940s by Pietro Ferrero, founder of the Italian chocolate company Ferrero. At that time, cocoa was difficult to obtain due to rationing during World War II. Hazelnuts, however, were abundant in his hometown of Alba in the Langhe region of Italy, and in a case of necessity driving ingenuity Ferrero stretched his chocolate recipe by incorporating them. Nutella as we know it was created in the 1964s by Ferrero's son, Michele, who envisioned a product that could be sold worldwide.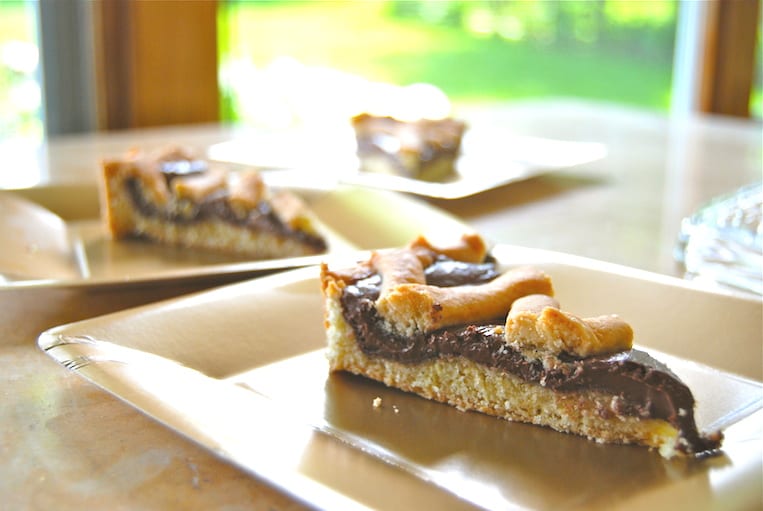 Over time, hundreds of desserts featuring Nutella have been created. One of the most simple, and a favorite in our household, is crostata alla nutella. This is a variation of the classic Italian jam crostata, or crostata alla frutta, and it uses the same short-bread style crust as torta della nonna. We often make it as a children's dessert to accompany a more sophisticated dessert for adults, and it never fails that the grown ups grab a slice, too.

Crostata alla Nutella
A variation of the traditional fruit crostata, Crostata alla Nutella celebrates the richness and sweetness of the famous hazelnut spread. This is a recipe for both children and adults to enjoy.
Author:
Cara Quinn & Stefano Follega
Ingredients
200 g (1 and ½ cup) flour
80 g (1/3 cup) sugar
80 g (5 and ½ Tbsp) unsalted butter, cubed
½ pouch of Pane Angeli lievito per i dolci, or 2 tsp. baking powder
1 egg
Zest of 1 lemon
One small jar of Nutella (13 oz. or 400 g)
Instructions
Prepare the pasta frolla short-bread crust by placing the flour onto a firm, smooth work surface, or into a large bowl.
Add the sugar and pane angeli or baking powder, and mix.
Gather the dry ingredients into a mound and form a well in the middle.
Add the egg, cubes of butter and lemon zest, and working quickly with your fingers, work the wet ingredients into the flour mixture.
Mix by hand until the dough forms a homogenous, smooth ball. Cover in plastic wrap and refrigerate for at least 1 hour.
Preheat the oven to 350° F (180° C), and butter and flour a 9-11 inch or 26-28 cm. fluted-edge tart pan. If you cannot find a tart pan, a round spring-form pan or a pie plate, will also work, although it is helpful to have a pan with a removable bottom.
Take ⅓ of the dough and set it aside. You will use this later for the lattice on top. Roll out the remaining ⅔ of the pasta frolla and lay it into the tart pan, pressing the bottom and sides tightly against the edges. Spread the Nutella smoothly onto the crust.
Roll out the remaining dough, and cut strips that are about ½? or 1 cm. wide. You can use a fluted pastry cutter to make pretty edges if you have one. I was cooking in my mom's kitchen and did not have mine with me, and as you can see straight edges work just fine, too. Arrange the strips of dough on top of the crostata in a lattice pattern, and pinch the edges together.
Bake for approximately 45 minutes, or until the crust is golden brown. Take care to not burn the Nutella. Let cool, and enjoy.