This Salted Caramel Croissant Bread Pudding is pure flippin' perfection. No! It's what perfection WISHES it could be when it grows up.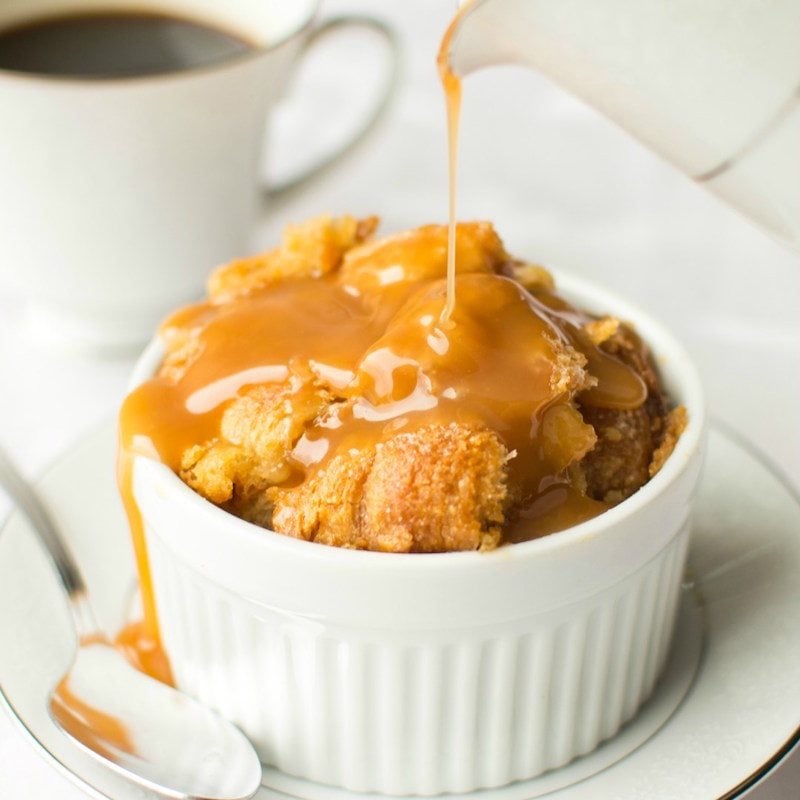 By now, you all should know that I have a serious addiction when it comes to anything remotely related to caramel, ESPECIALLY…salted caramel. I literally had to move this sweet masterpiece of caramel-licious goodness into another room (out of sight, out of mind) so that it wouldn't keep staring me in the eyes…calling my name…persuading me to inhale its entirety.
This bread pudding definitely has no shortage of salted caramel. It's in the custard AND drizzled on top! Hence the name, SALTED CARAMEL croissant bread pudding.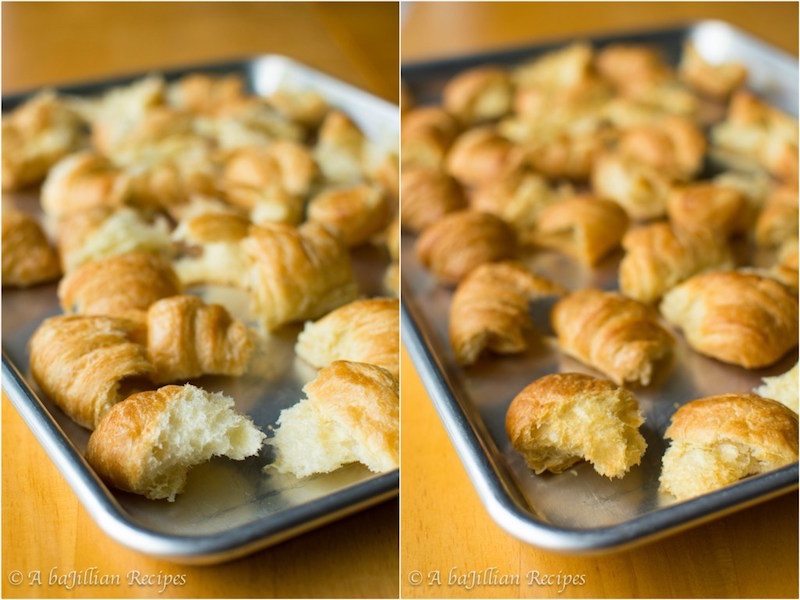 While it can be a little intimidating when it comes to making caramel from scratch, just trust me when I tell you that this recipe is super simple. I made the same salted caramel recipe that I used in my Salted Caramel Sweet Potato Casserole because it was so easy to make and it's made with very basic ingredients–sugar, water, heavy cream, and salt. That's it, y'all! And just look at how perfectly it glides down the side of the dish…
Food porn at its finest, people.
Now, I've definitely made my fair share of bread puddings, but this was my first time using croissants. Needless to say, croissant bread pudding is DEFINITELY where it's at. They're like buttery little pillows, which make them perfect for soaking up creamy custards in bread puddings.
After baking, I was pleasantly surprised to find that most of the croissants still had a nice firmness to them, and the top was perfectly crisp, yet soft enough to sink your teeth into–no mushed up mess in sight. The decision to toast/dry the croissants in the oven for 10-12 minutes beforehand was absolutely key in encouraging the croissants to soak up more of that wonderful caramel-infused custard.
I also believe that it helped prevent that unappealing mushy texture which is usually the biggest downfall of most bread puddings. Before baking, I also gave the croissants time to soak up a lot of that flavorful custard–about 40-50 minutes.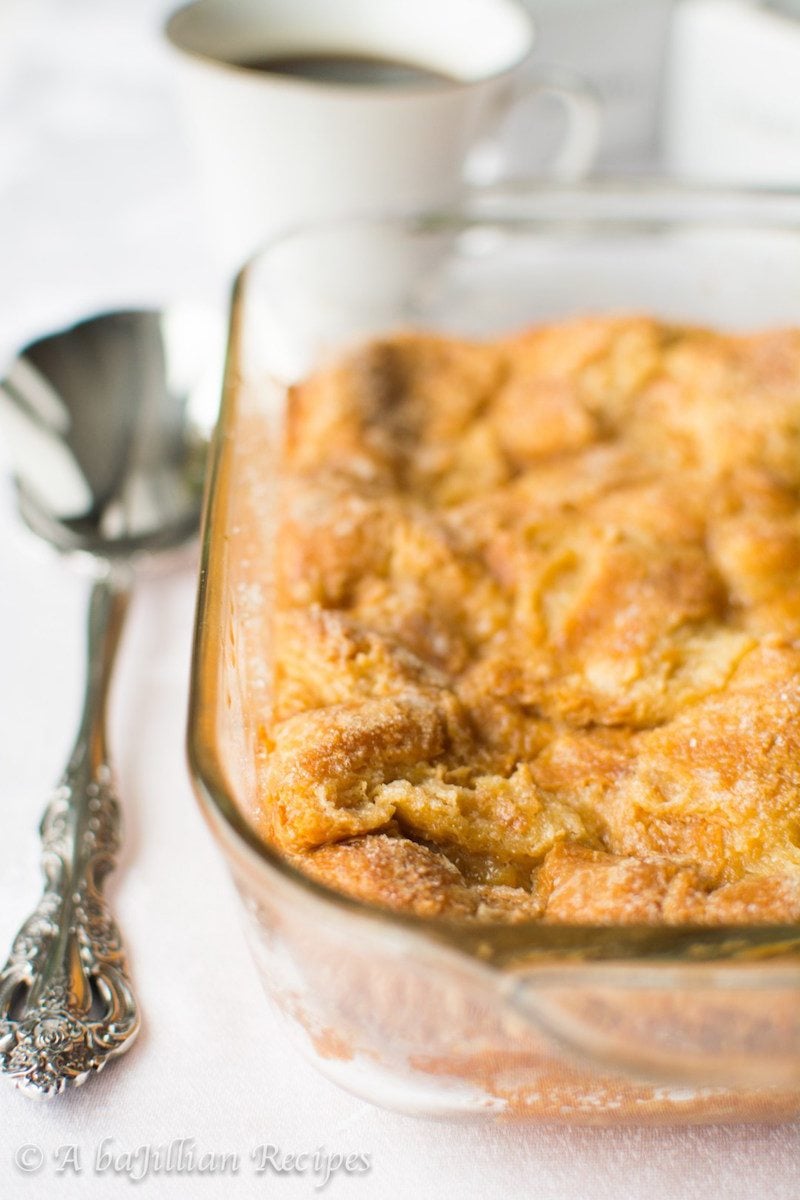 As an afterthought, I dusted the top of the bread pudding with some granulated sugar before baking. Not only did it add a subtle sweetness, but it also created the most delicate crystalized crust on top of the croissants.
Guys, it's only been a few days since I've made this, and I'm already thinking of making another.
There's no rule against making the same recipe twice within the same week is there?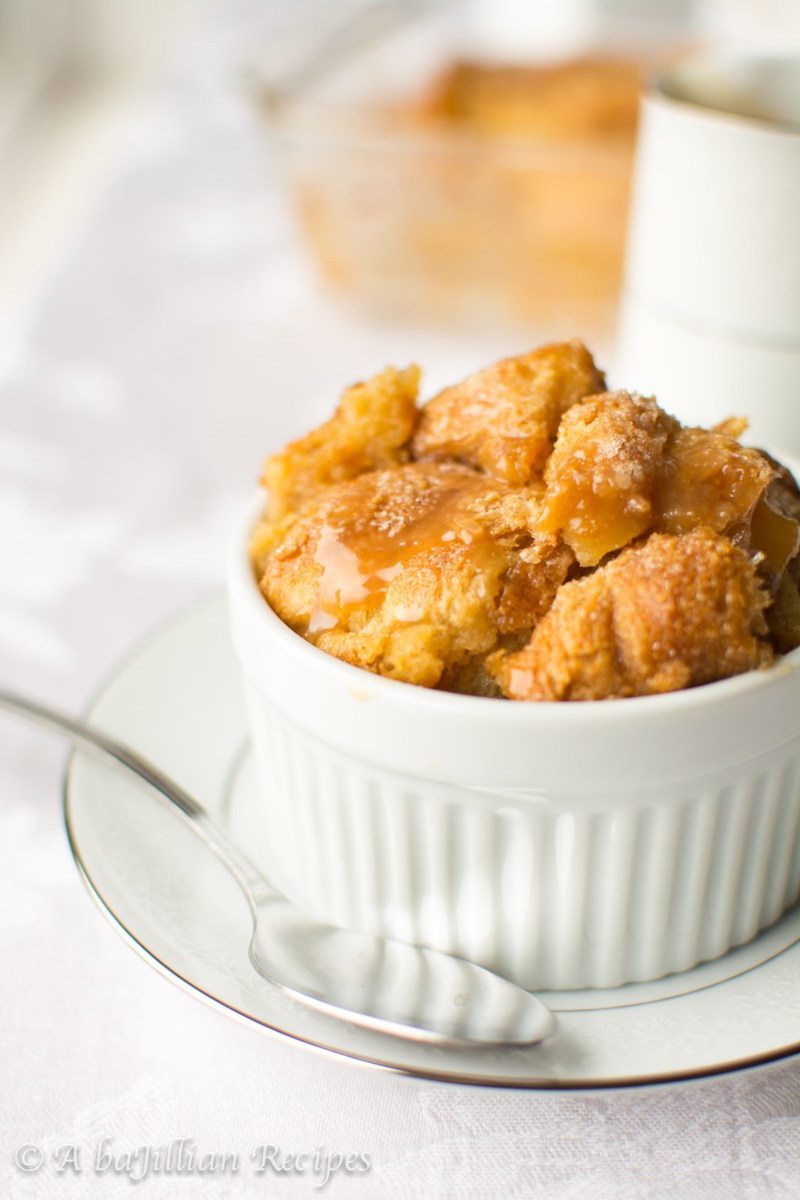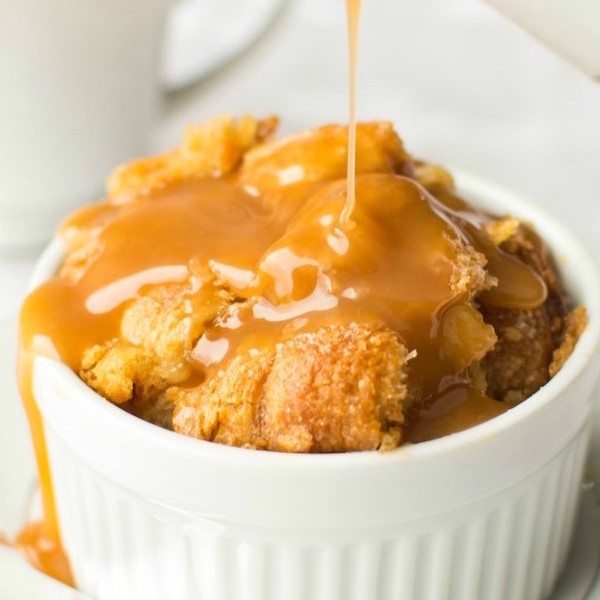 Croissant Bread Pudding Drizzled with Salted Caramel
Jillian Hatsumi
This Salted Caramel Croissant Bread Pudding is pure flippin' perfection. Nay! It's what perfection WISHES it could be when it grows up.
Ingredients
8

ounces

torn/cubed croissants
Salted Caramel*
1

and 1/2 cups sugar

1/2

cup

water

1

cup

heavy cream

1

and 1/2 teaspoons salt
Custard
1

and 1/2 cups milk

2

egg yolks

1

egg

1/4

cup

brown sugar

1

teaspoon

vanilla

1

Tablespoon

granulated sugar
Instructions
Preheat oven to 350F degrees. Scatter the torn croissants evenly in a single layer on a baking sheet. Bake until dry and toasted, about 10-12 minutes. Allow croissants to cool while you prepare the custard.

Begin by making the Salted Caramel: In a medium saucepan over medium heat, combine the sugar and water and gently swirl (NOT stir) the pan around occasionally as it begins to boil. Continue boiling until the caramel reaches a golden brown, about 5 to 10 minutes.

Remove pan from the heat and carefully whisk in the heavy cream. Caramel will sizzle and bubble up. Stir in the salt, and continue whisking until caramel is smooth. If needed, return pan over medium-low heat until caramel is smooth. Transfer to dish or glass measuring cup to cool. Caramel will continue to thicken as it cools.*

In a medium bowl, whisk together the milk, egg yolks, egg, brown sugar, and vanilla. Pour 1 and 1/4 cups of the slightly cooled salted caramel into the custard and whisk until combined.

Transfer cooled croissants to an 8-inch square baking dish. Pour custard over croissants, let stand, occasionally pressing down on the croissants until fully saturated, about 40-50 minutes.

Sprinkle granulated sugar evenly over bread pudding. Bake in the oven for 35-40 minutes, or until the custard has just set. Remove from the oven and allow to cool for 20 minutes.

Serve with reserved salted caramel sauce.
Notes:
* Recipe makes 1 and 3/4 cups caramel sauce.

* If caramel sauce has thickened too much, reheat in the microwave in 10 second intervals until it reaches the desired consistency.
Jillian Hatsumi
I'm Jillian, the writer, baker, chef, recipe creator, and amateur (very amateur) photographer of A baJillian Recipes. Though I'm not a classically trained chef, I like to think I know my way around a kitchen pretty well. Aside from baking, cooking, and EATING, I also enjoy acting, couponing (I LOVE saving money!!), running, working out, photography, and playing with my little fluffernutter, Olivia. She's a dog, if you're wondering...