Crispy tofu is served with a tangy rice vinegar red onion salad. A truly refreshing and beautiful side dish.
By Sherron Watson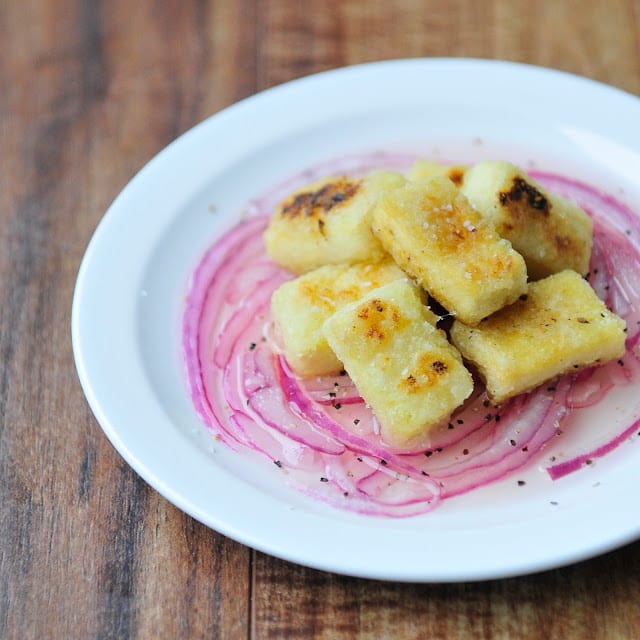 We first had this salad a few weeks ago at our local Japanese restaurant. I wasn't really sure what I was ordering but I knew that I liked tofu and red onions.
When we got home I knew that this needed to be added to our monthly menu line up. To be honest the tofu freaked me out. I had no idea what I was doing when it came to frying tofu and set out on a mission to dig a little deeper.
The method that I am using in this recipe is by far my favorite because its a simple process of heating up some oil, tossing the cubes of tofu in a starch and frying until golden brown. I experimented with deep frying the pieces and it was messy and my tofu was a bit oily.
The tofu was crispy on the outside and tender on the inside–perfect!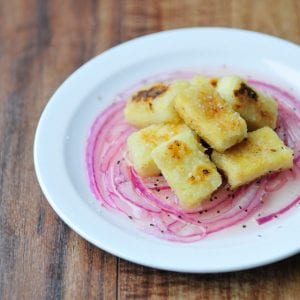 Crispy Tofu and Red Onion Rice Vinegar Salad
Sherron Watson
Crispy tofu is served with a tangy rice vinegar red onion salad. A truly refreshing and beautiful side dish.
Ingredients
1/2

red onion

sliced very thin

1-3

tablespoon

rice vinegar

depends on amount of onion used

salt and pepper

1

block of extra firm tofu

oil for frying

starch for coating
Instructions
minutes before you make your salad prepare the tofu. See the instructions below to help you with this step. Also cut the red onion and add the salt, pepper and rice vinegar.

After 30 minutes, cut tofu into slices and then small pieces. Toss in starch of your choice (corn, arrowroot, potato).

Heat enough oil to cover the bottom of a skillet. Add tofu pieces one at a time. They might clump together if you toss them all in at once.

Fry on each side until golden brown and remove to a cookie rack until ready to add to the red onion.

Top red onion salad with warm tofu and serve.
Removing Excess Tofu Water
This is how I remove the excess water from my tofu. I wrap it in a dish towel and add something heavy to the top of it. The dish towel will absorb the extra water and create a more dense block of tofu for frying.

I slice the tofu into 1/2 widths.

I then take each slice and make it 6 pieces.

Heat my oil, and add each piece one at a time.

Let get golden brown on each side. Remove to cookie rack.
Sherron Watson
Sherron Watson is a writer and photographer. Her passion for food started at a young age while working with her family in their restaurant business. A career in photography gave her the experience she needed to start capturing images of her favorite dishes. This led to the creation of her blog: simply-gourmet.com. She is currently a food writer for Capital Style Magazine in Annapolis, MD.