Creole Stew with Smoked Bacon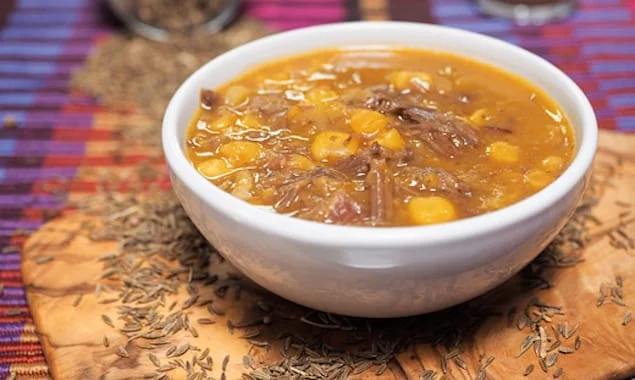 A comforting stew, perfect for the ever-changing temperatures of a rainy spring season. The Caribbean spice blend and smokey bacon flavor adds pizzaz to the hearty bowl of soup.
By Ariel Rebel
Mother nature is being such a tease with us this year. One day it's warm enough to make you believe summer is coming and the next day we are back in January with snow falls and cold weather. It's the type of weeks where you never really know how to dress and you're stomach is all confused, craving comforting winter soups and light cold salads.
Since it's been 2-3 days now that mother nature have been giving us cold weather, I'm still craving this type of filling soup you would eat at your grand parent's house. It's simple and easy to prepare, decadent, comforting and extremely flavorful. The delicate taste of the graines a roussir and the smoked bacon really gives this soup a comforting feel like if you were back at your grand parent's house, all wrapped up in a warm blanket with fuzzy slippers. I like to call this one my fuzzy slipper soup.

Creole Stew with Smoked Bacon
A comforting stew, perfect for the ever-changing temperatures of a rainy spring season. The Caribbean spice blend and smokey bacon flavor adds pizzaz to the hearty bowl of soup.
Ingredients
Stew
488g of bottom blade beef pot roast
3 teaspoons of powdered, grilled "graines a roussir"
2 cups chopped (in small cubes) sweet potatoes
3 garlic cloves, minced
1 cup of chopped yellow onion
1 cup water chestnuts
1½ cups of frozen (or canned) corn bits
93g of smoked bacon (4 slices), cup in small pieces
1 teaspoon of olive oil
½ cup of red lentils (dried)
Graines a roussir
2 tablespoons of cumin seeds
1½ teaspoon of yellow mustard seeds
1 teaspoon of fenugreek seeds
¼ teaspoon of fennel seeds (optional, that's just my personal touch)
Instructions
Feel free to remove the excess fat around your meat pieces. Rub all the graines a roussir on the beef and reserve. Cut the bacon slices in small pieces.
In a big sauce pan, on the stove top, on high heat… grill together the bacon bits with the olive oil, onions and garlic till the bacon is cooked to your liking (try to not wait too long, the goal is not to have hard bacon bits.
Sear your meat on each sides before pouring all the liquid and adding the rest of the ingredients EXCEPT the red lentils. Don't forget to add all the left over spice rub that wasn't able to stick to the beef, in the pan for extra taste.
Let the whole thing simmer for 2 hours and then add your lentils.
When you arrive at the 4 hours mark, remove the beef pieces and with a fork and knife, shred your meat, removing all the excess fat before returning your meat to the soup.
Graines a roussir
Combine the spices and toast in a pan
Grind to a powder
Ariel Rebel
Canadian food blogger, model and web designer Ariel Rebel was born in Montreal in 1985. Her love for food started at a young age by looking at her grand mother cooking pie after pie while she was trying to steal some uncooked dough from the counter. Ariel inspiration for recipes comes from her French Canadian roots mix with all her traveling memories and the countless hours she spent running around Montreal to taste all the different culinary cultures. Her passion for cooking big dinners for her friends and family never ceases to increase every year and that's what motivate her to keep learning new skills while experimenting in her kitchen at much as she can. On her blog (ZestyandSpicy.com) Ariel shares with the world her passion for flavorful and healthy recipes while blogging small pieces of her life as a model and a web entrepreneur.