Crème Fraîche Cake with Limoncello Glaze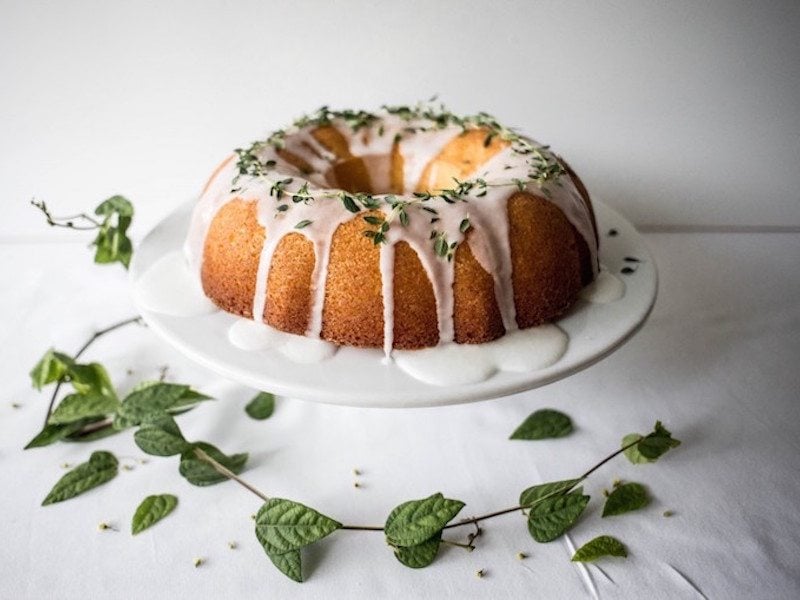 A cake with bright lemon flavor and a light, fluffy crumb, served with zesty glaze which renders indulgence and is garnished with fresh lemon thyme leaves.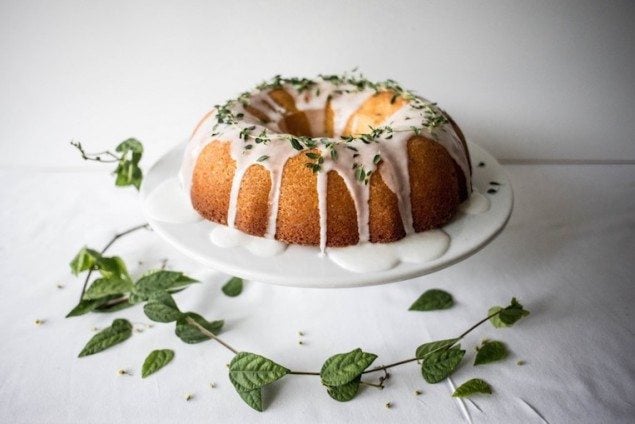 The first time I attempted to make crème fraîche, it went very wrong. Ignoring the recipe, I haphazardly flew around the kitchen, going a-bit crazy with elaborate flavour additions ("should I flavour it with lavender, honey or earl grey?"), adding my own personal flourishes ("home-made buttermilk would make this SO much better!") & processes ("I should probably stir it a few more times for good luck")… not thinking that maybe the recipe was structured this way for a reason. I had become lost in the convoluted madness of my ability.
As expected, the resulting crème fraiche was to be inedible, though I did continue with the process… thinking "it's fine! Its fermenting cream, it's meant to smell rotten, split and curdle… how bad can it really taste?" Actually, it can taste very bad… as I found out later that evening. I had forgotten to think, to trust my instincts and the recipe – to feel my ingredients, to breathe and be present in the process.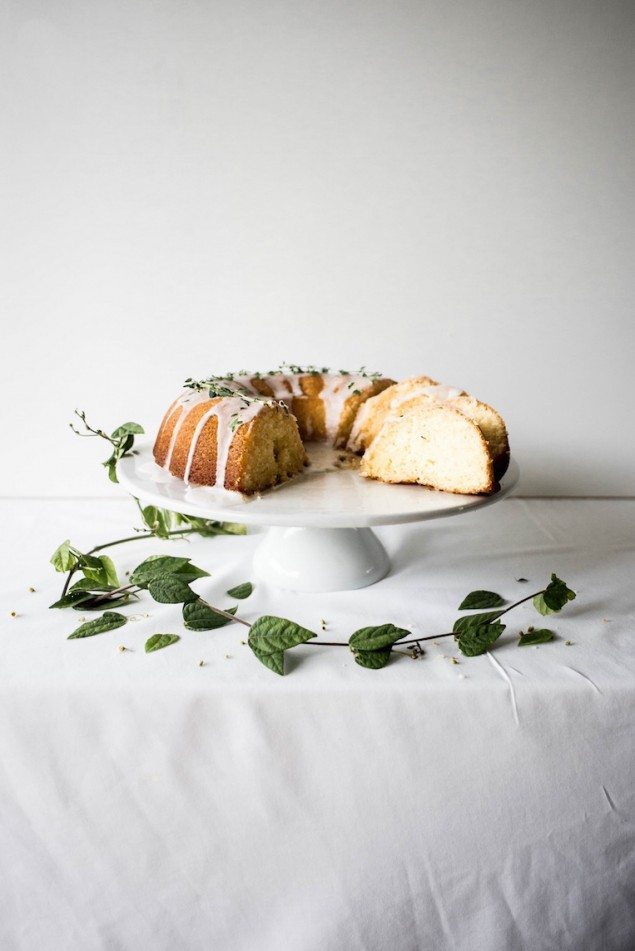 I made the crème fraiche again later on in the week, this time following the recipe exactly and taking my time to get things right. And I'm happy to recount that after sitting undisturbed on the counter for three days, the crème fraiche was as delicious, rich, creamy and dreamy as I knew it always had the potential to be. I offered up a grateful thank you to the universe, appreciative for a hard lesson in simplicity that eventually did bring about beauty.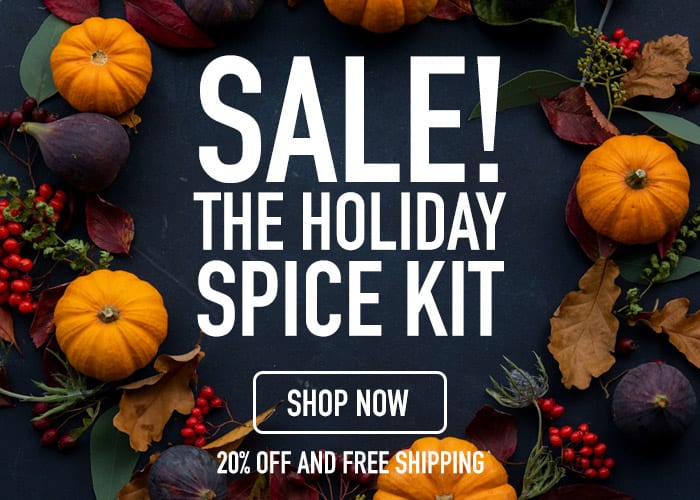 I chose to use my dreamy home-made crème fraiche as the base for a much loved lemon cake. This cake I could make in my sleep. It's a staple in my baking repertoire – a fail-proof recipe I can always turn to… though I only have ever used store bought crème fraiche in it before.
Every lemon cake you've ever had will seem dim in comparison to this tang-y, sweet delight. Lemon and Crème Fraiche Cake is punctuated by the bright citric flavour of lemon…and has a light, fluffy and fine crumb. The cake is partnered with a zesty limoncello glaze which renders indulgence on so many levels. Garnished with a scattering of fragrant lemon thyme leaves, this simple cake is taken to a different flavour realm.
The home-made crème fraiche gives the cake an upper echelon of tang-y creaminess and truly makes all the difference… though if short on time, you can make it with store bought crème fraiche or yogurt. Be prepared for urges to devour the entire cake on your own too, it is simplistic decadence taken to a whole other level.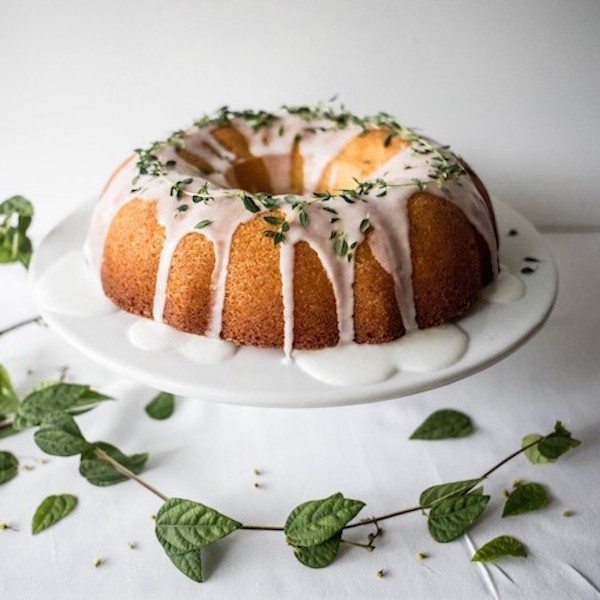 Thalia Ho
Ingredients
For the crème fraiche:
3

cups

heavy cream

1

cup

buttermilk
For the lemon and crème fraiche cake:
¾

cup

vegetable oil

2

eggs

Grated rind from 1 small lemon

Seeds from 1 vanilla bean

¼

cup

lemon juice

1

cup

crème fraiche

1 ¾

cups

caster sugar

2

cups

self-raising flour

1

cup

icing sugar

sifted

1

tbsp.

lemon juice

2

tbsp.

limoncello

Lemon thyme leaves to decorate
Instructions
For the creme fraiche:
In a mixing bowl, whisk together the cream and buttermilk. Cover the top of the bowl with 3 layers of cheesecloth and let the crème sit on the counter for 2 to 3 days, undisturbed. Once it has thickened and is beginning to smell slightly tangy, gently stir it then transfer the crème into an airtight container or jar and refrigerate until ready to use, up to 1 week.
For the lemon and creme fraiche cake:
Pre-heat an oven to 160 C / 325 F. Grease and flour a 24 cm / 9 inch non-stick bundt tin and set aside.

Place the oil, eggs, rind, vanilla bean seeds, juice, crème fraiche and sugar in the bowl of a stand mixer, or by hand, whisk the mixture to combine. Sift over the flour and continue to whisk until smooth. Pour the mixture into the prepared bundt tin and bake for 45 to 50 minutes until the cake is golden and edges are beginning to crisp, or until a skewer inserted into the middle comes out clean. Allow the cake to cool in its tin for 5 minutes before inverting onto a cooling rack.
For the limoncello glaze:
To make the limoncello glaze, mix to combine the sugar, juice and limoncello until smooth. Carefully spoon the glaze over the cooled cake and sprinkle with the lemon thyme. Allow the glaze to set for 10 minutes before serving.
Thalia Ho
thalia is a law student by day, blogger at butter and brioche by night and all around francophile. In her free time you'll find her spending hours on end in her kitchen, testing recipes, baking decadent treats, exploring cookbooks and getting lost in the digital world.