Smooth tomato soup get a rich addition of roasted red peppers and holds its place as an easy weeknight recipe that takes little time to create.
By Kelley Simmons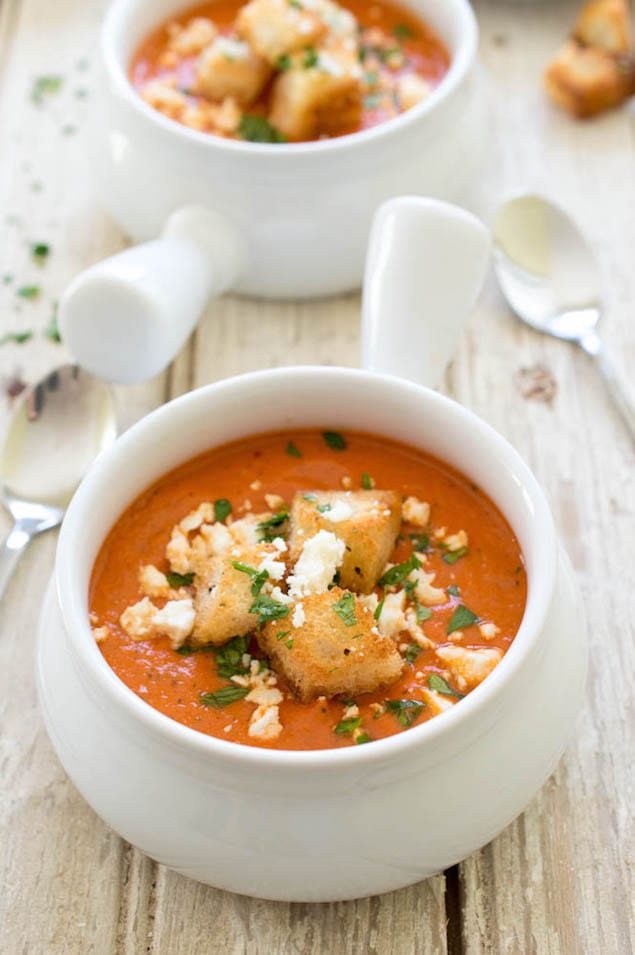 I am a big tomato soup fan. I'm an even bigger Roasted Red Pepper and Tomato Soup fan. The combination of the sweet and smoky peppers and the slightly spicy fire roasted tomatoes is out of this world AMAZING. Sorry tomato soup you've just been upgraded.
This recipe serves two but can easily be doubled. I like to top off each bowl of soup with crumbled feta, croutons and fresh parsley.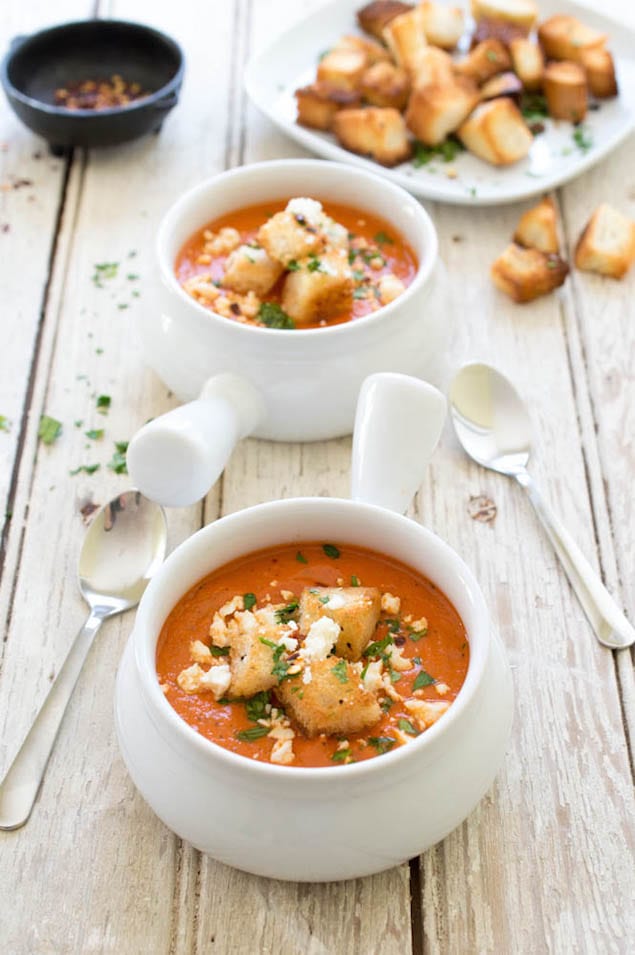 The red peppers and fire roasted tomatoes add so much flavor to this soup. The fire roasted tomatoes give the soup a hint of smokiness.
During the summer I plan to make this with fresh tomatoes and peppers that I roast myself.

Creamy Tomato Soup with Roasted Red Peppers
Smooth tomato soup gets a rich addition of roasted red peppers and holds its place as a weeknight recipe that takes little time to create.
Ingredients
1 tablespoon extra virgin olive oil
½ cup onion, roughly chopped
2 garlic cloves, roughly chopped
½ cup roasted red peppers, roughly sliced
1 can (14.5 ounce) fire roasted tomatoes
½ cup chicken broth
¼ cup heavy cream
⅛ teaspoon red pepper flakes
⅛ teaspoon dried oregano
¼ teaspoon fresh parsley, chopped
⅛ teaspoon pepper
pinch of salt
crumbled feta cheese, if desired
croutons, if desired
extra parsley for garnish, if desired
Instructions
Add olive oil and onions to a large pot. Cook for 2 minutes.
Add in garlic and cook for 1 minute.
Stir in red peppers, roasted tomatoes and chicken broth. Bring to a simmer and cook for 10-15 minutes. Take off of the heat and allow to cool slightly.
Place in a blender and pulse until smooth and creamy. About 30 seconds.
Add the soup back to the pot along with heavy cream, red pepper flakes, oregano, parsley, pepper and salt. Warm up the soup on low if needed and serve immediately.
Top with feta cheese, croutons and parsley if desired.
Kelley Simmons
Kelley is a twenty something writer hailing from Delaware, and photographer behind chefsavvy.com. She started blogging in the beginning of 2014 and has been hooked ever since. She takes the worry out of cooking and helps reader's conquer their cooking fears with simple, easy to follow recipes.