Creamy Sauteed Fiddleheads over Bucatini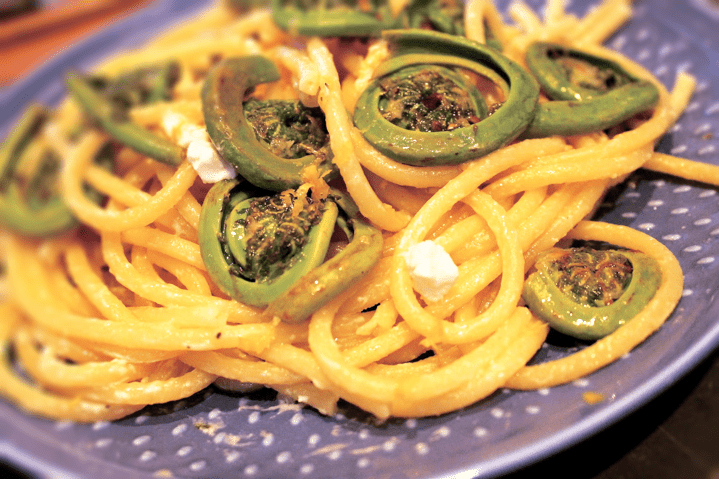 While the creamy bucatini intertwine perfectly with the fiddleheads, there is no denying that the foraged finds steal the show.
By Kara and Marni Powers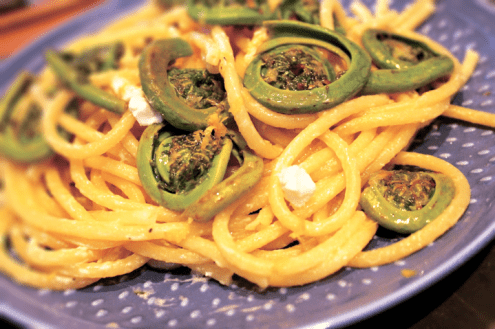 Intrigued by the shape and curious about the taste, we whip up a springtime pasta dish featuring the compact spiral. The flavor is similar to asparagus or green beans with a consistency incomparable to any other vegetable.
Creamy Sauteed Fiddleheads over Bucatini
While the creamy bucatini intertwine perfectly with the fiddleheads, there is no denying that the foraged finds steal the show.
Author:
Kara and Marni Powers
Ingredients
2 c fiddleheads, rinsed
1 lb bucatini
2 T EVOO
2 cloves minced garlic
1 t red pepper flakes
1 t lemon zest
4 oz goat cheese
1 T unsalted butter
juice of half a lemon
1 ladle pasta water
salt and pepper throughout
Instructions
In a large pot of boiling salted water over high heat, throw in the fiddleheads. Let them cook until al dente, about 3 to 5 minutes. With a slotted spoon, remove the fiddleheads from the water and pour them into a bowl of iced water to stop the cooking.
Empty and refill the large pot with salted water and bring to a boil over high heat. Add the bucatini and cook as directed.
While the bucatini is cooking, in a large skillet, heat the EVOO over medium heat. Add the garlic, red pepper flakes, fiddleheads, salt and pepper and sautee for 2-3 minutes. Add half of the goat cheese, a ladle of pasta water and lemon zest and let cook until the goat cheese has melted. Drain the al dente pasta and add it to the skillet. Toss with the remaining goat cheese, butter, lemon juice, salt and pepper.
Kara and Marni Powers
Kara and Marni Powers are twin sister cooks, dining and blogging their way through Boston's North End and beyond. They see the act of cooking and entertaining as a form of creative expression, an art that encourages the mixing of flavors, spices, techniques and stories. Their interest in cooking dates back to their Greek grandmother's open-arms approach, letting them taste her savory creations like her famous spanakopita. Kara and Marni's fascination with food and culture continued during their travels abroad in Europe where they saw firsthand the limitlessness of cooking.