If you aren't already hooked on fennel, this dish with polenta and a kick of spiced sausage will do the trick.
By Erin Rebecca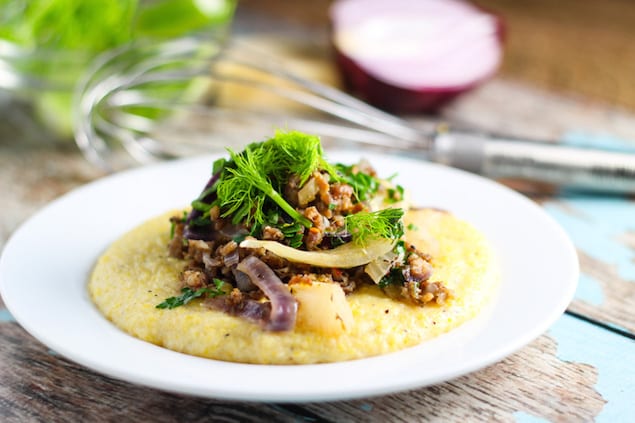 This recipe is an all-time favorite and I have made it time and time again for company and always end up giving out the recipe at the end of the night.
This recipe will get you hooked on fennel, if you aren't already. Fennel has the flavor of licorice. When cooked, that flavor becomes much more mild and takes on a creamy texture. The sausage adds a spicy kick spicy kick to the creamy fennel and polenta. Place the sauté on top of polenta and behold the beauty that is on your dinner plate!
Wine Pairing Suggestions:
I paired this with a Jaume Serra Cristalino Brut Rose. (Great wine for under $10!) This would also go great with a Pinot Gris.
For a red wine, try a big, bold Syrah.
Creamy Polenta with Fennel and Italian Sausage Sauté
If you aren't already hooked on fennel, this dish with polenta and a kick of spiced sausage will do the trick.
Ingredients
1 tablespoon extra virgin olive oil
1 lb bulk Italian sausage (use mild if you prefer less spicy)
1 large red onion, thinly sliced
1 large fennel bulb, cut in half lengthwise, cored, and thinly sliced
4 garlic cloves
2 tablespoons chopped fresh thyme leaves (or 1 tablespoon dried)
salt
fresh ground black pepper
1 quart chicken broth
1 cup milk
¾ cup dry vermouth or dry white wine
¼ cup chopped fresh flat-leaf parsley
1 cup quick-cooking polenta
2 tablespoons unsalted butter
½ cup grated parmigiano-reggiano cheese
Instructions
Heat olive oil in a large skillet over medium-high heat.
Add in sausage, breaking it up as it cooks, until browned, 4-5 minutes.
Add in the red onion, fennel, garlic, thyme, salt, and pepper; cook, stirring frequently, for about 4 minutes or until the vegetables wilt and the onions become translucent.
While the vegetables are cooking, start the polenta: In a saucepan, combine 2 ½ cups chicken broth and milk; season with salt and pepper.
Place over med-high heat and bring to a simmer.
Back to the vegetables: once the vegetables have wilted, add in the white wine and remaining 1 ½ cups chicken broth to the skillet; increase heat to high and bring up to a simmer.
Cook about 4-5 minutes, to reduce liquids by half; stir in the chopped parsley.
To the simmering chicken stock/milk, add in the polenta; whisk constantly until the cornmeal masses together.
Add in the butter and grated cheese; stir to combine (if polenta becomes too thick, add more broth or milk).
Serve polenta topped with ragout; garnish with more Parmigiano-Reggiano.
#mc_embed_signup{background:#fff; border: 3px double black; clear:left; font:14px Georgia,serif;  width:635px;}
/* Add your own MailChimp form style overrides in your site stylesheet or in this style block.
  We recommend moving this block and the preceding CSS link to the HEAD of your HTML file. */