Spicy Cranberry Apple Chutney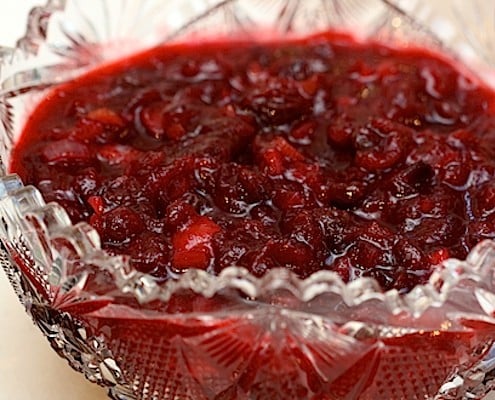 This recipe makes a large batch, so depending on your guest list, you may find yourself enjoying the tangy, fragrant flavors with your leftovers. This is also delicious served along side chicken, fish or pork, or spooned on top of yogurt of cottage cheese.
By Nicole Criss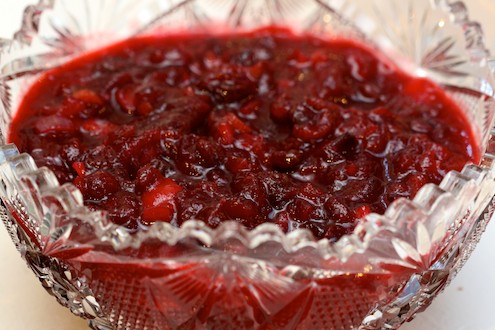 I like to try new dishes every year at Thanksgiving. Creative flavor combinations, a different type of roast squash.  As I see it, there are simply too many good recipes out there to make the same thing year after year.  Sure, it makes me a little more stressed out because I am constantly venturing into the unknown, with the hopes that I can pull it all off on the big day.  It keeps me on my toes, to say the least.
Since a bit of tradition is comforting,  I stick to my mother's recipe for cranberry apple chutney. I serve  it in my grandmother's heavy crystal.  That way I have a taste of  family legacy at my Thanksgiving table. And what would  Thanksgiving be without that, after all?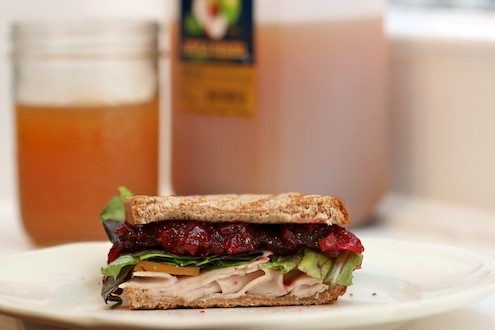 This recipe makes a large batch, so depending on your guest list, you may find yourself enjoying the tangy, fragrant flavors with your leftovers. This is also delicious served along side chicken, fish or pork, or spooned on top of yogurt of cottage cheese.
Ingredients
1 lb (450 grams) cranberries
1 cup (150 grams) seedless raisins
1⅔ (280 ml) cups sugar
1 tablespoon ground cinnamon
1½ teaspoons ground ginger
¼ teaspoon cloves
1 cup (230 ml) water
1 medium size onion, chopped
1 medium size apple, pared, quartered, cored and chopped
1 stalk celery, thinly sliced
Instructions
Combine cranberries, raisins, sugar, cinnamon, ginger, cloves and water in a large saucepan.
Cook 15 minutes, until the berries pop and mixture thickens.
Stir in the onion, apple and celery; simmer 15 minutes longer, or until the mixture is thick.
Cool and refrigerate.
Notes
Optional, for additional crunch, stir in some toasted walnuts or pecans once your chutney has cooled.
Nicole Criss
Nicole Criss is passionate about international foods and the cultures from which they stem. Nicole writes the blog 'And Baby Cakes Three,' chronicling stories of her global food adventures from New York City where she resides with her husband and toddler.