Scones are filled with dark chocolate chunks, fresh cranberries, and drizzled with an easy vanilla icing.
By Giustina Blissful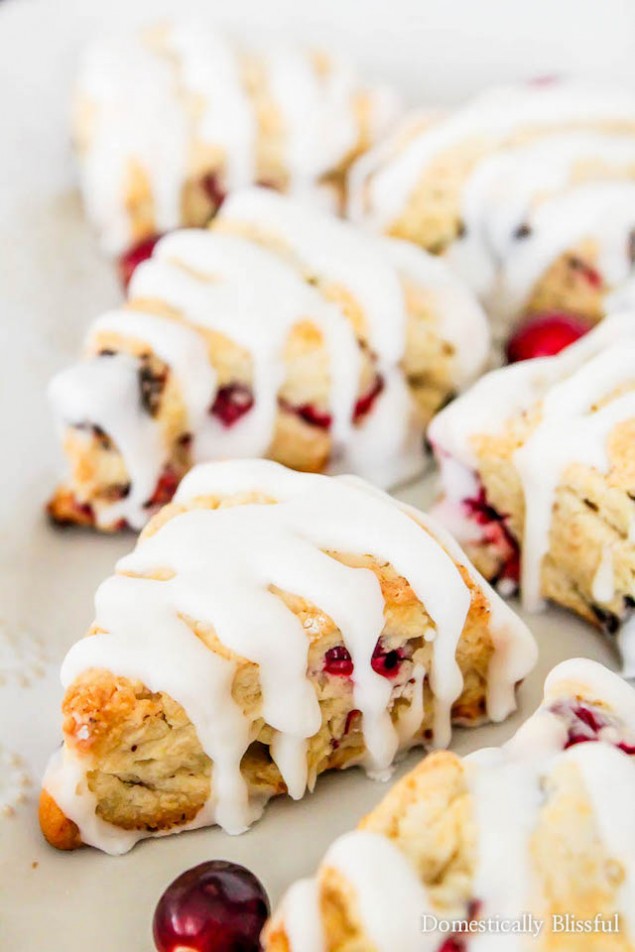 Dark Chocolate Cranberry Scones are the perfect little seasonal treat for breakfast, brunch, or dessert. They would also make a great addition to a Christmas party or even a winter bridal or baby shower.
These scones combine the perfect balance of sweet, bitter, and rich to remind you of all the reasons you love dark chocolate and cranberries together.

Cranberry and Dark Chocolate Scones
Scones are filled with dark chocolate chunks, fresh cranberries, and drizzled with an easy vanilla icing.
Author:
Giustina Blissful
Ingredients
2 & ¾ Cups Flour + Extra for Stickiness
2 Teaspoons Baking Powder
1 Pinch Salt
¼ Cup Sugar
1 Stick of Cold Butter (1/2 cup)
½ Cup Half & Half
½ cup French Vanilla Creamer + 1-2 tablespoons extra
¾ Cup Chopped Dark Chocolate
¾ Cup Cranberries *(1)
Instructions
First, preheat your oven to 400° degrees fahrenheit *(2), then in a bowl sift all of the dry ingredients. 2 & ¾ cups flour, 2 tsp baking powder, 1 pinch of salt, & ¼ cup sugar.
Use your hands to crumble one stick of butter into the dry ingredients. *(3)
Next, fold in the ¾ cup chopped dark chocolate & ¾ cup halved cranberries.
Make a well in the center of the dry ingredients & pour in your ½ cup of half & half & ½ cup of French vanilla creamer & gently combine the ingredients. *(4)
Freezing/Baking Note. *(5)
Split the scone dough in half, place both halves on a floured surface, & using your hands (with a little extra flour) shape the dough into round disks about 2 inches thick. 2 dough disks make 12 scones. 4 dough disks make 24 mini scones.
Cut the dough into scones with a pizza cutter or big knife. Place the scones on a baking sheet lined with parchment paper & brush the top of each scone with French vanilla creamer.
Place the scones in your preheated oven and bake your scones for 20 minutes.
Your Dark Chocolate Cranberry Scones are done baking when they are lightly golden on top.
Top with a drizzle of French Vanilla Icing created by mixing french vanilla creamer & powdered sugar to your desired thickness. *(6)
Keep your Dark Chocolate Cranberry Scones stored in a loosely sealed container for up to one week. *(7)
Notes
*1. I cut my cranberries in half so that they would fit better in mini scones.
*2. If you plan on freezing the dough before baking hold off on pre-heating your oven.
*3. You want the butter crumbles to be somewhat small, about the size of large peas, & dispersed throughout the dry ingredients.
*4. Make sure that you don't over mix, simply make sure that all of the ingredients are evenly combined to make a dough.
*5. You can go ahead & shape/bake your scones if you are in a hurry, but I like to place my scone dough in the freezer for 30-45 minutes (covered in cling wrap) so that the butter gets nice & cold. That way when the scones bake there will be yummy pockets of butter in your scones!
*6. For a thicker icing add more powdered sugar. For thinner add more French Vanilla Creamer.
*7. When left in a sealed container the scones become too moist.
Giustina Blissful
Hello! My name is Giustina and I'm a 20 something who is married to my best friend and love of my life. I think everything tastes better when made with love and a splash of lemon. Although love, life, and marriage is never easy I believe that it is always an adventure worth traveling!