Once you try this delicious salad you'll find yourself craving it again and again. It's bright, fresh and beyond versatile.
By Chris Scheuer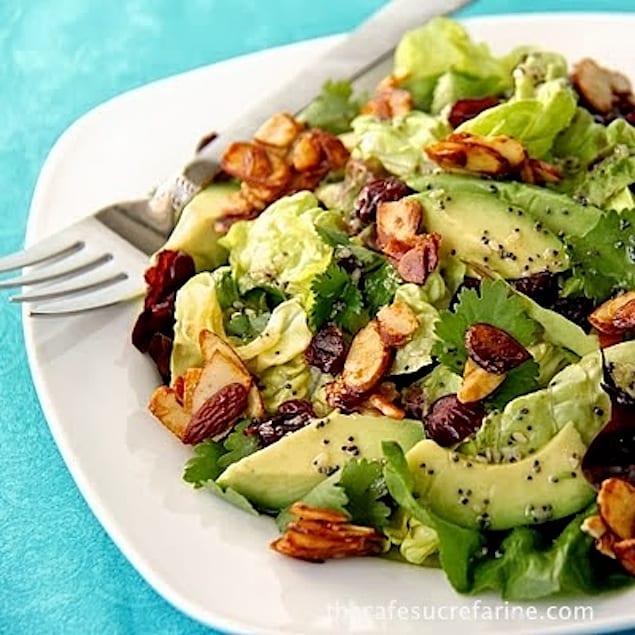 This salad is perfect for a quick lunch, a fancy brunch, a lovely side salad or a complete meal with chicken, shrimp or pork tenderloin piled on top. You can add goat cheese, blue cheese or any other fun cheese that strikes your fancy. It's wonderful with spinach, Romaine, field greens, Bibb lettuce, arugula… did I miss your favorite? Well, it's great with that too! Feel free to change out the nuts also – don't have any almonds? Candied Spiced Pecans would be a fabulous switcheroo!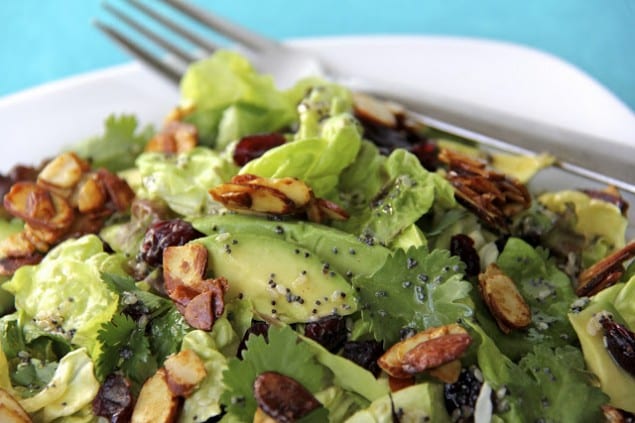 For Valentine's Day, you could add a sprinkle of crimson pomegranate seeds or how about a scatter of blood orange or ruby red grapefruit wedges? Slivers of mango are beautiful as well as grape halves or sliced crisp apples or pears. Are you starting to get the picture? It's what I call a Little Black Dress Recipe! Totally adaptable, simple or elegant, dress it up or down depending on the occasion.
The vinaigrette that dresses this delicious salad can be prepared in minutes. I keep a jar in the fridge so we can have a fabulous salad on the spur of the moment with whatever's in season and/or whatever's stashed in my fruit/veggie bins!
The recipe below is for my Cranberry-Avocado Salad with Candied Spiced Almonds and Sweet White Balsamic Vinaigrette, but feel free to have fun and adapt according to your tastes, whims, cravings, pantry and budget!
Print
Cranberry-Avocado Salad with Candied Spiced Almonds and Sweet White Balsamic Vinaigrette
A delicious salad featuring cranberries, avocado and candied spiced almonds.
Author:

Chris Scheuer

Prep Time:

45 mins

Cook Time:

10 mins

Total Time:

55 minutes

Yield:

6

as main

1

x
Ingredients for the dressing:
1/2 cup

(

60g

) sugar

1 ½ tablespoons

poppy seeds

1 ½ tablespoons

sesame seeds

1 teaspoon

paprika

2 teaspoons

dried mustard

1 tablespoon

minced sweet onion

1 teaspoon

sea salt

1 teaspoon

freshly ground black pepper

1/2 cup

(

120

ml) white balsamic vinegar

1/3 cup

(

70

ml) vegetable oii

1/3 cup

(

70

ml) extra virgin olive oil
Ingredients for the salad:
12 ounces

(

340g

) baby spinach, arugula, field greens

1

small bunch cilantro, washed and dried, leaves removed whole from stems (discard the stems or use for another recipe)

2

medium avocados, peeled and halved

1 1/2 cup

(

115g

) dried cranberries

1 1/2 cup

(

115g

) Candied Spiced Almonds (see recipe)
Ingredients for the almonds:
5 cups

(

600g

) sliced almonds, or a 1 pound package
cup (100g) sugar

3 tablespoons

butter

2 teaspoons

cinnamon

1 teaspoon

cumin*

1

–

1 ½

teaspoons smoked paprika* – some smoked paprikas are quite hot, if you don't like "hot", just use 1 teaspoon and they will be mildly spiced.

1 teaspoon

vanilla
sea salt
The cumin and the smoked paprika give just a hint of mysterious, delicious flavor – even though these are savory spices, these almonds are still wonderful served with sweets like ice cream or yogurt.
Instructions
For the dressing; combine all ingredients in a pint sized glass jar and shake well to dissolve sugar.
For the salad; place greens and cilantro leaves in a large bowl.
Add avocado and dried cranberries and about 1/4 cup of the dressing and toss gently.
Scatter candied almonds over salad and sprinkle lightly with sea salt and freshly ground black pepper. Pass extra dressing at the table.
For the almonds:
place a large sheet of foil on a work surface. Spray with cooking spray or rub a teaspoon of oil over foil with a paper towel.
Place sugar in a large non-stick sauté pan and heat over medium heat, occasionally tipping and swirling the sugar until it's all melted into a pale golden syrup.
Lower heat immediately and add butter, cinnamon, smoked paprika and vanilla. Stir until well combined and all butter is incorporated into the sugar syrup.
Add the nuts and stir gently to coat. Don't worry if you have some clumps of caramelized sugar – they will melt as you continute to sauté the almonds. Cover and continue to cook on low, stirring every minute or so until almonds are a delicious golden brown. Watch very carefully as they can go from beautiful to burned very quickly! Turn out onto prepared foil and sprinkle liberally with sea salt. Spread out on foil to cool.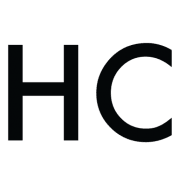 Chris Scheuer
Crescentia "Chris" Scheuer is the creator of The Café Sucré Farine food blog, which has been hugely successful since its inception in March 2011. Her recipes are seen on Foodgawker, TasteSpotting, Gourmet Live, Bon Appétit Bloggers, Foodista and other international food sites. Her inspiration for creating new, innovative cuisine comes from an insatiable curiosity, a love of travel and family connections in the UK. She has taught cooking classes in Raleigh, NC, USA.