Just three ingredients results in a light and feathery cake that serves as a subtle canvas for sweet fruit or just powdered sugar.
By Ann Low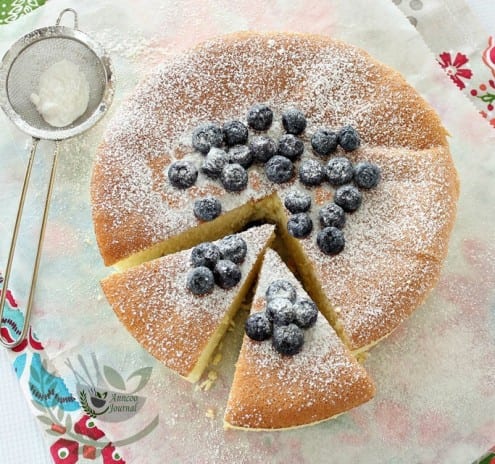 Cornflour Sponge Cake
Just three ingredients results in a light and feathery cake that serves as a subtle canvas for sweet fruit or just powdered sugar.
Ingredients
3 Eggs (65g each)
½ cup (110g) Caster sugar (used 85g)
¾ cup (110g) Corn flour, sifted twice
Instructions
Preheat oven to 180C. Grease with butter or cooking spray, 20cm/8 inch round cake pan; line base with baking paper.
Beat eggs with 2 tsp vanilla extract at medium high speed for about 10 minutes or until thick and creamy. Gradually add sugar, beating until dissolved between additons at medium speed.
Sieve in the corn flour little by little for the third time and fold well in with a rubber spatula.
Pour mixture into pan and spread evenly; bake for about 20 minutes or skewer inserted into the cake comes out clean.
Turn sponge onto a wire rack to cool.
Dust with a little sifted icing sugar and top with some fresh blueberries or any berries you like. Can also spread some jam to go with it.
Ann Low
Ann Low is the author of Anncoo Journal, and loves to bake and cook for both family and friends. She acquired a strong passion for culinary skills from a very young age by watching her grandmother prepare delicious meals for the family. Ann believes that baking is an art and she wants to share her baking and cooking experiences with everyone in the world.