A representation of the Tanzanian landscape, this dish, also known as makai paaka, uses sweet corn that is enveloped in a velvety coconut sauce. To complement the curry, serve with rice.
By Nandita Nataraj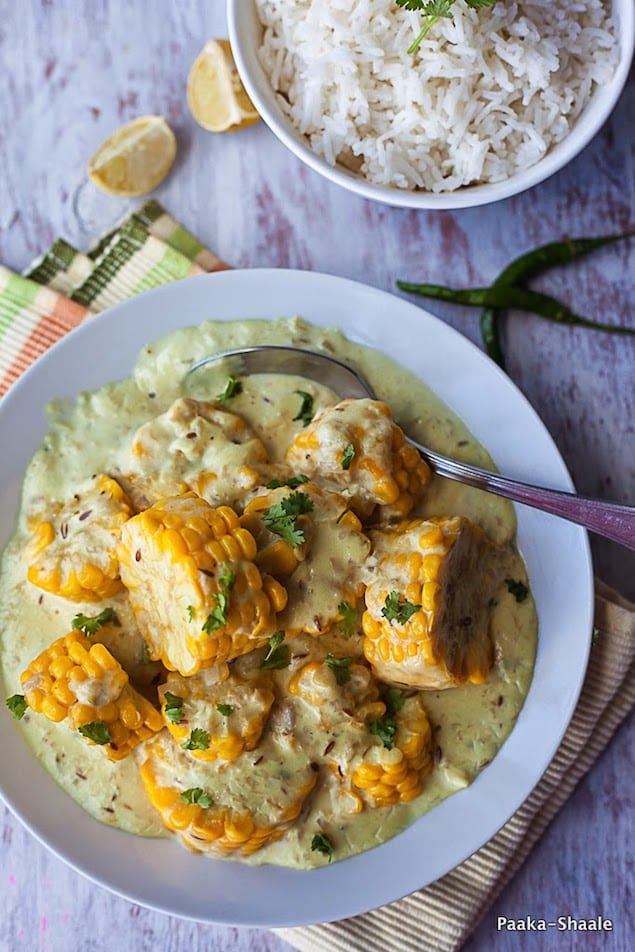 Makai Paaka is a Tanzanian dish. But it can also be found in the coastal parts of Kenya as well. This dish, I feel, sort of reflects the Tanzanian landscape.
I was introduced to Makai Paaka through a friend. I remember her mentioning this dish during a casual conversation. When I questioned her about this, she went on to say that makai paaka was nothing but Corn cobs cooked in coconut milk. I was intrigued. This dish certainly sounded unique. I had asked her for the recipe and I had resolved to make this curry soon. The next day, I was busy with the usual chores when I heard the door bell ring. I opened the door to find my friend's driver holding out a box to me. I opened the box to find sliced corn cobs in a pale yellow sauce. Yes, it was actually makai Paaka. My friend not only gave out the recipe but also made the curry for me and sent it. How sweet was that?? Somehow, the thought and the gesture made the curry even more delicious.
See Also
Makai Paaka is one of those dishes that makes you ask for more. There are these sweet and tender corn chunks that are enveloped in a velvety and creamy coconut sauce. Who can get enough of that? I suggest serving this dish with piping hot steamed rice. It makes the curry taste even better. Although I have presented the dish with a spoon and fork, it's much better to eat this curry with hands as biting the tender corn kernels and gnawing on the juicy corn cobs makes the whole experience of eating makai paaka pleasurable.

Corn on the Cob with Coconut Sauce
A representation of the Tanzanian landscape, this dish, uses sweet corn that is enveloped in a coconut sauce. To complement the curry, serve with rice. The rice flour can be replaced with either corn starch or gram flour. This curry can be made with corn kernels instead of corn on cobs. But the cooking time will be reduced to just ten minutes.
Ingredients
Rice flour- 2tsps
Ginger- 1"piece
Green chili- 1
Oil- 2tbsps
Cumin seeds- ½ tsps
Onion- 1 med, chopped fine
Turmeric- ¼tspn
Coriander powder- ½tsp
Salt- to taste
Corn cobs- 2 large, husk and silk removed and sliced into 1" thick pieces
Coconut milk- 1, 14 Oz can
water- 1 cup
Juice of ½ a lime
Coriander leaves to garnish
Instructions
Mix the rice flour with one table spoon of water and keep aside.
Make a paste of the ginger and green chili and set aside.
Heat oil in a pan and add the cumin seeds. Once they turn brown add the ginger green chili paste and fry for a min.
Add the chopped onion and fry till they turn translucent. Stir in the turmeric, coriander powder and salt and fry for a minute more.
Add the corn slices and mix well. Add water and the coriander milk and cook covered till the corn cobs are tender and cooked through.
Garnish with lime juice and coriander leaves and serve hot with rice.
Nandita Nataraj
Nandita was born, bred and spread in India, but right now lives in Tanzania where her quest for simple and exotic pleasures of food led to the creation of the blog Paaka-Shaale. She believes that food is not just a means to feed a body. But it is also meant to appeal the mind and satiate the soul.