Natalie McLaury considers herself a bit of a hoarder when it comes to magazines. Never one to pass up a good deal on a subscription, it's to the point where she now finds herself receiving a magazine in the mail several times a week. Most of the time, she rips out pages of recipes but fails to actually create the recipe in her kitchen. Not anymore! Join Natalie as she cooks the magazines.
By Natalie McLaury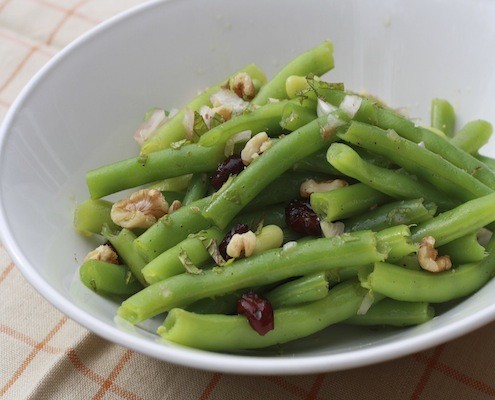 I realize that my love for vegetables is not particularly normal. I rarely come across a vegetable I dislike and I don't remember ever being forced to stay at the table to finish my broccoli. Most people don't share my kale obsession, which probably explains why I never have trouble finding it at the grocery store. More often, I think people tolerate vegetables because of their health benefits and their prominent place on the food pyramid.
Do you fall into that category? If so, I'm here to change your mind about vegetables. I find them really hard to dislike in a dish like this, when you toss them with fresh herbs, dried fruit, and crunchy toasted walnuts. I'm willing to bet the combination of flavors and textures will distract you long enough to finish off at least one serving before you even realize you've eaten vegetables.
Are you a vegetable lover? Hater? Tolerator? Any favorite vegetable side dishes to convert the veggie haters of the world?

Green Beans with Toasted Walnuts and Dried Cranberries
Green Beans Tossed with Toasted Nuts and Dried Fruit make for a festive side dish!
Ingredients
⅓ cup extra-virgin olive oil
⅓ cup minced shallots
3 tbsp plus 2 tsp white balsamic vinegar (original called for Sherry wine vinegar)
2 tbsp chopped fresh mint
1½ tsp coarse kosher salt
1 tsp sugar
½ tsp black pepper
⅓ cup dried cranberries (original called for dried tart cherries)
1½ pounds trimmed green beans
½ cup walnuts, toasted & chopped
Instructions
Whisk the olive oil, shallots, vinegar, mint, salt, sugar, and pepper in a small bowl. Stir in dried cranberries and set aside. (Note--can be made 1 day ahead of time. Cover, refrigerate, and bring to room temperature before serving.)
Fill a bowl with water and ice. Set aside. Cook green beans in a pot of salted boiling water for 3-4 minutes, until crisp-tender. Drain beans and transfer to ice water to cool. Drain. (Note--can be made 1 day ahead of time. Wrap in paper towels and place in a sealed plastic bag. Refrigerate. Bring to room temperature before serving.)
Toss green beans with dressing and toasted walnuts. Serve at room temperature (Note--can be made 2 hours ahead of time).
Notes
adapted from Bon Appetit November 2010