Cooking the Magazines: Curried Chickpeas with Couscous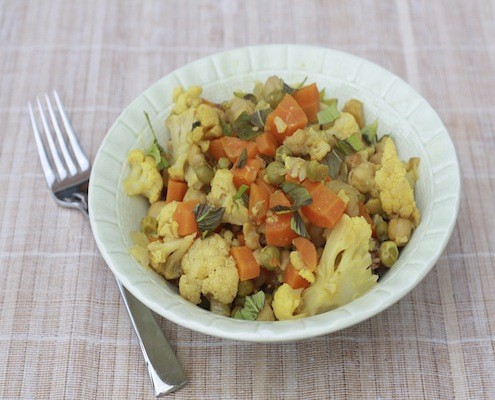 Natalie McLaury considers herself a bit of a hoarder when it comes to magazines. Never one to pass up a good deal on a subscription, it's to the point where she now finds herself receiving a magazine in the mail several times a week. Most of the time, she rips out pages of recipes but fails to actually create the recipe in her kitchen. Not anymore! Join Natalie as she cooks the magazines.
By Natalie McLaury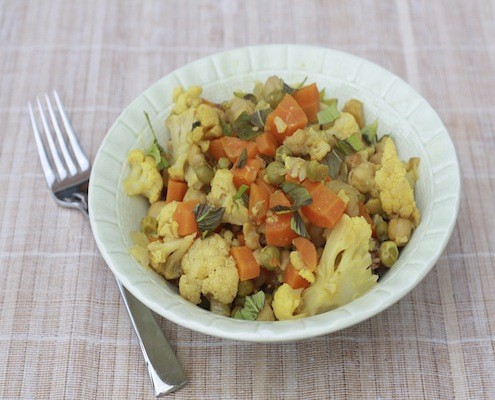 In theory, crockpot dishes are awesome, which is why you'll find many of them in my recipe index. There's nothing better than walking in the door and smelling dinner ready and waiting for you. Unfortunately, many slow cooker meals only need 4-6 hours to cook. That isn't exactly ideal when you are away from the house for upwards of ten hours some days….unless you like your meals charred! Instead, I've started using my crockpot on the weekends, when time is a bit more flexible. I still get the benefit of smelling dinner cooking itself for you and oftentimes we have enough leftovers to carry over into the busy workweek.
I pulled this curried chickpea recipe out of a Family Circle magazine more than a year ago and am finally now getting around to making it. The prep work was easy–just chopping and tossing into the crockpot–and then I went about the rest of my Sunday. A few hours later I took ten minutes to prep some bulgur (the original recipe called for couscous but you could use any grain you have on hand) and dinner was served!
If curry isn't your thing, I wouldn't recommend this. Thankfully my husband Ryan and I are both big fans of curry. Having returned from a bachelor party weekend away, Ryan was particularly appreciate of the vegetables which had apparently been absent amongst all of the cigars, alcohol, and tacos! This was healthy and filling and reheated well, making it excellent leftovers the next evening. Any night I get a break from cooking is considered a win!
Curried Chickpeas with Couscous
A slow cooker dish featured curried chickpeas and vegetables
Ingredients
3 medium sized carrots, finely chopped
4 cups cauliflower florets (about ¾ pound)
2 cans (15 oz each) chickpeas, drained and rinsed
1 cup (8 oz) frozen peas
1 medium-sized onion, chopped
3 garlic cloves, minced
2½ tsp (12 ml) curry powder
¾ tsp (4 ml) ground coriander
¼ tsp (1 ml) crushed red pepper flakes
1 cup (8 oz) vegetable broth
¾ cup (6 oz) coconut milk
¼ cup (2 oz) chopped fresh basil
¾ tsp (4 ml) salt
1 cup (8 oz) dry couscous
Instructions
Place carrots, cauliflower, chickpeas, peas, onion, garlic, curry powder, coriander, and red pepper flakes in the slow cooker. Pour vegetable broth and coconut milk over the top.
Cover and cook on low for 6 hours or on high for 3 hours. Remove 2 cups of the mixture and place in a small bowl. Mash with a potato masher and stir basil and salt into mashed mixture. Return to slow cooker and stir until well combined and heated through.
Prepare couscous (or quinoa, rice, bulgur, etc.) according to package directions and serve chickpea curry over the top.
Notes
From Family Circle Magazine September 2010
Natalie McLaury
Natalie McLaury is a St Louis based food writer with a passion for real food and experimenting in the kitchen. Her cooking ranges from healthy three course meals to decadent desserts, and she shares many of her food tips and recipes on her successful The Sweets Life blog . As an avid runner and fitness expert, she also gives the occasional tips on how to combine a serious interest in health with a sweet tooth.