How to Make the Perfect Cream Puffs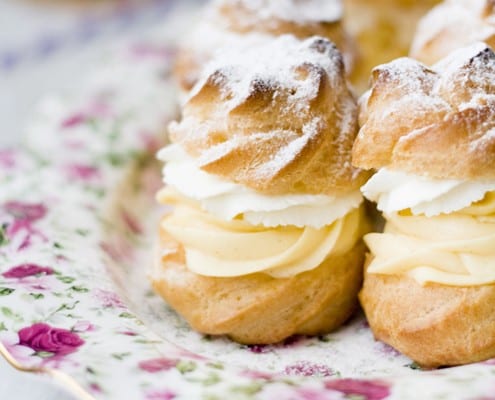 Cream puffs are one of the loveliest and most popular desserts in Croatia. Learn how to make them.
By Tamara Novacoviç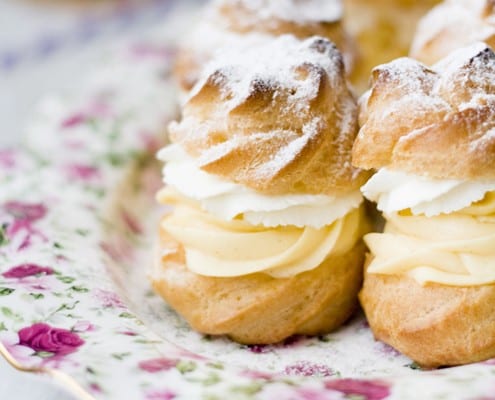 Have you ever made cream puffs? They can be considered one of Croatia's staple desserts. Here we call them "princess doughnuts", which is a literal translation. They are very pretty and resemble cute little princess cakes, don't you think?
Basically, we are big on cream puffs – and there's a whole arsenal of recipes for this dessert. It's almost a science. Why? Because of the pastry or pâte à choux. It is a bit tricky to make. It should rise (be puffed) enough during baking, its interior shouldn't be dense and doughy but hollow (empty) with a cavity that can be filled, it shouldn't burn but still be baked enough so the inside is dry and it should be light when baked. How to achieve this?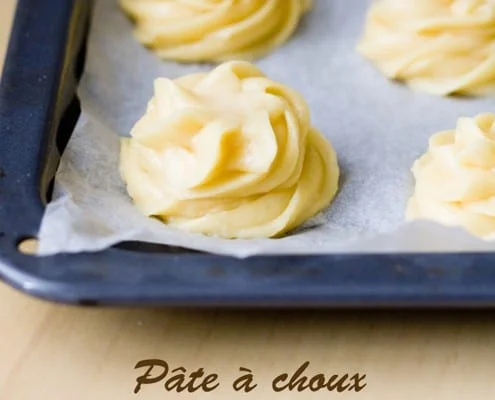 My friend Maja from Cooks and Bakes has the perfect recipe for cream puffs, with step by step instructions and examples of successful and unsuccessful ones. I followed her recipe to the tiniest detail and got perfect cream puffs.
The secret to the right dough is the right ratio between fat, eggs, flour and water. Maja's advice is to always use vegetable or sunflower oil instead of butter or margarine, as they contain 20 % water, which might influence the consistency of the dough and possibly ruin your cream puffs. Play safe and use oil. Another problem can be eggs-eggs come in different sizes, so it's best to measure them with your measuring cup. The perfect measurement is 250 ml eggs-125 ml oil-250 ml water-150 g flour. If you reduce or increase the amount of one ingredient, make sure to proportionally reduce or increase the rest of them.
See Also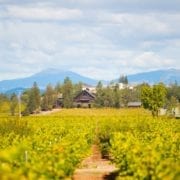 I understand that Americans and French often fill these with ice cream and cover with melted chocolate. These are then called profiteroles. When it comes to filling, in Croatia we always make them with custard made of egg yolks, milk, cornstarch, sugar, vanilla and butter. Cornstarch is preferred over flour, as it gives the filling lightness and beautiful texture. Butter is preferred over margarine here because it makes the filling extra smooth, silky and rich. Oftentimes, we add a layer of whipped cream over the custard filling, although this can be omitted. A dusting of powdered sugar is always added on top. A lot of custard and whipped cream-it's nice when these layers are visible, especially when you pipe them with pastry bag and star tip. Our cream puffs are always mile high.
How to make the perfect cream puffs
Cream puffs are one of the loveliest and most popular desserts in Croatia. Learn how to make them!
Ingredients
For the pastry
1 cup (250 ml) eggs (this is about 4 eggs size S)
2 cups (250) ml water
½ cup (125 ml) vegetable or sunflower oil
1⅛cup (150 g) all purpose flour
pinch of salt
3 tsp sugar
For the filling
4 cups (1 l) milk
3 sachets vanilla sugar (or 3 tsp vanilla extract)
1¼ cup (250 g) sugar
1 egg
5 egg yolks
1⅛ cup (150 g) cornstarch
4.2 oz (125 g) butter, softened, room temperature
1 cup (250 ml) whipping cream + some powdered sugar
powdered sugar for dusting
Instructions
Make the pastry: Combine water, oil, salt and sugar and heat until it boils. Remove from heat and add flour, all at once, stirring with wooden spoon until all the lumps are dissolved and it pulls away from sides of the pan (it will take about 2 minutes).
Gradually add eggs, one by one and combine well after each addition, until the batter comes together. This is your pastry dough. It will be thick, shiny, smooth and sticky. Put it into a pastry bag with star tip or round plain tip and pipe it onto baking sheet lined with parchment paper, 1 inch apart. Make desired size mounts-I prefer their diameter to be 12.5 inch. Smooth pointy tops with a wet finger, so that they don't burn while baking.
Preheat oven to 200 C and bake for 35-40 minutes. You can also bake them at 250 C for 12-14 minutes and then reduce temperature to 150 C and bake for 20 more minutes, so that the inside dries out thoroughly. Let cool completely and cut in half with serrated knife.
Whisk egg with yolks, 100 ml milk and cornstarch-make sure there are no lumps.
Heat the rest of milk with vanilla and sugar. When it boils, remove from heat and add to the egg mixture. Put on low heat and stir for several minutes until it thickens into a custard. Cover with plastic foil and let cool to room temperature.
Mix butter with electric mixer. Take cooled custard and mix it as well. Then combine the two. Make sure to thoroughly incorporate butter into the custard.
Mix whipping cream with some powdered sugar until soft peaks form.
Assembling:
Put the filling into a pastry bag with a star tip and pipe it on the bottom of each cream puff. Then pipe a layer of whipped cream and cover with tops you cut off earlier.
Dust with powdered sugar. Keep in cool place.
Tamara Novakoviç
Tamara Novakovic is a passionate self-taught cook, food blogger, freelance food writer and photographer behind bite-my-cake.blogspot.com. Her life journey has led her through Faculty of Humanities in Zagreb, Croatia to discovering passion for making cakes. She is currently a weekly food columnist for Croatian newspaper V magazine and food magazine Repete.