SPONSORED: We get excited about good food and great ingredients, so we've teamed up with Divine Flavor to bring you delicious recipes for each season made with their fresh produce.
Looking for a cool recipe for a hot day? Look no further. Dig into these colorful veggie sushi rolls that can be a light dinner or perfect packable lunch. They're totally delicious with soft mango, avocado and a drizzle of spicy mayo.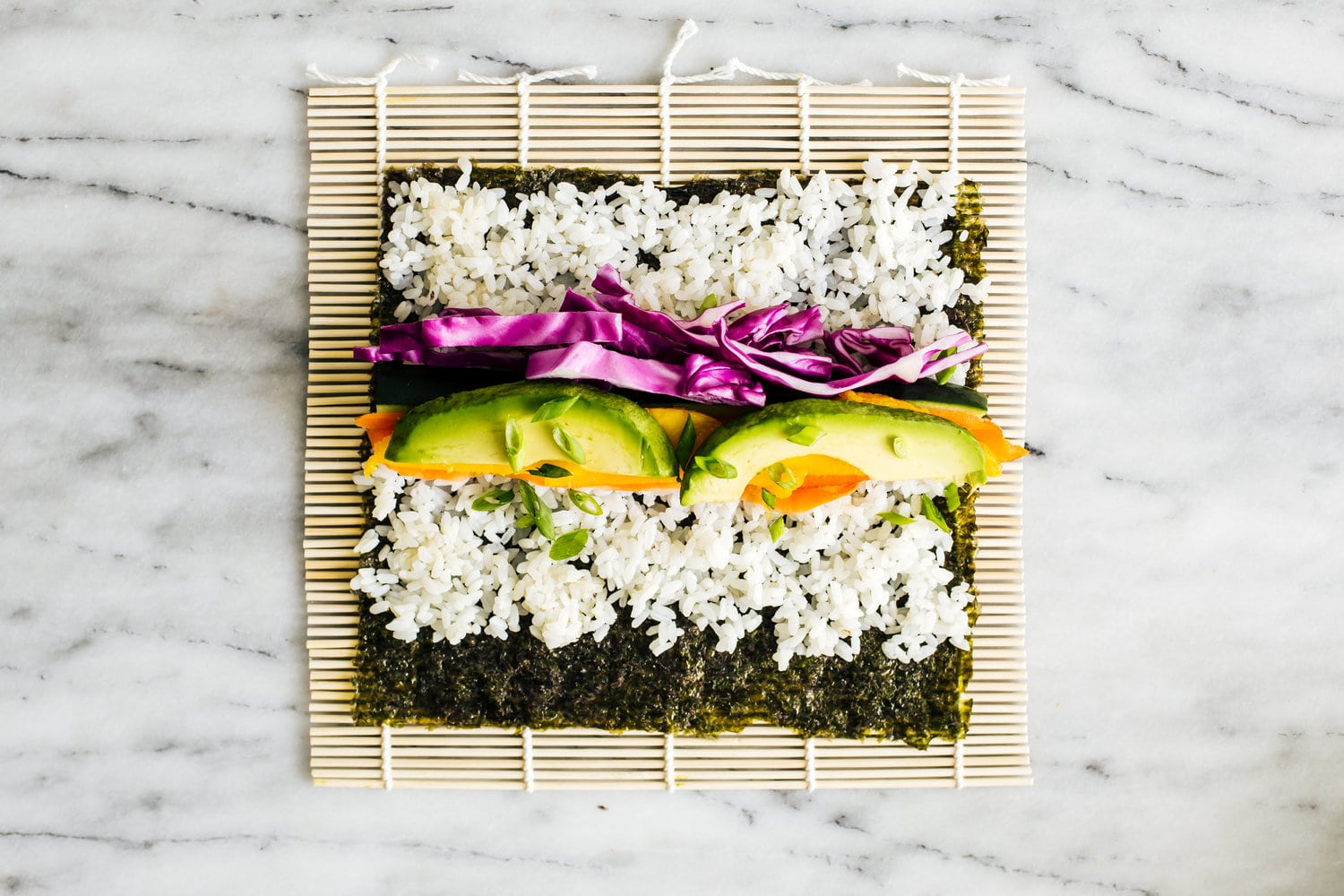 The past few weeks I have been drinking lots of iced sweet tea and pairing it with a few different books that I have been meaning to read. Gosh, it's been awhile since I've really enjoyed reading. I finished The Joy Luck Club and then moved on to The Help. Joy Luck Club was really sad but thought-provoking, and I absolutely loved everything about The Help. Now I am reading The Princess Bride – which I've heard is so good and maybe better than the movie? Although not sure how that's possible?!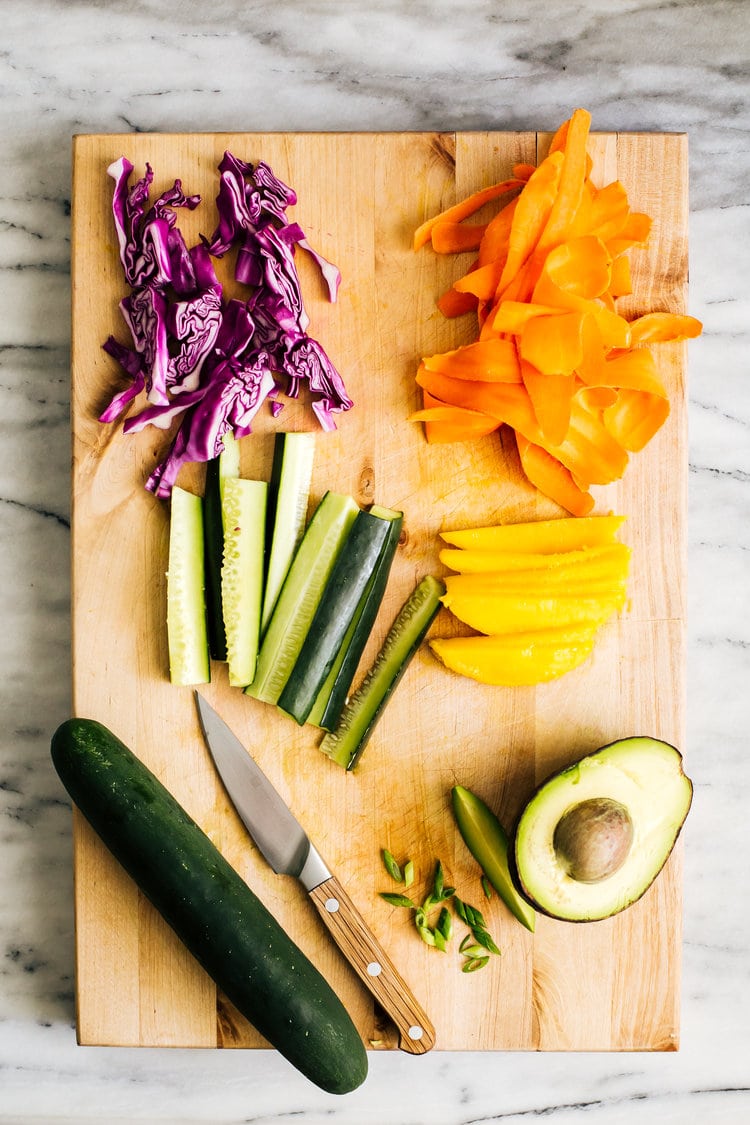 Besides my summertime sweet tea obsession, I have been only interested in all of the light and (non hot) foods in this heatwave. Veggie sushi is the best to make at home because it is such a good light lunch or dinner and utilizes just about any vegetable or fruit that you have on hand. I also love that I don't have to worry about dealing with raw fish and questioning whether or not it actually is sushi grade or not. Not to mention – that stuff is expensive!
The key to good veggie sushi is to play with textures and to serve it with a good dipping sauce (i.e. spicy mayo and soy sauce). I love the crunch from the cucumber paired with the soft mango and avocado. The cucumbers were sent to me by Divine Flavor – a family owned fruit and vegetable distribution company.
Rolling sushi can take some practice, but it is not too hard once you get the hang of it. I've provided a short video below on how I roll mine. It's so much fun!!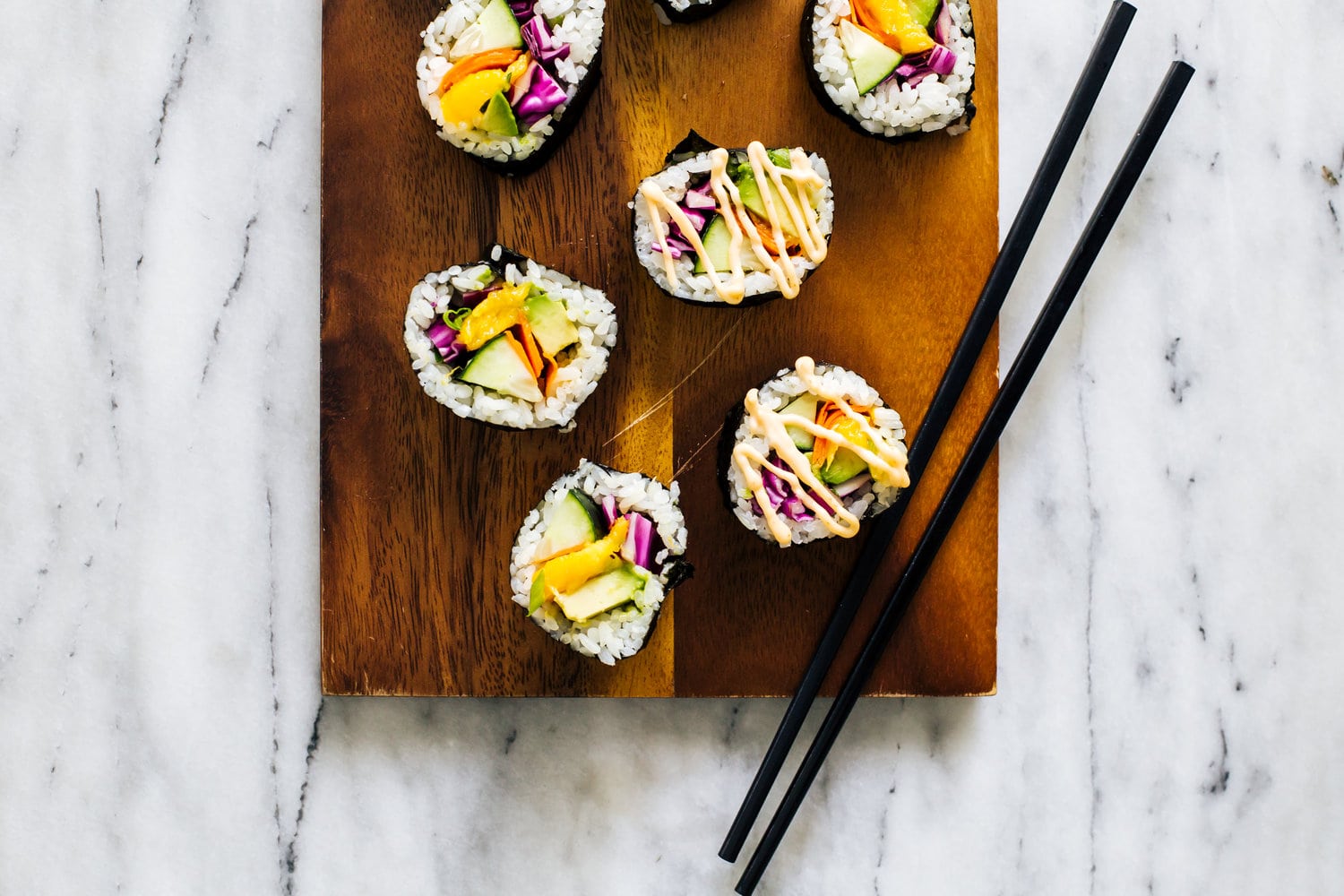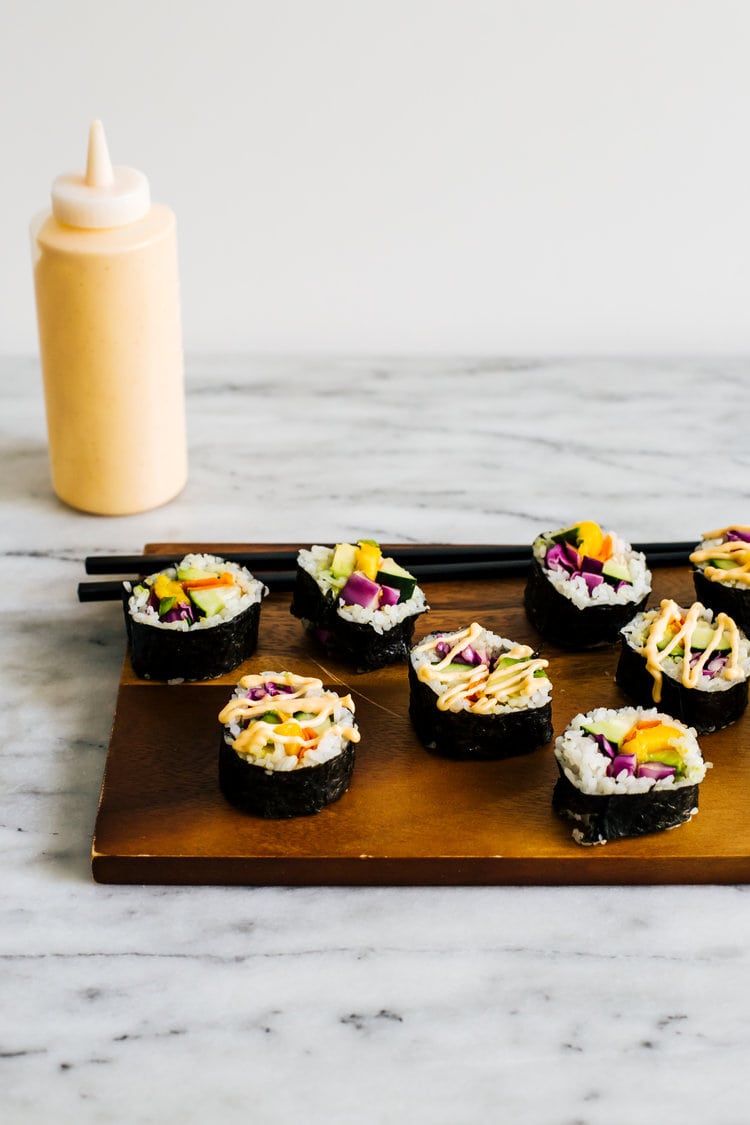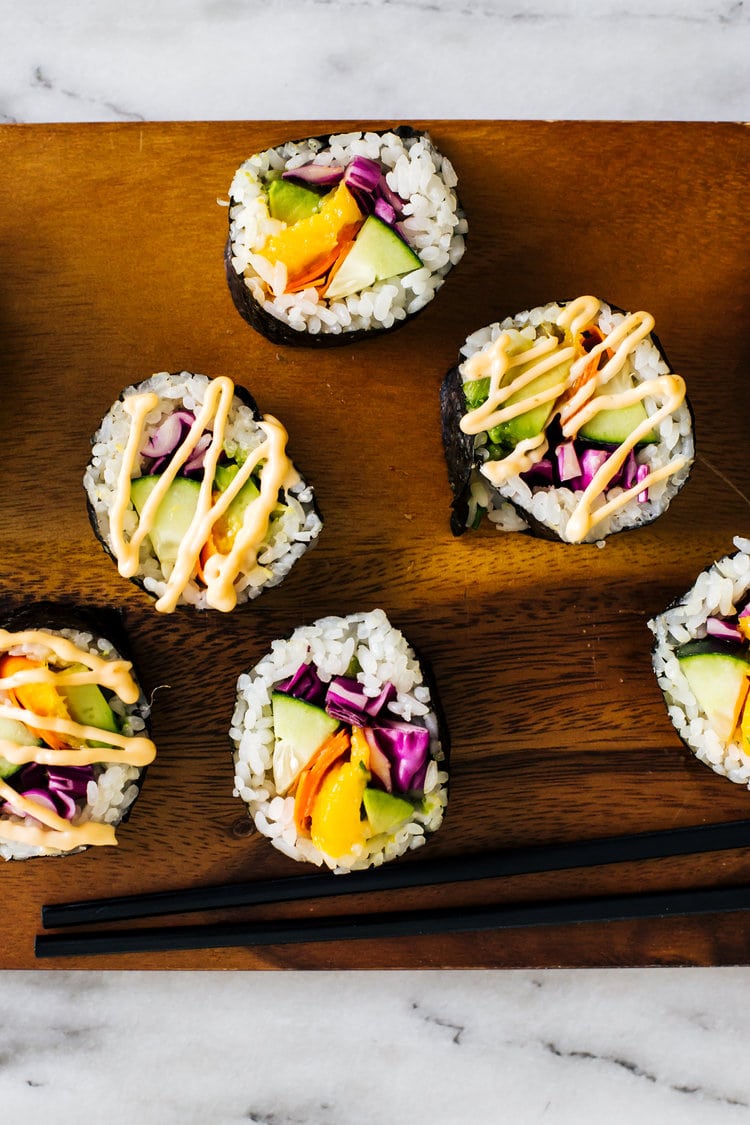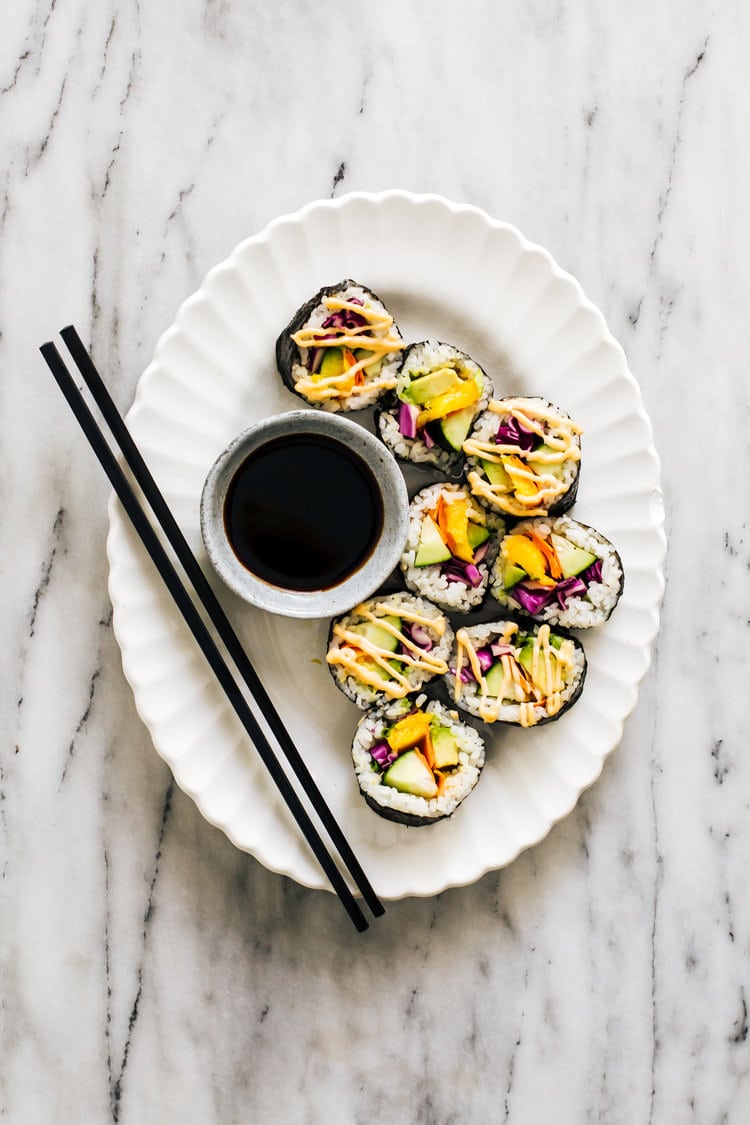 See Also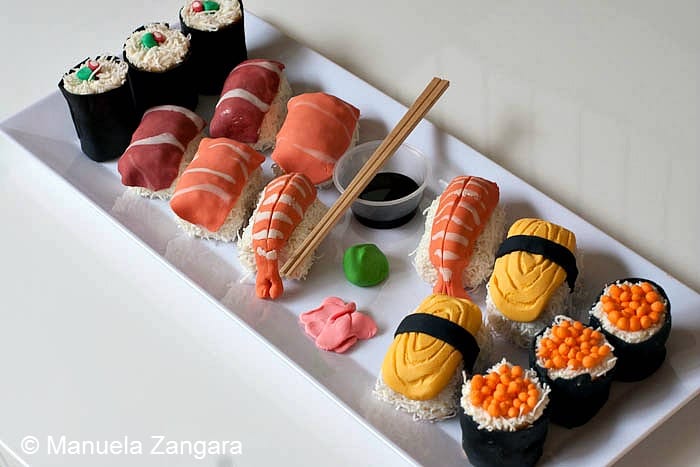 If you try making your own veggie sushi at home, tag me on Instagram so I can see! Happy rolling!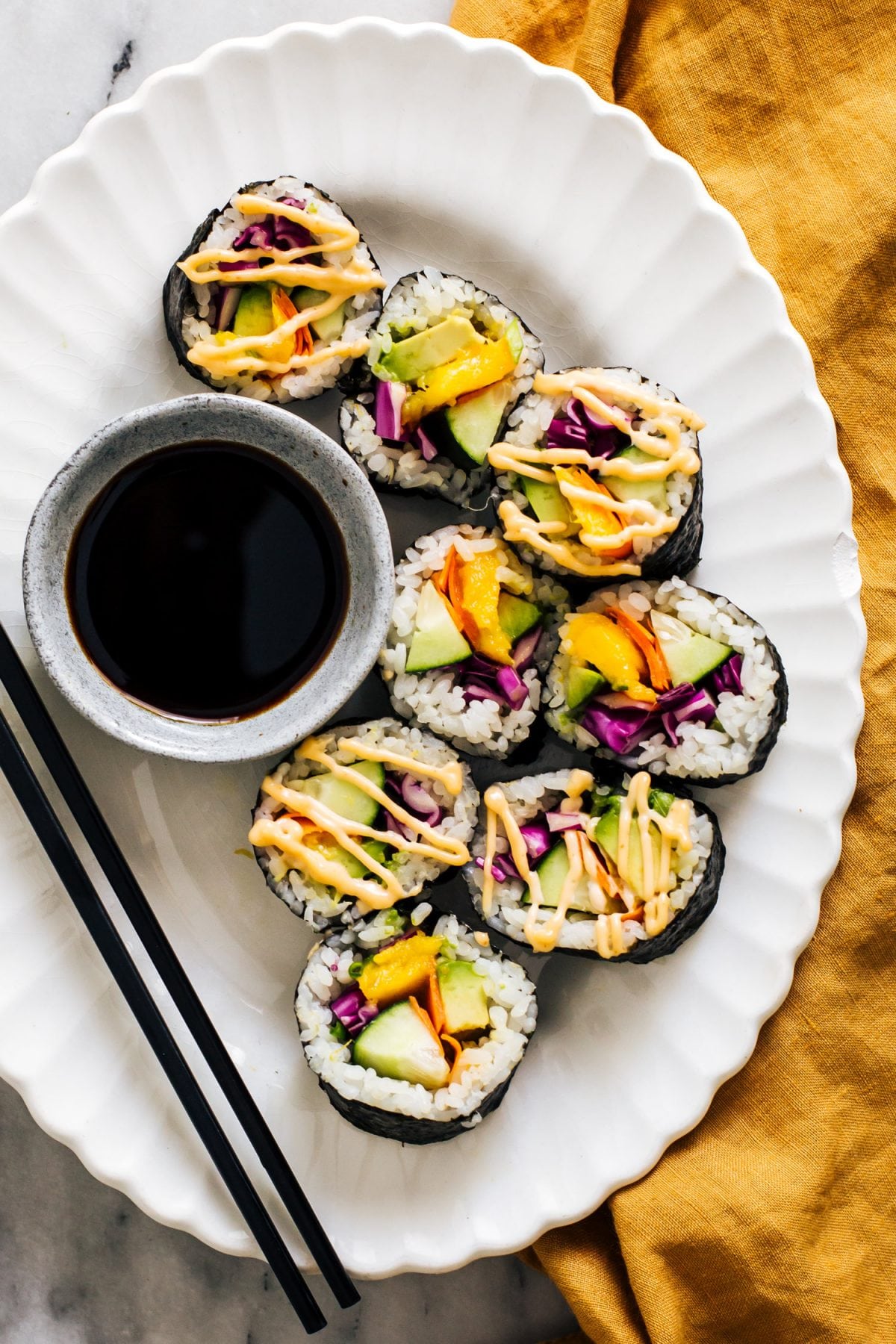 Print
Colorful Veggie Sushi Roll and Spicy Mayo
Author:

Madeline Hall

Yield:

0

makes one roll

1

x
Category:

Main, Side
For the rice
1 cup

sushi rice (rinsed)

3

tbl rice vinegar
Pinch of salt
For the rolls
2

sheets nori (dried seaweed)

1/2

large Divine Flavor cucumber (quartered lengthwise)

1

carrot (sliced into ribbons)

1/2 cup

shredded red cabbage

1/2

large mango (sliced thin)

2

scallions (chopped)

1/2

avocado (sliced thin)
For the spicy mayo
1/4 cup

mayo

1

tbl sriracha
Soy sauce (for serving)
Instructions
Cook the sushi rice according to package directions. Let cool completely, and then mix in the rice vinegar and salt.
Place a sheet of nori on a clean surface or bamboo sushi mat, if using. Scoop a handful of the sticky rice directly onto the nori sheet, and press the rice with a spoon or your hands, until it is evenly distributed across. Leave a 1/2 inch border on the long side of one edge.
Now you are ready to add the filling. Add a layer of cucumber in the center of the rice. Layer the carrot ribbons on top, then the red cabbage, mango slices, avocado slices, and scallions. Be careful not to overstuff.
Dab your finger in some water and moisten the 1/2 inch exposed border of the nori with some water. Roll the sushi away from you, tucking in the vegetables as you go. Press the roll down slightly to make sure it is sealed.
Using a very sharp knife, slice the sushi into 8 even pieces.
To make the spicy mayo, mix together the mayo and sriracha until combined. Spoon over the top of the sliced sushi or transfer to a squeeze bottle and drizzle on top. Serve sushi with soy sauce for dipping!