PARTNER POST: Get ready to feed a winter crowd with appetizer recipes paired perfectly with food-friendly Cavit wines.
If you love a good dish of collard greens with black-eyed peas in the winter, then why not try those same flavors in croquette form?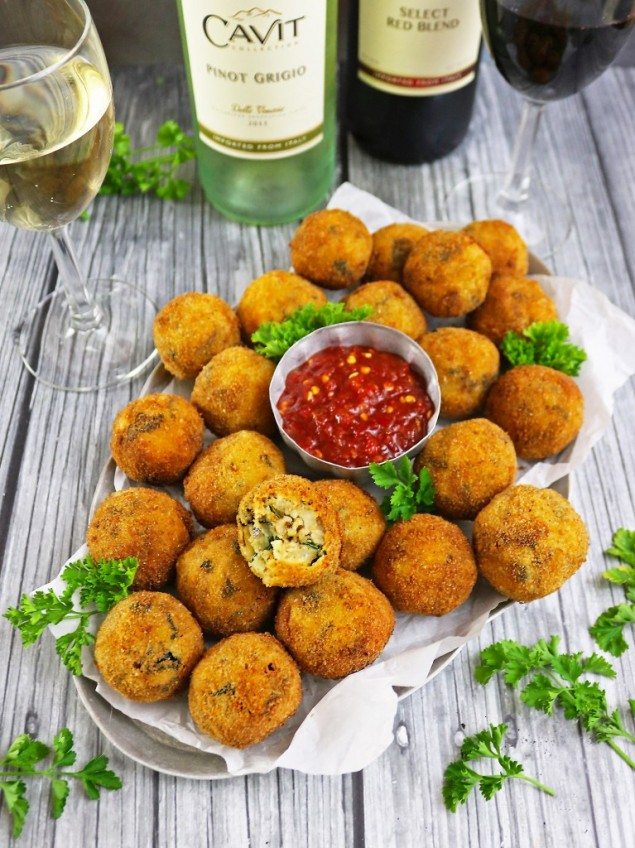 In the early years of my life here in Atlanta, I never quite jumped on the whole Southern New Year's tradition of black-eyed peas and collard greens. My first introduction to black-eyed peas and collard greens was at a friend's house – where she had cooked them up extra mushy with ham hock. Alas, my taste-buds were not tickled and so I stayed far, far away from them – together or separately.
Then, fast forward twelve years, and my parents moved here to Atlanta. Their first New Year's Day here, they invited my daughter and I over for lunch and guess what my mom had prepared? Yup, there on the dining table was a dish filled with black-eyed peas and collard greens! "When in Rome…" my mom said as she ladled spoonfuls onto our plates. But, these were not the mushy black-eyed peas and collard greens I had bumped into many years ago. My mom had put her own Sri Lankan spin on black-eyed peas and collard greens, and my taste-buds did a happy dance at this perfectly seasoned and cooked version!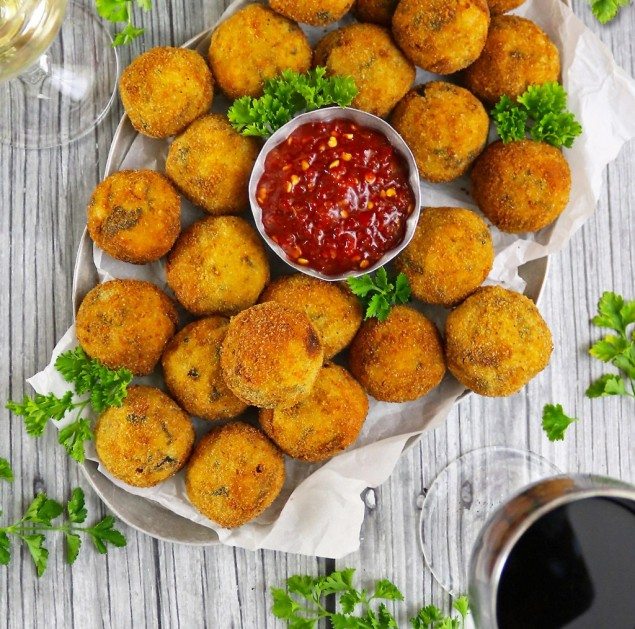 Since then, black-eyed peas and collard greens have become a staple in our home. Nowadays, My daughter and I enjoy them year round AND on New Year's Day – in anything from stir fries, curries and vegetarian hashes.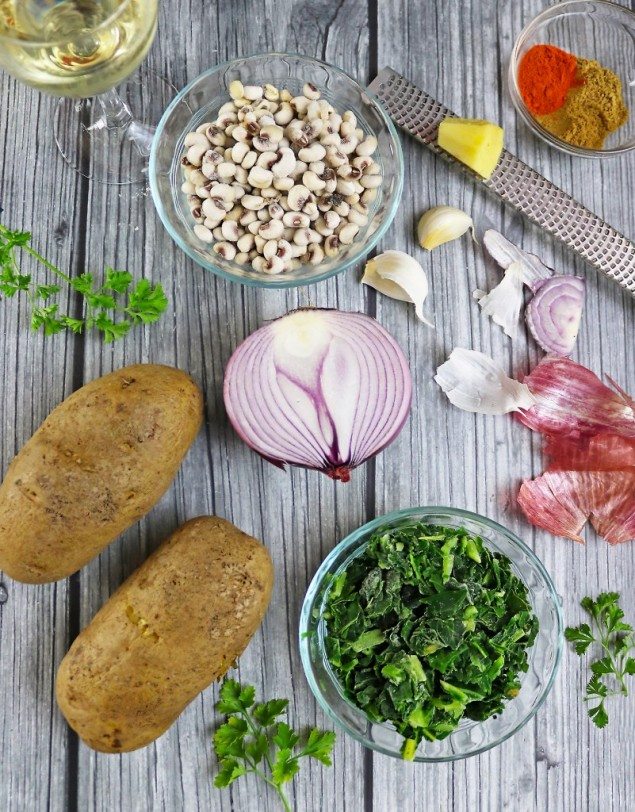 This year, for New Year's Day, I figured I would take the black-eyed peas, collard greens and potato hash I make and croquette-fy it.
Aaaaaaaaaannnnnd, my friends, that's how these Black-Eyed Peas And Collard Greens Croquettes were born! These are really simple to make and are so flavor packed from the caramelized onion, garlic, ginger, cumin, and coriander. And, the breaded and fried coating doesn't hurt either!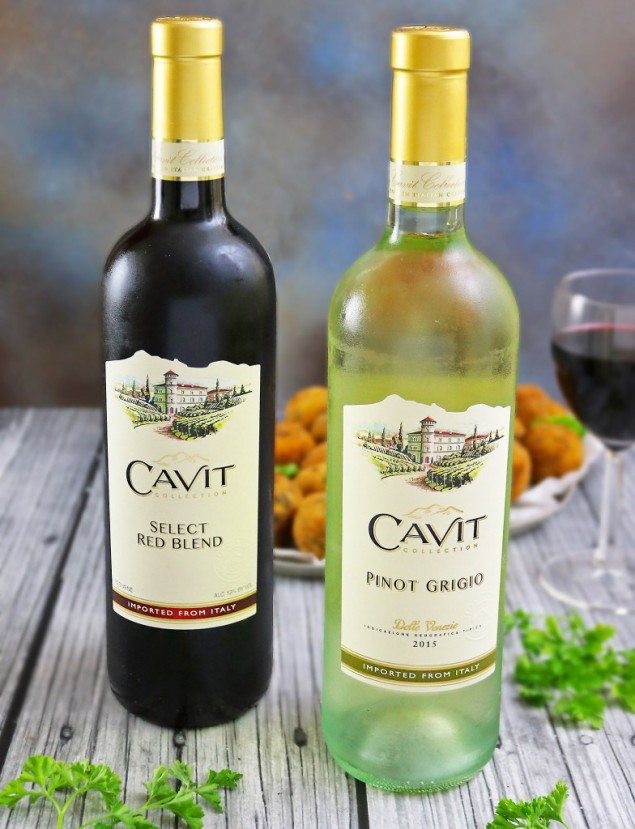 See Also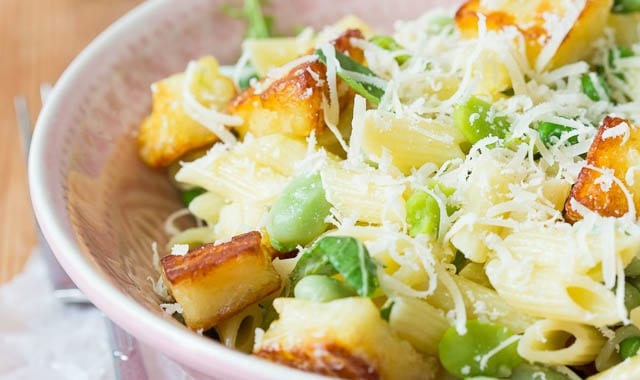 If you are looking for a wine for your New Year's feastivities, then, may I suggest Cavit Wines?
Cavit swept onto the radar of American wine lovers in the 1970s with a then little-known white wine called Pinot Grigio. And, over the years, it has earned its well-deserved title of America's #1 Pinot Grigio. However, there is much more to the CAVIT COLLECTION than delicious Pinot Grigio. From Pinot Noir, Riesling, Chardonnay, Teroldego, Merlot and Cabernet Sauvignon, Cavit has a high-quality, delicious and food-friendly wine for just about every taste and every occasion.
For another delicious appetizer, try these trout bites. Recipe here.
Print

---
Author:

Shashi Charles

Total Time:

44 minutes

Yield:

25

croquettes

1

x
2 tablespoons

olive oil

1/2

red onion finely chopped

2

cloves garlic smashed and chopped

1/2 teaspoon

ginger freshly grated

1 cup

frozen black eye peas

1 cup

frozen collard greens

1 teaspoon

coriander

1 teaspoon

cumin

1 teaspoon

red chili powder (optional)

1/4 teaspoon

salt (or more according to taste)

1/2 teaspoon

pepper

2

boiled potatoes

1 cup

breadcrumbs

2

eggs
Oil for frying
---
Instructions
Add the olive oil and red onion to a pan and sauté over medium heat till onion begins to caramelize (about 15-20 minutes).
Add in the garlic and ginger and sauté for a couple more minutes.
Then add in the frozen collard greens and frozen black-eyed peas and cook till they are warm.
Add in the spices and stir well – then, take the mixture off the flame.
Using a fork, roughly mash in the skinned boiled potatoes and salt and pepper. You might want to taste the mixture at this point to make sure you have enough salt and pepper in it so you can adjust at this point.
Then, let the mixture cool.
Meanwhile, add the breadcrumbs to a plate and whisk the eggs together in a bowl.
When mixture is cool enough to handle, roll spoonfuls into balls.
Dip balls in egg wash and bread crumbs till all the mixture is used up.
Heat the oil for frying – making sure it is well heated. (You can use a wooden spoon to check for this by dipping the handle-end of the spoon into the oil. If the oil is ready for frying, it will bubble around the handle. You could also throw in a popcorn kernel, which will pop between 325 and 350 degrees Fahrenheit when thrown in the oil)
Fry the Croquettes 3 or 4 at a time till golden, and drain on paper towels.
Enjoy the crispy croquettes with sambal oelek and Cavit Wine.
Prep Time:

30 minutes

Cook Time:

14 minutes

Category:

Appetizer
Shashi Charles
I am a healthy food lover - and tricking my loved ones into eating their veggies disguised as treats is my specialty! I am also a graphic designer by day and blogger by night and a mom 24/7!