As days get colder, Laura Bednarski turn to the world of soup for comfort.
By Laura Bednarski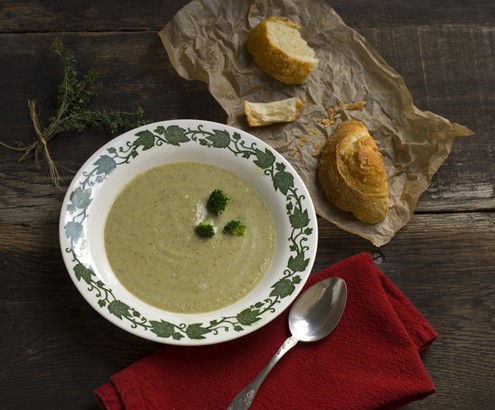 Today I am making broccoli soup. Cream of to be exact. I opened the vegetable drawer, as we call it, and noticed it was brimming with broccoli. It was a no brainer as to what to do with it. This soup is easy and it is wonderfully satisfying and high in fiber as you can imagine. This recipe is from one of my favorite cookbooks and it may be one of the first ones in my library. It is Mollie Katzen's Moosewood Cookbook. What I like about this book is the simplicity. The book has no photos, no bells and whistles but what it does have is great recipes. Every one I have made has not disappointed. This cream of broccoli soup tastes just like it should. Smooth, creamy and comforting to the core. Grab your favorite baquette for dipping and you have a meal.
You can make it vegetarian as Mollie does or you can substitute chicken broth for the water and adjust the seasonings.
As with all recipes they are guides. Feel free to make them your own and make notes. You may find you like what you did better. That is how some recipes are created. Someone didn't have an ingredient and made a substitution and it stuck and a new dish was born.
Cream of Broccoli Soup–inspired and adapted from Mollie Katzen's Moosewood Cookbook
2 Tbsps (30 gms) butter unsalted
1 1/2 cups (360 gms) chopped onion
1 bay leaf
1 tsp salt (5 gms), or to taste
1 medium bell pepper, diced
4 cups (960 gms) chopped broccoli
2 1/2 cups (600 ml) chicken broth or vegetable broth
1 cup (240 ml) whole milk
1 cup (240 ml) heavy cream
1/2 cup (120 ml)  sour cream
1/4 tsp all spice
Fresh ground black pepper or white if you prefer
Fresh sprigs lemon thyme, leaves stripped
broccoli florests, steamed for garnish
Melt butter in heavy stockpot or large saucepan. Add onion, bay leaf and salt. Saute over medium heat until onion is translucent. Add green pepper, chopped broccoli and broth. Cover and cook over medium heat for 10 minutes or until broccoli is very tender.
Remove bay leaf and puree the soup with an immersion blender or regular blender in small batches adding the milk/cream. Be very careful when adding hot liquids to a blender. Take it from me hot soup on skin is not good.
Return to pan and whisk in sour cream and remaining seasonings. Garnish with broccoli florets.
This soup is not super thin or thick. If you like a thicker soup you could add a roux. To me the viscosity was perfect. Mollie suggested garnishing with some steamed broccoli florets. I like this idea a lot. It adds dimension and a little bite to the soup.
Another garnish idea is fresh thyme. I have this fragrant lemon thyme in the garden and it is perfect for this soup
Enjoy making this soup and check out other great recipes from Moosewood.