Coconut Crumble Lime Bars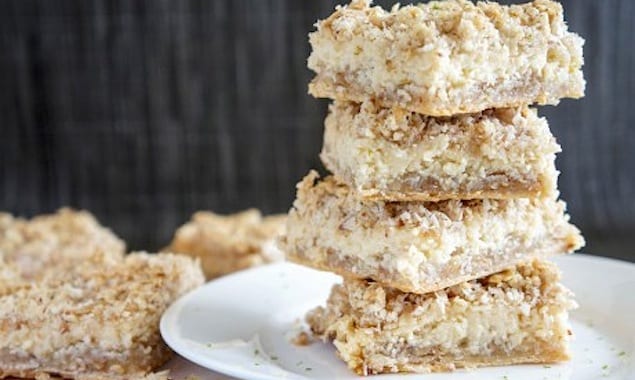 Coconut Crumble Lime Bars are slightly sweet and tangy with a coconut almond crumble that makes every bite taste like a luscious slice of pie.
By Carolyng Gomes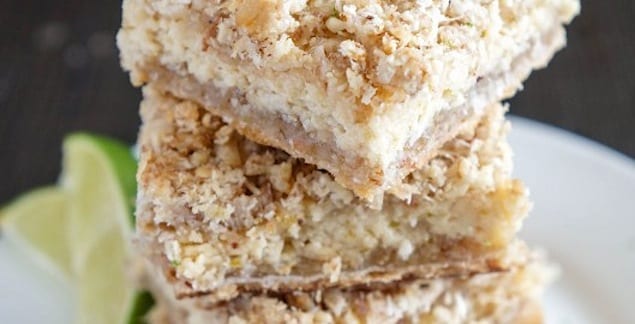 I've made lemon and lime bars before. Alcoholic or not, they are always the perfect mixture of tangy and sweet. You can always taste every ingredient, I'm big on that, and sugar in my desserts is always used sparingly. Desserts shouldn't just taste sweet, they should taste sweetened. Anyway, these bars have a one up on any other because of their coconut almond crumble topping. Intrigued? I knew I had you at crumble…

Coconut Crumble Lime Bars
Coconut Crumble Lime Bars are slightly sweet and tangy with a coconut almond crumble that makes every bite taste like a luscious slice of pie.
Ingredients
½ pie crust, thawed
½ cup shredded coconut, unsweetened
¼ cup flour, all-purpose
½ cup coarse almond flour
½ cup oats, old fashioned
¼ cup sugar, granulated
¼ cup coconut oil
1 14 oz can condensed milk
¾ cup lime juice
3 tsp lime zest
Instructions
Preheat oven to 350 F. Grease an 8x8 square pan with parchment paper and grease well. Set aside.
Roll out pie crust on a well-floured surface until ¼ inch thick. Cut out 8x8 inch square of crust and press into bottom of pan.
In a medium sized bowl combine shredded coconut, all-purpose flour, almond flour, oats, sugar and coconut oil. Mix until coarse crumbles form.
Use ? of crumbles to top pie crust evenly. Lightly press crumbles into pie crust.
In another medium sized bowl whisk condensed milk, lime juice and lime zest until mixture is thick and creamy.
Pour condensed milk mixture over pie crust.
Top filling evenly with remaining crumbles.
Bake for 30 minutes or until crumbles are golden.
Transfer to cooling rack and cool completely, then freeze for 30 minutes to set.
Pull up parchment paper to remove bar from pan.
Slice off edges, then slice into 9 equally square pieces.
Enjoy immediately or refrigerate until ready to serve.
Carolyng Gomes
Carolyng loves to eat, loves to cook and loves to eat more. To her a recipe is more a list of suggestions, saving time doesn't mean sacrificing on flavor and when in doubt, a splash or two (well, a nice pour) of wine never hurts. Welcome to her Cocina Latina, where South American and Latin fusion dishes are always on the menu.