Coconut and Beer Cake with Pepitas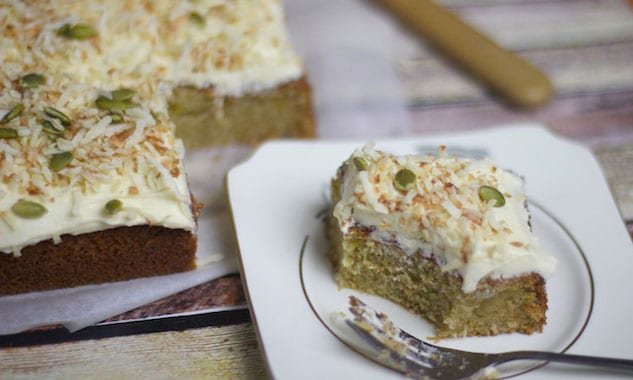 This cream cheese topped beer cake is moist and flavorful. Perhaps the most convincing part is that it only needs a splash of beer. Sip the rest of the bottle while it bakes.
By Tania Cusack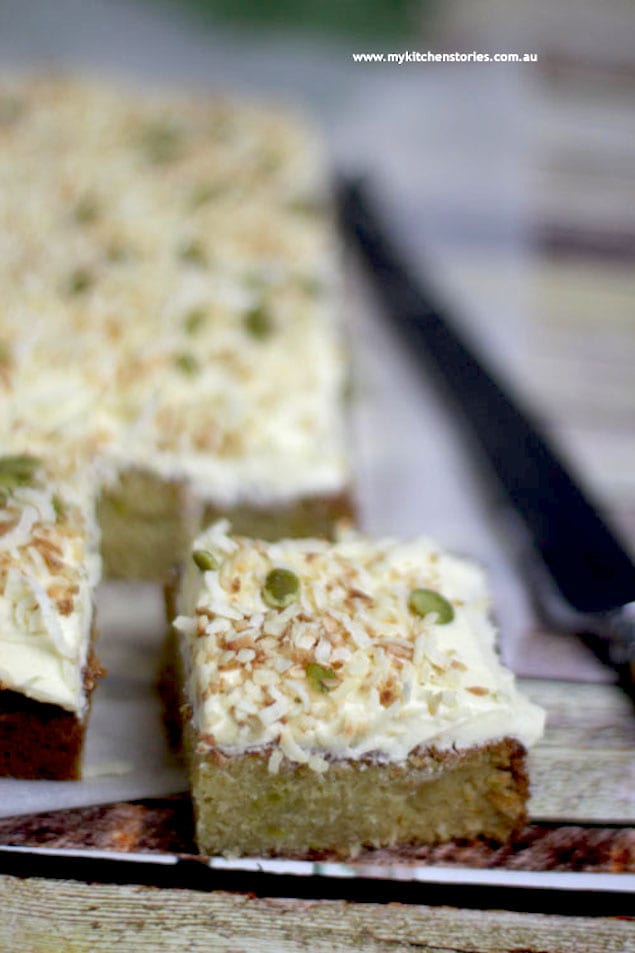 When it comes to incorporating beer into baking there really ] are no limits. What does matter is that this rather interesting recipe produces a moist soft cake that goes ever so well with a cream cheese icing. If you are anything like me then that alone could sway you into making beer cake. The other more obvious encouragement is that it only requires a cup of beer, thats 250ml and if I am correct an average beer is about 350ml . That means you get a nice little beverage while you are waiting for it to bake. I've made it in a square tin so it is more like a slice. I think this is the ideal way to make it.

Coconut and Beer Cake with Pepitas
This cream cheese topped beer cake is moist and flavorful. Perhaps the most convincing part is that it only needs one cup of beer. Sip the rest of the bottle while it bakes.
Ingredients
300gm caster sugar ( 1½ cups)
230gm unsalted butter (1 cup)
4 separated eggs
½ cup of desicated fine cocnut
2 cups of flour
1 teaspoon baking soda
¼ teaspoon salt
zest of 1 lime or lemon ( optional)
Frosting
350gm / 1½ cups butter softened
250gm / 8 oz cream cheese softened
3 cups of icing sugar ( sifted)
3 tablspoons lime juice ( or lemon juice)
3 Tablspoons beer
½ cup toasted coconut threads
I used a few toasted pepita seeds too
Instructions
Oven pre set 170C/325F. Line and grease a 23 cm square tin 23cmx 23cmx 7cm deep (9x9x3)
Combine the dry ingredients stirring in a bowl
Beat the butter till light and fluffy and white ( about 3 minutes) then add the sugar and beat for another 4 minutes.
Add the egg yolks one at a time then add the dry ingredients and beer alternatively. Mix till just combined.
In a clean bowl beat the egg white till they form soft peaks and hold together. Fold these through the batter and pour into the tin.
Bake for 50- 60 minutes, testing with a skewer or knife in the middle before removing. Cool.
Make the icing by beating the butter and cream cheese till very light and fluffy. Add the icing sugar and mix till incorporated then add the lime juice. Add the ¼ teaspoon of salt and then a bit of the beer at a time till incorporated. Turn out the cake. When fully cool spread onto the cake and decorate with coconut and seeds.
Tania Cusack
After completing Culinary School in Sydney, Tania travelled the world working as a Chef in restaurants, doing catering and cooking on road for a travel company in Europe and the US. Once back at home, the birth of her son meant a change, and during his small years, she enjoyed jobs in wholesale food, buying Artisan food products, testing and recipe writing as sales and educational tools. Tania is now back to what she loves, working as an in house Chef for a large retailer, conducting Cooking Classes and writing recipes for her blog.