Too many cooks spoil the broth?
The 5-star luxury hotel is a special feature and destination in Lausanne. A city that really does in fact sleep and has simple pleasures like walking around Lake Geneva, visiting the IOC Olympic Museum or touring the old town in the city centre can be something for the older traveller.
Surprisingly, the crowd at the Royal Savoy Lausanne is young. The hideaway luxury hotel has one of the best views from the Sky Lounge where cocktails are must and the Brasserie, now watched over by Michelin-star French Chef Marc Haeberlin and carefully excuted by Executive Chef Sébastien Cassagnol, as well as the Brasserie Chef Maxime Pale.
Phew… a lot of chefs.
Michelle Tchea's Chefs Collective went to see what all the fuss was about at the Royal Savoy Lausanne – the brasserie has something to boast about – the aged meats.
Succulent, juicy, tender that you would not even need a knife to cut through the tender Swiss meat… but if you are not a meat-lover, there are other dishes to be enjoyed for the self-confessed foodie.
Perch – affectionately the local fish from the Lake is much loved by locals. Here Chef Maxime shares his pike perch with chicory and citrus with Michelle Tchea's Chefs Collective.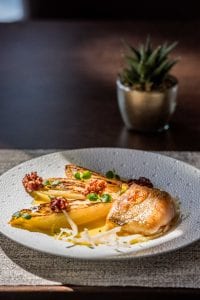 Filet of perch pike, with citrus flavoured chicory 
Recipe by Chef Maxime Pale, Brasserie du Royal, Royal Savoy Hotel & Spa Lausanne, Switzerland with Chef Marc Haeberlin – Signature Chef and Chef Sébastien Cassagnol – Executive Chef
To serve 4 people
Ingredients: 
– 4 filets of perch pike or zander fish, 160g per person
– 6 chicory
– 4 large juicy oranges
– Butter 100 gr
– Sugar 10gr
– 2 Shallots
– White wine, 10cl
– Olive oil, 0.04K
– 12 Walnuts 
To make the citrus butter sauce: 
– Sweat the finely sliced shallots in the butter without colouring them
– Deglaze the shallots with the white wine and let it reduce to ¾ of the initial volume
– Add the juice of 3 of the oranges and again reduce to ¾ of the volume
– Add the 50gr of the fresh butter in order to thicken the sauce
– Pass through a fine sieve and set aside to keep warm
Chicory
-Remove the outer leaves, wash to rest of the chicory and then slice in two length ways
– In a pan, heat 20gr of the butter and 10gr of sugar until gently bubbling
– Then add the chicory and caramelise 
– Now deglaze the chicory halves with the juice of one orange
– Leave to cook slowly until the centres are soft
Perch Pike
– Season the pike filets with the salt and pepper
– Heat some olive oil in a pan over a medium heat
– Add the filets and leave to gently cook on one side
– Add the butter to avoid sticking and regularly spoon over the melted liquid onto the filets. This will keep the fish moist
– If possible, test the temperature of the filet centre and keep at 44°C/111°F
Michelle Tchea
Michelle Tchea is a 4-time bestselling author. Her books include, Building a Perfect Meal, My Little SoHo Kitchen, Signature Dishes (Australia's Best) and Chefs Collective. Her work can be found in other leading luxury travel and food magazines including Travel+Leisure Asia, SMILE, NUVO Magazine and The Telegraph