If you've never had homemade Caesar dressing before, you should give it a try… it really couldn't be easier to make.
By Faith Gorsky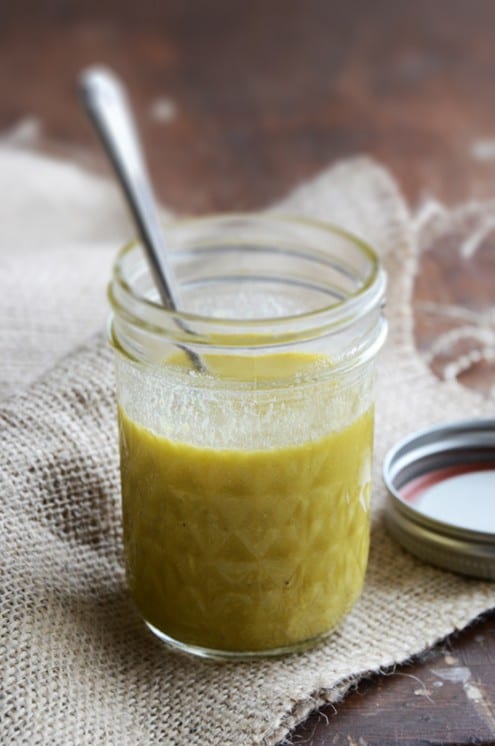 Classic Caesar Salad Dressing
If you've never had homemade Caesar dressing before, you should give it a try…it really couldn't be easier!
Ingredients
2 large cloves garlic, peeled
3 anchovy fillets (see note below)
1 large egg yolk
½ cup (120 ml) extra-virgin olive oil
2 tablespoons fresh lemon juice
1 teaspoon Worcestershire sauce
1 teaspoon Dijon mustard
¼ teaspoon ground black pepper
Instructions
Pulse the garlic and anchovies together in a food processor.
Add the egg yolk and process until smooth.
Drizzle in the olive oil a bit at a time until completely incorporated, then with the motor still running, drizzle in the lemon juice.
Add the Worcestershire, Dijon, and black pepper, and pulse to combine.
Taste and add additional salt and pepper as desired.
Store in a sealed jar in the fridge up to 5 days.
Notes
Anchovy Fillets Substitution: You can use ⅓ teaspoon of salt instead, but it won't have quite the same depth of flavor. Either way, be sure you don't skip the Worcestershire sauce, which also has anchovy! A New Spin on Caesar Salad: Line a large bowl with 3 large handfuls of mixed salad greens. Add 1-2 crushed store-bought breadsticks, 2 slices of crisped turkey bacon, 2 tablespoons of freshly grated Parmesan cheese, and about 2 tablespoons of homemade Caesar dressing. Serve immediately.
Faith Gorsky
Faith Gorsky is the writer, recipe developer, photographer, and food stylist behind the blog An Edible Mosaic. Her recently-released first cookbook, An Edible Mosaic: Middle Eastern Fare with Extraordinary Flair (Tuttle Publishing), is a collection of authentic Middle Eastern recipes handed down to her from her husband's family during her extensive time spent in the Middle East. Faith loves to travel, especially to places steeped in rich culture and history.