You can serve these asparagus hot or cold, alongside dinner or with eggs for brunch.
By Jill Nammar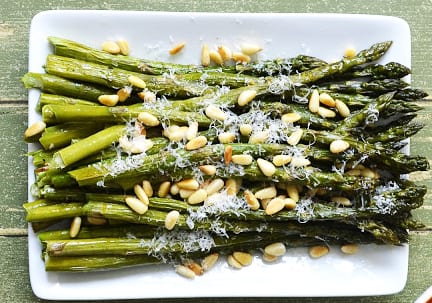 Citrus Roasted Asparagus with Parmesan and Toasted Pine Nuts
You can serve these asparagus hot or cold, alongside dinner or with eggs for brunch.
Ingredients
2 bunches of asparagus. I used thin. Remove the tough bottom part of the stem.
3 tablespoons of pine nuts, toasted
Zest and juice of one meyer lemon or one tangerine or one small orange
Extra virgin olive oil for cooking. I used unfiltered.
Grated Parmesan cheese. I used Grana Padano. (optional)
Sea salt and freshly cracked pepper
Instructions
Preheat the oven to 375.
Line an large baking pan with foil and drizzle some olive oil on it.
Put the asparagus on the pan, sprinkle on some salt, pepper, more olive oil and the citrus zest of your choice. Toss everything to coat. Line the asparagus in a single layer on the pan and roast for about 30 minutes or until tender.
While the asparagus are roasting, toast the pine nuts in a nonstick pan until golden brown.
Once the asparagus are done, toss with the toasted pine nuts, citrus juice and Parmesan. Alternately, toss the asparagus with the citrus juice and then arrange them on a serving platter and sprinkle on the pine nuts and Parmesan. Serve and enjoy!