Enjoy this delicious braised chicken with a glass of the same cider used to cook it.
By Bryan Pickard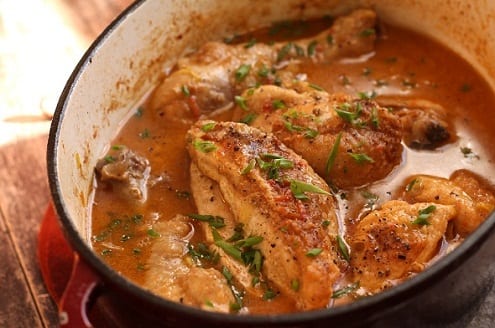 I love cooking with cider. It's a little sweeter than wine and gives refreshing apple tones. Last summer I met John, the cider maker from Tideview Cider in Nova Scotia, who let me sample the apple and pear brews. The Heritage Dry is my favorite.
So here's a recipe for a cider braised chicken. I'm fortunate to live near Pandora Farm, a small family farm which raises chickens in a very decent manner. And for the tomato sauce, I used some that we jarred this summer. Boy, is it going fast.
Enjoy this chicken with a glass of the same cider used to cook it.
Ingredients
1 whole chicken, cut in 8 pieces
2 cups cider
½ cup tomato sauce
1 medium leek, sliced
4 tablespoons sunflower or grapeseed oil
4 tablespoons heavy cream
¼ cup flour
1 bay leaf
salt + ground black pepper
Instructions
Dust the chicken in the flour.
Heat the oil in a large skillet and sear the chicken pieces for a few minutes on each side until they are golden brown.
Transfer the chicken to a medium-sized pot and deglaze the skillet with half of the cider (1 cup). Let it simmer for a minute then add it to the chicken with the rest of the cider, leek, tomato sauce and bay leaf.
Simmer on low heat, half-covered for 2 hours, stirring occasionally.
Add the cream. If you want the sauce to be thicker, low-boil until the sauce reduces.
Throw on some chopped parsley or chives.
Bryan Picard
Bryan Picard is a wild and homegrown food enthusiast. He lives in the Maritimes in Canada and has worked the kitchens as a cook and chef for the past ten years. He writes on his blog The Bite House.