One of the most respected French Chefs in NYC, Christian Delouvrier, shares his secret to making a perfect countryside tarte.
By Christian Delouvrier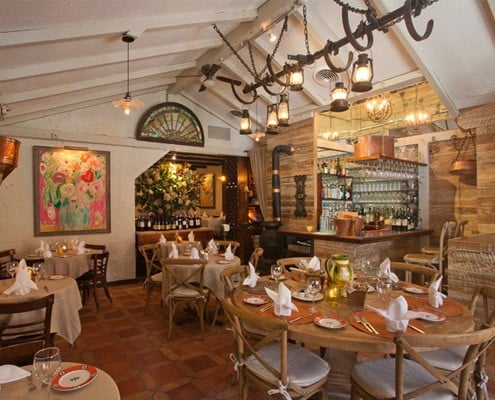 'Campagnarde' in French literally translates to 'countryside', so in creating this simple and delicious tarte dish I incorporated rustic French countryside flavors, and that is really what La Mangeoire is all about. When we recently revamped the interior and the menu at the restaurant it was to reflect our passion which is not any particular type of French cuisine, but instead 'French Country Cooking' which encompasses all of the delicious flavors and recipes that myself and owner Gerard Donato have experienced through years of travel and eating.  This particular tarte, the Tarte Campagnarde, utilizes cremini mushrooms, red tomatoes, nutmeg, Ricotta and Swiss cheese to create an earthy, homey dish.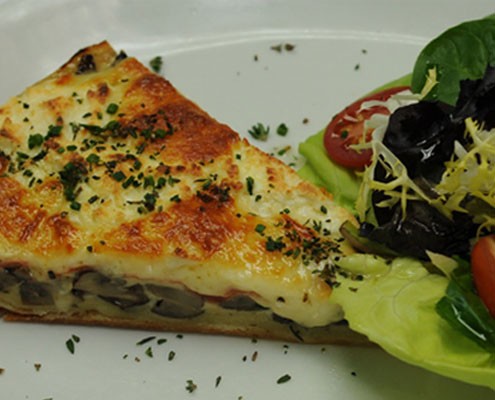 Christian Delouvrier's Tarte Campagnarde
A classic Tarte Campagnarde by Chef Christian Delouvrier.
Recipe Type:
Appetizer or Entree
Ingredients
BASIC TART SHELL
2 Cups (12 ounces or 473.2g) all purpose flour sifted, plus additional flour for rolling (about 1 teaspoon)
2 sticks (8 ounces or 113.5g) chilled unsalted butter cut in ¼ inches pieces
¼ cup (2 fl ounces or 59 ml) ice water
Canola oil
BATTER
2 cups (16 fluid ounces or 1 pint) milk
2 cups (16 fluid ounces or 1 pint) heavy cream
6 large eggs
1 yolk
1 tablespoon (14.79 g) salt
pinch of nutmeg
FILLING
2 pounds (32 ounces or 907g) cremini mushrooms
3 medium size red tomatoes, about ⅛ inches sliced
1 table spoon (14.79 g) of fresh thyme, chopped
6 ounces (170.1g) Swiss cheese, grated
4 ounces (125g) Parmesan, grated
6 ounces (170.1g) Ricotta, spooned
3 tablespoons (44.36 ml) Canola oil
Instructions
For the Dough:
Place 1 cup of sifted flour and salt in the bowl of a heavy–duty mixer fitted with the paddle attachment.
Turn the mixer to low speed add the butter a small amount at the time. When all butter had been added increase the speed to medium and mix until the butter is completely blended with the flour.
Reduce the speed add the remaining flour and mix just to combine.
Add water and mix until incorporated. Dough will come around paddle and should feel smooth. Make sure no pieces of butter still remain.
Refrigerate for at least one hour.
Lightly brush the inside of 9 inch round mold 2 inches high with canola oil and place it on a parchment–lined baking sheet
Place dough on a floured work surface and roll it to 1/16 inch thick and about 14 inches in diameter
Lift the dough into the mold
Place in the refrigerator for at least 20 mins to re-solidify the butter
Put a rack set in the middle of oven and pre heat oven to 375 f
Line the tart shell with a 16 inch round parchment. Fill the tart with dried beans gently guiding the beans into the corners of the shell and fill the shell completely for weight.
Bake the shell for 30 to 40 mins
Remove beans and parchment and let cool
For the Batter:
Combine milk and heavy cream in a large saucepan and bring to a boil.
Remove the skin on the surface and let cool for 15 mns
In a mixing bowl combine the eggs and the egg yolk and whisk in the milk and the heavy cream mixture
Add the pinch of nutmeg and the salt
For the Filling:
Wash the mushrooms and pat dry
Sauté the mushrooms in the 3 tablespoons of Canola oil until slightly tender, drain and reserve, disregard the liquid.
Slice tomatoes and reserve
Chop the thyme and reserve
Assembling and Cooking the Tart:
In the precooked tart place the chopped thyme then the cremini mushrooms making sure they are spread out evenly.
Pour the batter to ¾ high or to the level of mushrooms
Add the Swiss cheese and the Parmesan
Pour the rest of the liquid over the filling
Place the TART in oven middle shelf 375 F and cook for 35 mins
Let cool at room temperature for 20 mins