Chopped Romaine Salad with Pepperoncini, Cherry Tomatoes, and Sopressata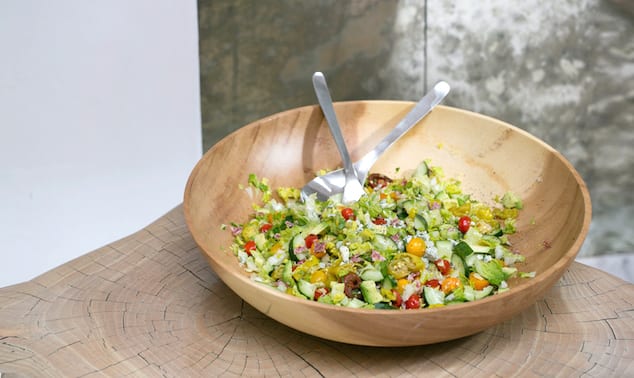 A fresh romaine salad with an intense blue cheese is anything but boring. Enjoy with colorful jewels of tomatoes, sopressata, and pepperoncini.
By Julia Sherman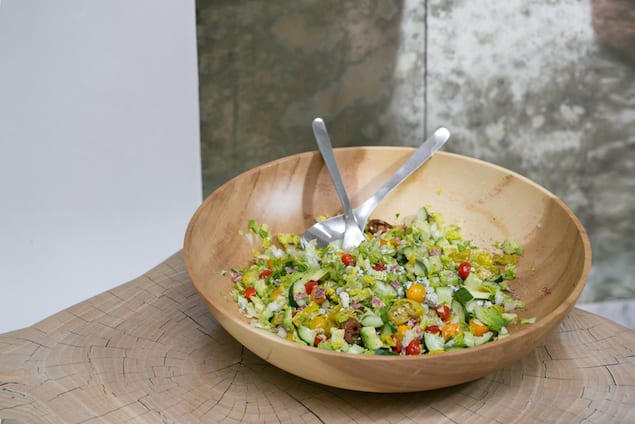 This is a great casual salad for lunch, best made with romaine hearts. Romaine from the farmers market is an entirely different beast than the plastic bagged kind you get at the supermarket. Give it a try. I suggest using a crumbly, dry blue cheese with a lot of stink, like a Gorgonzola.
Irene kept the dressing on the side, just the best olive oil and balsamic vinegar you can find. Each guest can dress their salad for themselves.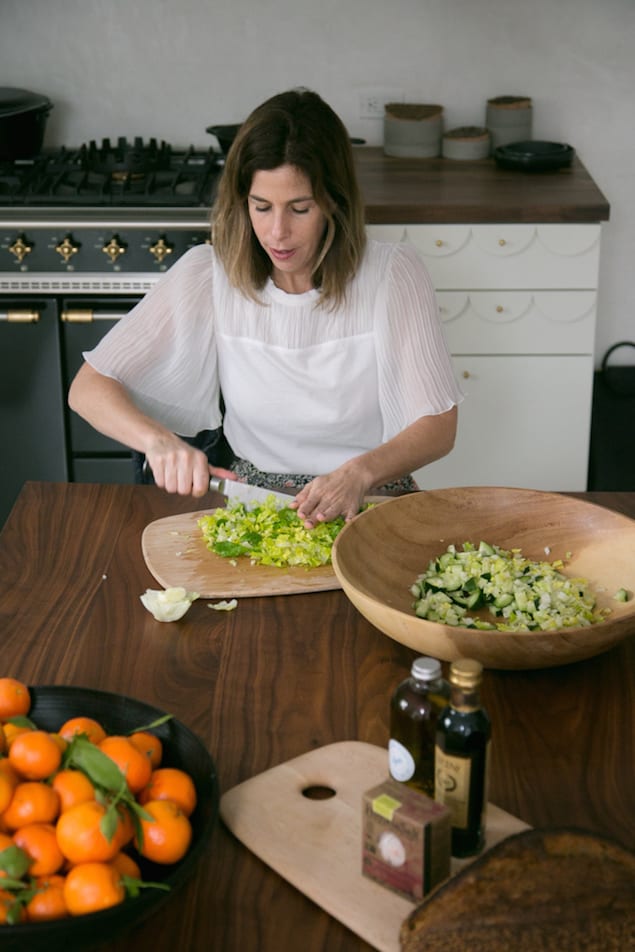 Jewelry designer Irene Neuwirth was born and raised in Los Angeles, and it shows. Her Beverly Hills store showcases her red carpet approved jewels with the ease and comfort of a perfect LA domestic space, replete with shaggy Moroccan rugs, artist monographs, and a eat-in kitchen. I didn't expect the woman behind some of the most coveted jewelry in Hollywood to show up for a photo shoot without an ounce of make-up, or even a single piece of jewelry on her body. Irene has managed to successfully remove all the pretension and formality from the high-end jewelry experience; you can imagine oggling the colorful gems on view with empty pockets and without feeling like a total chump. Even Irene's salad was the right kind of cool – perfect for a large group, casual and no-fuss, but made with the highest quality ingredients. If I dared to propose that one's salad is an apt reflection of one's ethos, this would be a case in point.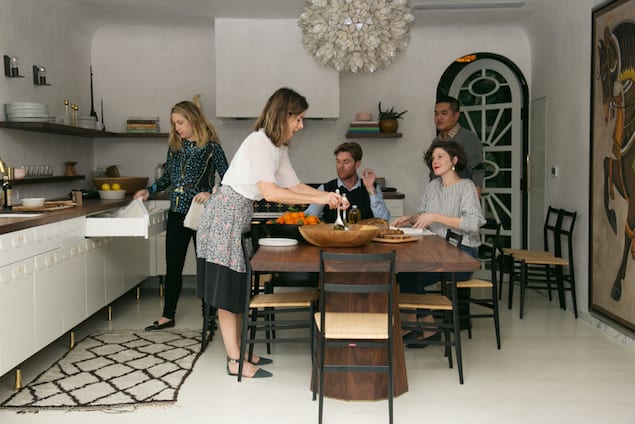 Chopped Romaine Salad with Pepperoncini, Cherry Tomatoes, and Sopressata
A fresh romaine salad with an intense blue cheese is anything but boring. Enjoy with colorful jewels of tomatoes, sopressata, and pepperoncini.
Ingredients
1 HEAD ROMAINE LETTUCE HEARTS
1 CUP HEIRLOOM CHERRY TOMATOES
1 SMALL ENGLISH CUCUMBER
½ CUP WHOLE PEPPERONCINI
¼ LB THINLY SLICED SOPPRESSATA
¼ CUP CRUMBLY BLUE CHEESE
Dressing
BALSAMIC VINEGAR, to taste on each plate rather than in the bowl
EXTRA VIRGIN OLIVE OIL, to taste on each plate rather than in the bowl
MALDON SALT, to taste on each plate rather than in the bowl
CRACKED BLACK PEPPER, to taste on each plate rather than in the bowl
Instructions
Chop romaine into ½? thick strips, add to a large bowl.
Half cherry tomatoes, slice soppressata and pepperoncini into ¼? strips. Cut cucumber into quarters lengthwise and chop into ½? pieces.
Toss all ingredients together in the bowl with sea salt and black pepper, top with blue cheese and serve with oil and vinegar on the side.
Julia Sherman
I am an artist and a photographer, but when I am not making art in my studio, I am growing my own vegetables, eating salad, and feeding salad to my creative friends. I find people whose work I admire, I cook with them, share a meal, and take their photo. Like me, all of these influencers in their respective fields use their kitchen as a creative sanctuary, a place where they can "make something" that is easily shared with others.