Served with a glass of milk or a strong cup of coffee, these rich chocolate mocha madeleines are delightful and will make you feel quite French after one nibble.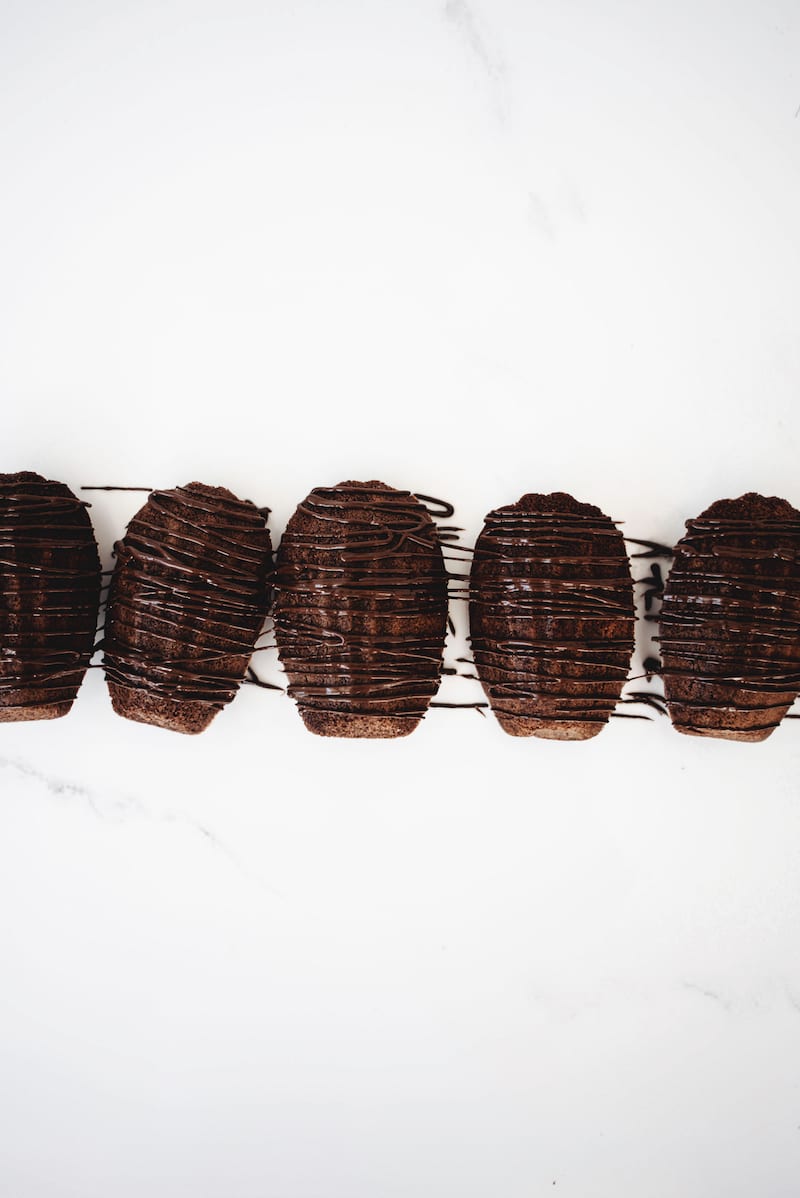 I've started learning french again. It's a language that I more often than not resolve to become fluent in. As is the case with most matters in my life, I become deeply and utterly consumed.
I become engulfed in the process of learning. Of language. Of skill. I try to learn every grammatical nuance, every idiom, and every tense possible. And usually within a concentrated period of time. Slightly impatient, maybe. Passionate, perpetually. Driven to succeed, definitely. Perhaps that's why my interest does soon fade – becoming all-consumed by a future ideal can be tiring.
At the present moment, I can differentiate between my mange and bois, my froid and chaude, my chats and chiennes. I can also tell you how many croissants I want to order, which is probably the most important french nuance of them all.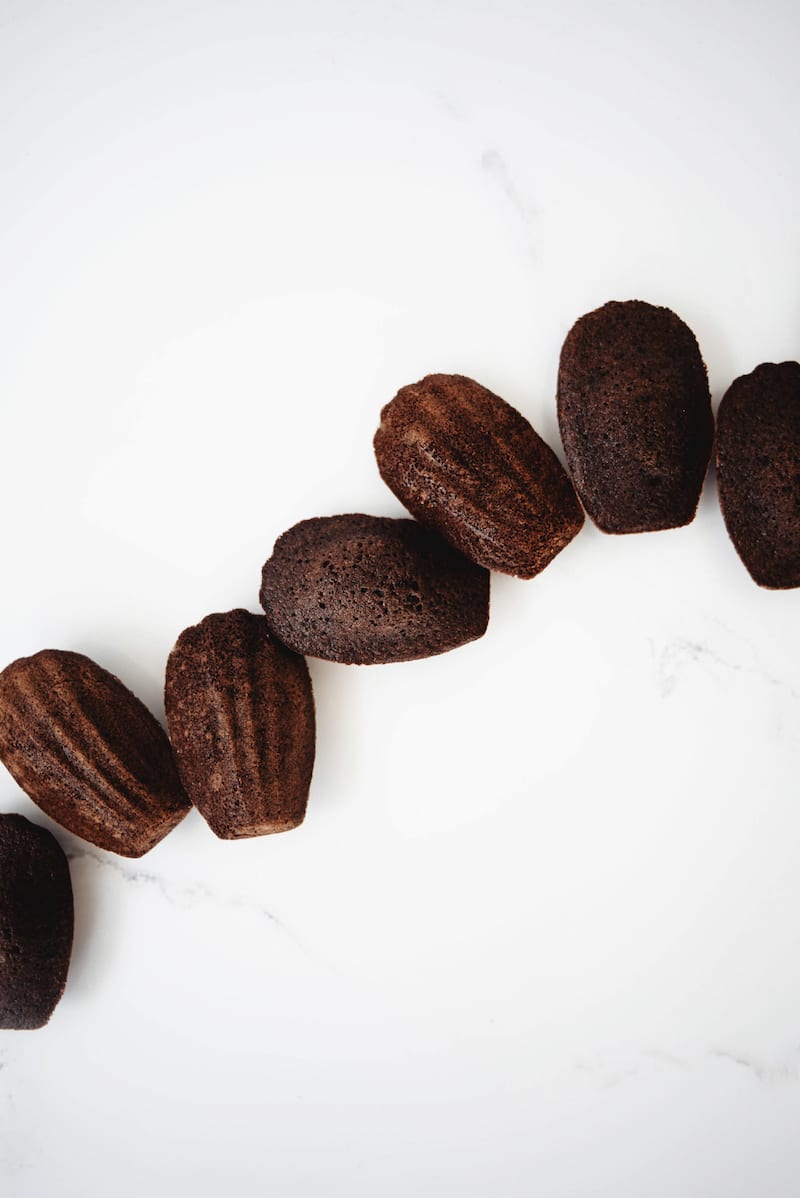 I made these Mocha Madeleines last week, when I was feeling more French than usual. I toyed with the recipe a few times before I was content, and having made two batches since – I can say that each time, the madeleines have come out a flavour-filled success.
These chocolate mocha madeleines are delicious, moorish. They are deeply flavoured with dark chocolate and spiked with a slightly bitter but rich espresso taste. The madeleines are also drizzled in an espresso chocolate sauce, which unites and compliments all the flavours in the little cakes completely. Served with a tall glass of cold milk or dunked in a strong-but-milky cup of coffee, perfect.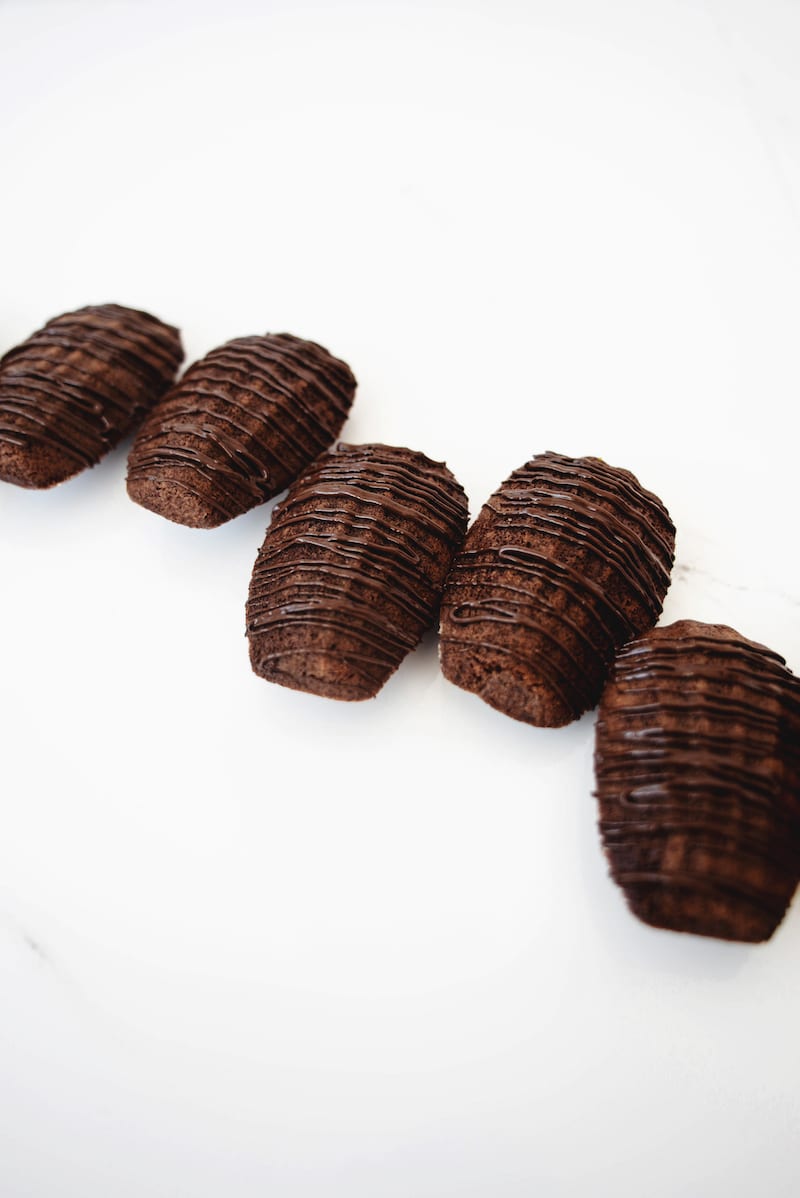 For more elegant pastry recipes, click here.

Chocolate Mocha Madeleines
Served with a glass of milk or a strong cup of coffee, these rich chocolate mocha madeleines are delightful and will make you feel quite French after one nibble. Adapted from Baking Chez Moi by Dorie Greenspan
Recipe Type:
Dessert, Baking
Ingredients
90 grams / 3.2 ounces plain flour
3 tablespoons dutch processed cocoa powder
1 teaspoon baking powder
½ teaspoon fleur de sel or a pinch of fine sea salt
67 grams / 2.4 ounces caster sugar
2 large eggs, at room temperature
1 teaspoon vanilla bean extract
113 grams / 4 ounces unsalted butter, melted
2 tablespoons espresso powder brewed in 3 tablespoons of hot water, cooled to room temperature
2 tablespoons plain milk
180 grams / 6.3 ounces 70% dark chocolate, melted
Instructions
In a small bowl, whisk together the flour, cocoa powder, baking powder and salt. Set aside.
Place the sugar in a large bowl, and whisk together with the eggs until the mixture is thick and pale, alternatively you could also use a mixer fitted with the whisk attachment. When the mixture leaves a trail, whisk in the vanilla.
Using a spatula, fold the dry ingredients into the sugar bowl to incorporate well then finally fold in the melted butter, and when it's incorporated, brewed espresso and milk.
Cover the batter bowl and chill for at least 1 hour or up to 2 days.
Butter the molds of a 12-shell madeleine pan (alternatively you could use a small muffin or friand pan), dust with flour and tap out the excess. Freeze the molds for 15 minutes.
Once the molds are cold, spoon the batter evenly between the molds, filling them no more than ⅔rds full, and freeze for a further 15 minutes - or refrigerate for an hour.
When you are ready to bake, pre-heat the oven to 200 Celsius / 400 Fahrenheit.
Bake the madeleines for 11 to 13 minutes, or until the cakes spring back when lightly touched and big bumps have formed on their tops.
Remove from the oven and immediately release the madeleines from the molds using your fingers, a skewer or a sharp knife.
Transfer to a cooling rack and allow to cool to room temperature before drizzling over the melted dark chocolate. At this point, you can serve the madeleines immediately once the drizzled chocolate is still warm, or you can wait a few hours for it to harden.