Layered with a malted chocolate pudding and ganache, this towering pavlova is sure to impress any sweet tooth.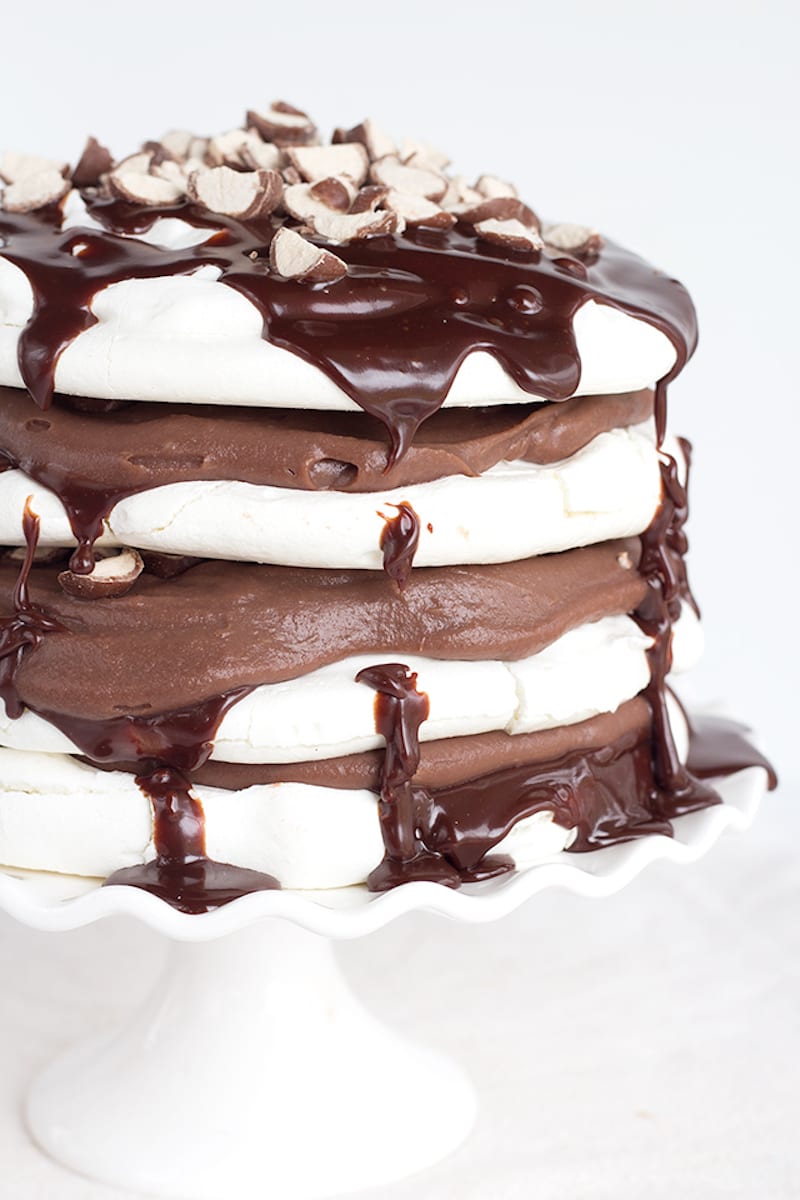 After I made my chocolate blood orange tart, I had quite a few egg whites to use up. I wanted to make this chocolate malted milk pavlova and use them up. I'm a sucker for malted milk and get anxious to start using it in all sorts of recipes as Easter approaches.
One thing that I've learned after making this chocolate malted milk pavlova is that it is pretty up until you cut into it. There's absolutely no way that I could make the slice I cut out pretty. It did get slightly soft from the fillings and held together but the fillings squeezed out some. I'll let you in on a secret. I don't mind messy though. In fact, I love a messy food!
See Also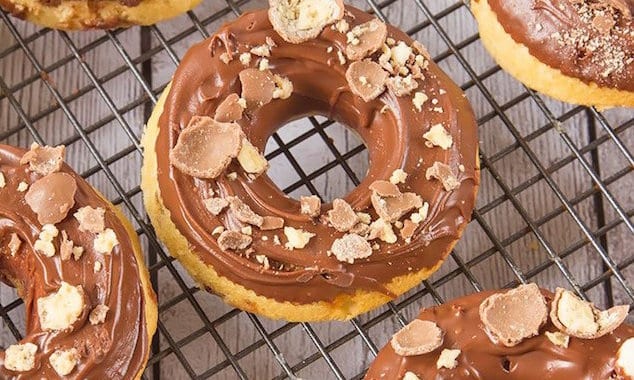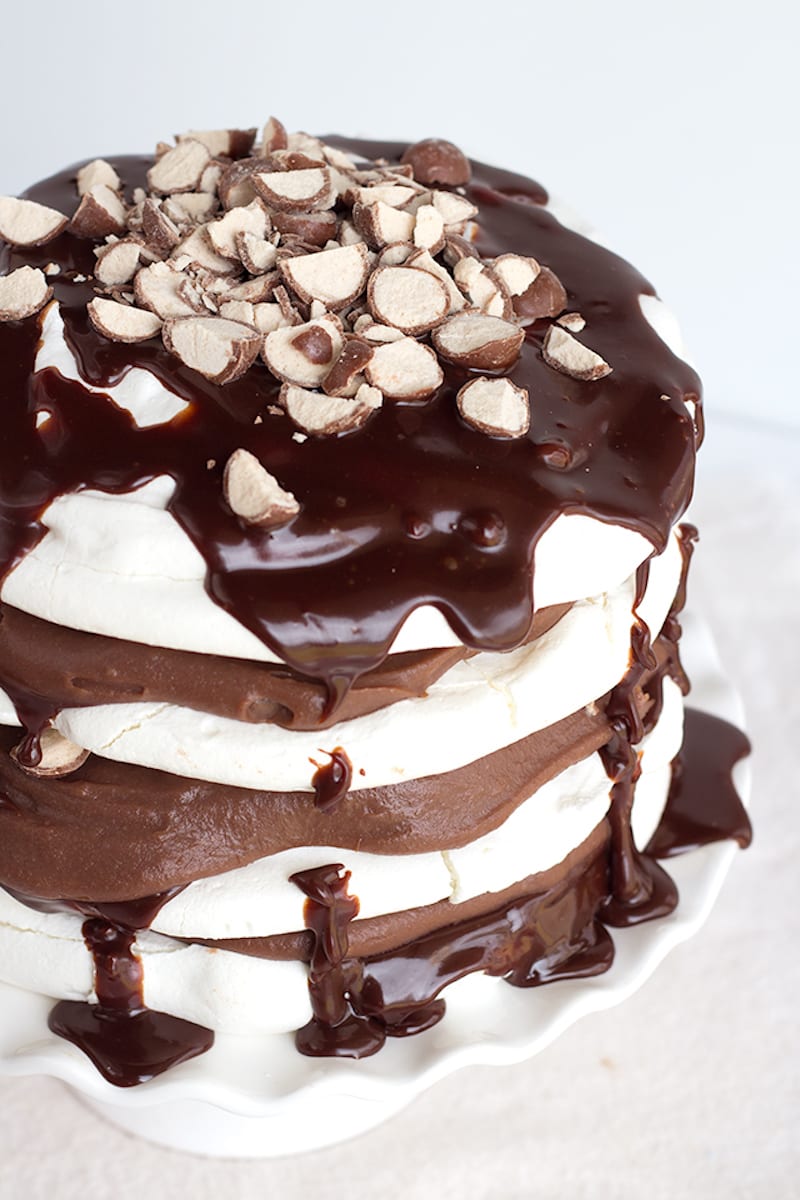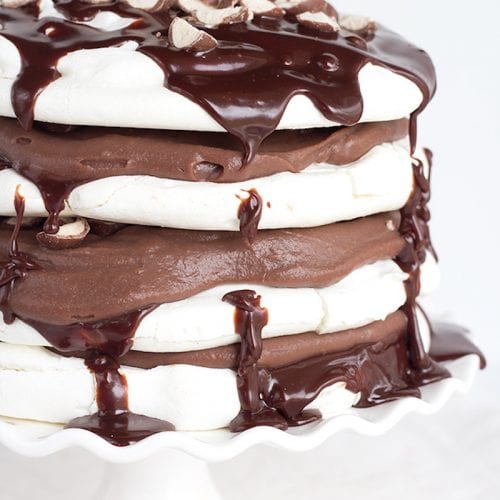 Chocolate Malt Pavlova
Miranda Couse
Layered with a malted chocolate ganache, this towering pavlova is sure to impress any sweet tooth.
Course
Chocolate, Dessert
Ingredients
Meringues
6

egg whites

¼

tsp.

cream of tartar

1

+ ½ cups granulated sugar

2

tsp.

vanilla
Pudding
1

cup

heavy cream

1

cup

milk

6

egg yolks

½

cup

granulated sugar

¼

cup

cornstarch

½

cup

chocolate malt powder

¼

tsp.

salt

1

tsp.

vanilla extract

2

T.

cold butter

2

tsp.

vanilla extract
Ganache
¾

cup

milk chocolate chips

¼

cup

heavy cream

5

oz.

malted milk balls

chopped
Instructions
Preheat oven to 175 degrees. Line a baking sheet with parchment paper.

Grab a six inch round pan and outline four circles on the parchment paper. Flip the parchment paper over so the ink or lead won't be touching our meringues.

In a mixing bowl, add in the egg whites. Beat on medium/high until the egg whites become glossy. This will be after the foamy stage.

Add in the cream of tartar and continue beating until soft peaks begin to form.

Add in the vanilla extract and granulated sugar a little at a time as you continue to beat until stiff peaks form. Pull the whisk attachment away and stiff peaks will form on the whisk and in the mixing bowl.

Place meringue in the large disposable piping bag and cut hole in the tip. A hole the size of a coupler would be perfect.

Pipe the meringue starting from the edge of the circles that we drew on the parchment paper and work your way to the inside. Smooth the meringue with a cake spatula.

Place in the oven and let bake low and slow for two hours. The ouside will be hard. Set aside and let cool. You can even make this a day ahead of time.
Pudding
In a large saucepan, add in the heavy cream and milk. Place over medium heat and let it heat up to almost boiling. There will be puffs of steam and small bubbles on the edges of the saucepan.

Meanwhile, add yolks to a small bowl. Set aside.

In separate bowl, add in sugar, cornstarch, chocolate malt powder and salt. Whisk to combine.

Combine the dry ingredients into the egg yolks and stir to combine.

Add about 1 cup of the hot milk into the egg mixture and start whisking immediately.

Once the milk and egg mixture are combined and completely incorporated, add the mixture back into the saucepan.

Place the heat over medium/high. Mine was closer to medium. Whisk often until it begins to thicken.

Once it starts bubbling and becoming thick, whisk constantly to avoid burning. It took mine 30 minutes to thicken completely. It will be quicker if you have the heat higher. The filling will still be pourable.

Remove from the heat and add in the vanilla and cold butter. Whisk until the butter is incorporated.

Pour the mixture into a bowl and cover with plastic wrap. Press the plastic wrap down onto the surface of the pudding. Place in the fridge overnight to cool and set up.

Just before assembling the pavlova, put the ganache together.
Ganache
In a microwave-safe bowl, add in the milk chocolate chips and heavy cream. Place into the microwave for 45 seconds and stir.

Repeat one to two more times until the ganache is a thick, chocolate syrup. It will take some mixing to get the cream and chocolate to come together.
Assemble
On a cake plate, add a small dab of ganache.

Place a meringue on top of the ganache.

Add a layer of ganache and spread it to the edges of the meringue.

Add a layer of pudding and then a layer of chopped milks.

Repeat the layers for the next two meringues.

On the top of the last meringue, add ganache and a handful of malted milk balls.

Cut and serve! Store in the fridge and it's best to eat within the first and second day of making the pavlova!
Miranda Couse
I'm Miranda. I'm a self-taught baker, recipe developer, writer, and photographer behind the blog http://cookiedoughandovenmitt.com. When I'm not satisfying sweet teeth, I can be found spending time with my family, reading cookbooks, attempting crafts and crocheting.