These chocolate-loaded Mississippi Mud Brownies have a brownie base that is topped with peanut butter, marshmallows, pecans, and a light chocolate frosting. Just like the pie!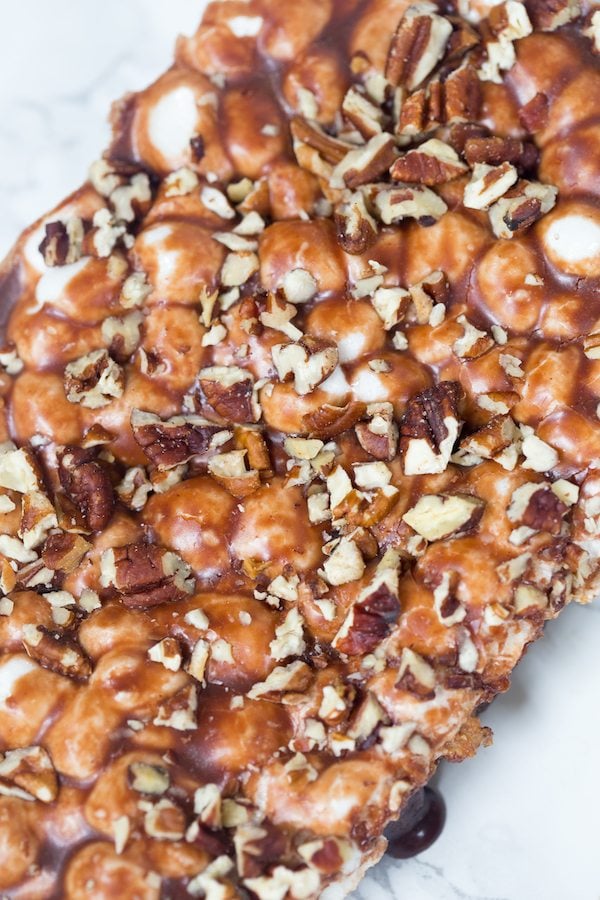 As my most frequent dining buddy, Marc got nominated as my official taste tester. It doesn't sound like a rough job, but for a guy who thinks food is "good" or "okay," sometimes it's hard getting a lot of feedback from him. Our typical conversation after eating the first couple bites of something I made usually goes something like:
Me: "So, what do you think?"
Marc: "It's good"
Me: "No, what do you really think? Does it have enough flavor? It is too dry? Is it blog worthy?"
Marc: "It's the best meal ever."
This response doesn't literally mean that it's the best meal ever. No, that's just his cop out and usually his hint that he doesn't really feel like digging in his brain for any more adjectives. I usually just give up there and move the conversation to something else.
So when he tried these Mississippi Mud Brownies and said "These are the best brownies I have ever had" I thought he was just being a smart ass. It turns out, he was being serious and they really are the best brownies he's ever had. After eating way too many of these myself, I'm gonna have to agree with the guy. There are just so many layers of deliciousness going on!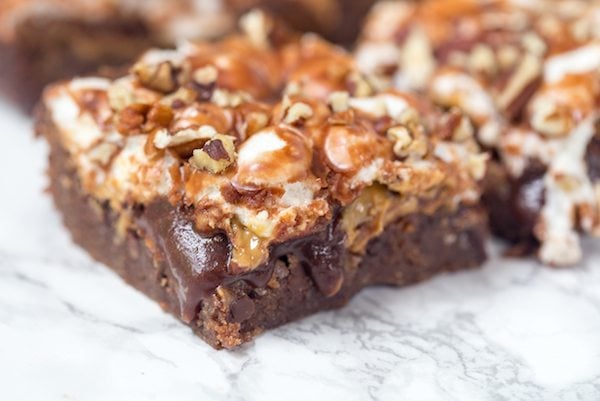 The bottom layer is a dense and fudgy brownie which is topped with crunchy peanut butter, marshmallows, and pecans. Then to top it all off there is a thin chocolate frosting that seeps into all of the little crevices between the marshmallows and pecans. If that isn't the best brownie ever, I don't know what is.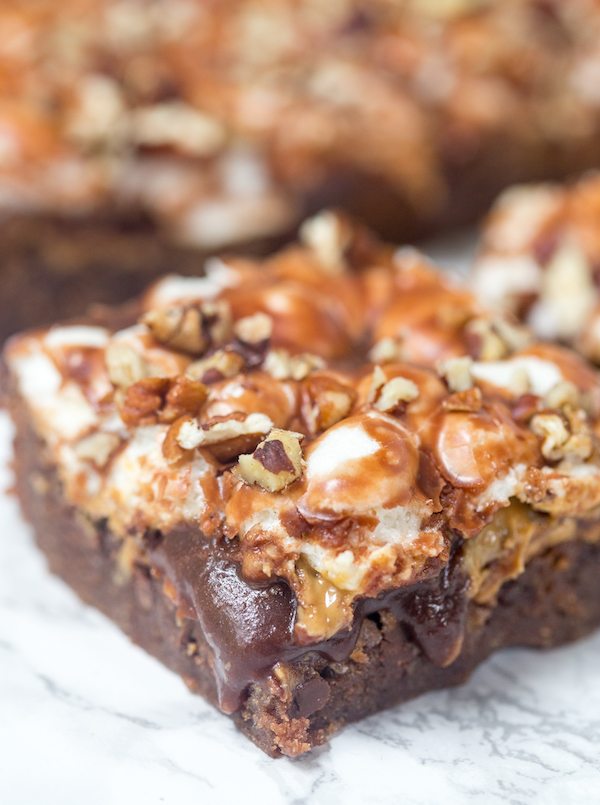 Click here for the frosting recipe.
Chocolate-Loaded Mississippi Mud Brownies
These chocolate-loaded Mississippi Mud Brownies have a brownie base that is topped with peanut butter, marshmallows, pecans, and a light chocolate frosting. Just like the pie!
Recipe Type:
Baking, Dessert
Ingredients
For the brownie layer:
½ cup (1 stick) unsalted butter, at room temperature
1 cup white sugar
¾ tsp pure vanilla extract
2 eggs
¾ cup all-purpose flour
2 tbsp unsweetened cocoa powder
½ tsp salt
¾ cup semi-sweet chocolate chips
For the peanut butter layer:
½ cup crunchy peanut butter
1½ tsp canola oil
For the marshmallow layer:
2 cups mini marshmallows
For the topping:
½ cup chopped and toasted pecans
For the frosting:
Click the link above for the frosting recipe.
Instructions
Preheat oven to 350 degrees F. Line 8x8" square baking pan with parchment paper or foil. If using foil, spray it with cooking spray.
In medium bowl, combine flour, cocoa powder, and salt. Set aside.
In large mixing bowl, beat together butter, sugar, and vanilla until creamy.
Add the eggs one at a time.
Stir dry ingredients into batter.
Pour batter into prepared pan and spread evenly.
Sprinkle with chocolate chips. Bake in preheated oven for 22-25 minutes.
When brownie layer is done baking, combine peanut butter and oil in a microwave safe bowl or measuring cup and microwave on high for 20 seconds to soften.
Pour this warm mixture over hot brownie.
Sprinkle the peanut butter covered brownies with marshmallows.
Return to oven to bake for 3 more minutes, or until the marshmallows puff.
Sprinkle puffed marshmallows with toasted pecans.
Make the frosting:
To make frosting, in small saucepan, melt butter over medium heat. When butter is melted, add the cocoa powder and ¼ cup of the milk and heat until the mixture begins to boil.
Remove from the heat and combine with confectioners sugar and salt in a separate bowl and beat on high speed with an electric mixer until smooth and glossy.
If frosting is not pourable at this point, add remaining 2 tbsp of milk (I didn't have to do this).
Lastly, beat in vanilla, then pour evenly over puffed marshmallows.
Let cool completely in refrigerator for 1-2 hours.
Cut into squares and enjoy!
Notes
Adapted from Cookie Madness