This is an intensely chocolate, fudgey cake for celebrating birthdays or milestones or a truly ravenous sweet tooth.
By Sowmya Dinavahi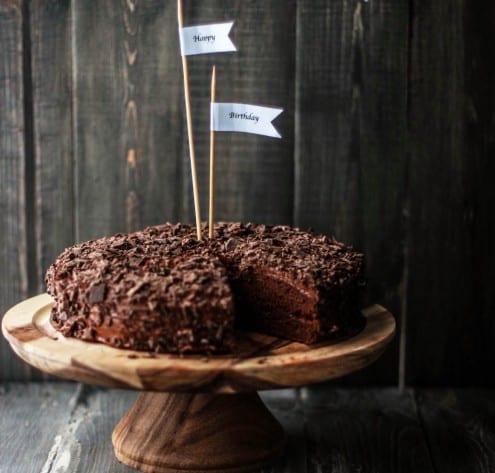 Chocolate Cake with Chocolate-Coffee Buttercream
This is an intensely chocolate, fudgey cake for celebrating birthdays or milestones or a truly ravenous sweet tooth.
Ingredients
6 Large free-range eggs
1 Cup Superfine sugar
1⅓ Cups Chopped Good-quality Dark Chocolate (60-70% cocoa solids)
½ Cup All purpose flour,sifted
5 Tbsp cocoa powder,sifted
7 oz Good quality Dark Chocolate (60-70% cocoa solids), Chilled
Chocolate Coffee Buttercream
21/2 Sticks butter,softened
1 Cup confectioner's sugar,sifted
11/4 cups chopped Good Quality Dark Chocolate (60-70% cocoa solids)
1 tsp natural vanilla extract
1 tbsp pre-mixed strong instant coffee
Instructions
Preheat the oven to 400 F and grease the base and sides of two 8-inch round springform cake pans.
Using an electric mixer, whisk the eggs for 5 minutes on medium speed until pale and frothy. Add the superfine sugar and continue to whisk until thick and pale.Meanwhile, bring a small saucepan of water to a gentle simmer and melt the chocolate in a small bowl that fits over the pan without touching the water,stirring occasionally.
Using a large metal spoon, gently fold the flour and cocoa powder into the whisked eggs and sugar mixture, followed by the melted chocolate, and combine well.Pour into the prepared baked pans and bake for about 20 minutes or until a skewer inserted into centre comes out clean. Remove the cakes and allow it cool a little before removing from pans and transfer them to wire racks to cool completely.
To Make Buttercream
Beat the butter and confectioner's sugar in a bowl until smooth and creamy. Meanwhile, bring a small saucepan full of water to a gentle simmer and melt the chocolate in a small heatproof bowl that fits snugly over the pan without touching the water, stirring occasionally. Remove from the heat and add the vanilla extract and coffee to the melted chocolate and combine ; it will start to become lumpy but don't get tensed. Add this to butter and sugar mixture,beating gently until glossy and smooth
Trim off the rounded tops of cakes to form flat surfaces for the buttercream.Use a spatula to spread a dollop of buttercream on top of the first cake and spread it out towards the edges.Place the second cake on top, then frost the top and sides of the cake. Using a sharp knife, carefully scrape the shavings from chilled chocolate and scatter all over the cake .
Sowmya Dinavahi
Sowmya shares her culinary journey and passion for cooking and photography on her blog named 'Messy Kitchen Stories'. Her cooking style is mostly authentic South Indian cuisine and a little bit of Baking.She likes to cook anything and everything vegetarian. Mostly She tries to recreate the magic that her mom creates in her traditional South Indian dishes. Apart from that, If she loves something that she had outside, she cannot rest until she make it exactly the way she had it. She is a native from India but currently residing in Lincoln, NE with her husband.