These simple, eye-catching cakes are a true crowd pleaser with their chocolate banana combination and crunchy meringue base.
By Tamara Novakoviç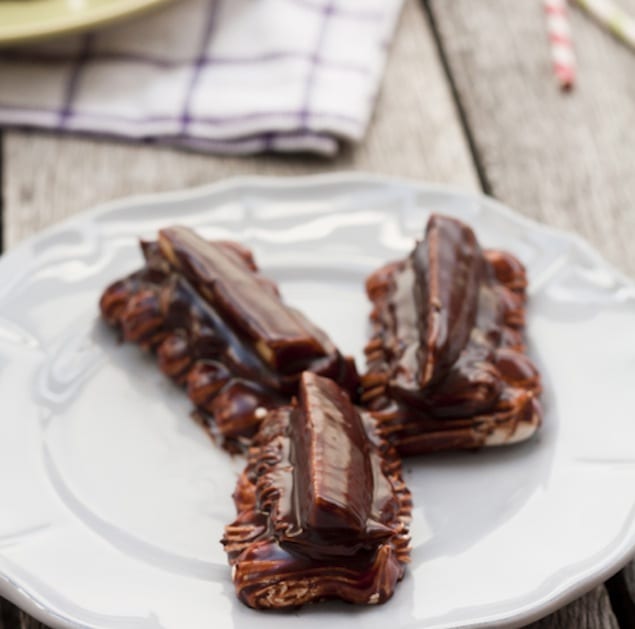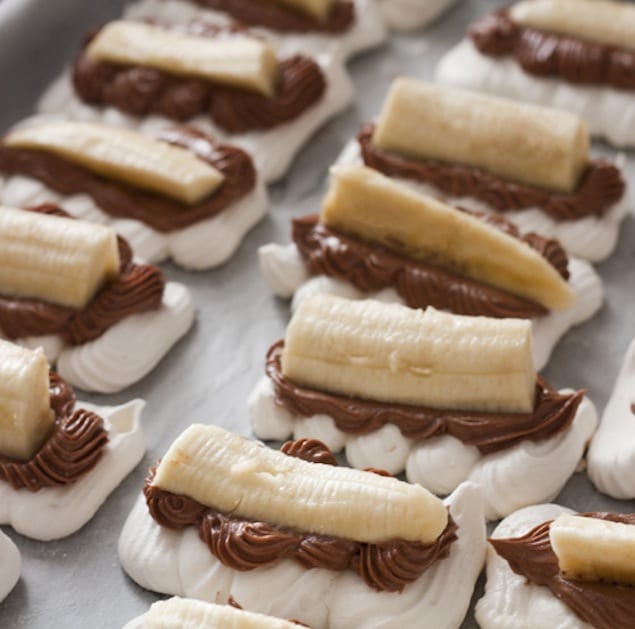 This is my mom's recipe and was probably our favorite thing to eat when we were growing up. These cakes are simple to make, they look cute and you can never go wrong with chocolate – banana combination.

Chocolate banana meringue cakes
Lovely cakes with crisp and sweet meringue base and creamy chocolate - banana filling!
Ingredients
For the meringue base
5 egg whites
pinch of salt
8.8 oz (250 g) sugar
For the filling
7 oz (200 g) butter
7 oz (200 g) powdered sugar
1 tbsp dark rum
7 oz (200 g) dark chocolate
bananas
For the glaze
7 oz (200 g) dark chocolate
4 tbsp vegetable or sunflower oil
Instructions
You can bake meringues a few days in advance. Mix egg whites with a pinch of salt until stiff peaks form. Gradually mix in sugar and keep mixing until it dissolves completely and you end up with smooth and shiny meringue. Transfer it into a piping bag with round or star tip and pipe out onto a baking tray lined with parchment paper. preheat oven to 248F (120C) and dry meringues for about 4 hours.
For the filling, cream softened butter with powdered sugar. Add rum. Melt chocolate over double boiler and let cool to room temperature. Stir into the butter mixture and mix until it all comes together. Transfer into a piping bag with round or star tip and pipe out onto dried and cooled meringues. Cut bananas into quarters length-wise and sprinkle with lemon juice. Place each piece of a banana onto a piped filling (press it in gently).
For the glaze, melt chocolate with oil. Let cool for 10 minutes and pour over the cakes. Let them cool completely and serve.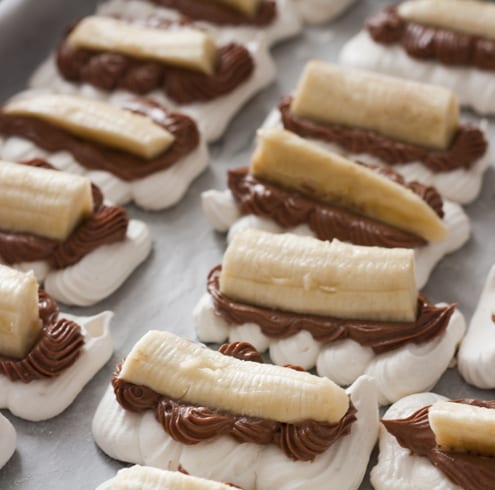 See Also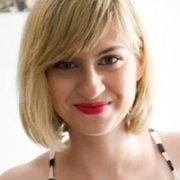 Tamara Novakoviç
Tamara Novakovic is a passionate self-taught cook, food blogger, freelance food writer and photographer behind bite-my-cake.blogspot.com. Her life journey has led her through Faculty of Humanities in Zagreb, Croatia to discovering passion for making cakes. She is currently a weekly food columnist for Croatian newspaper V magazine and food magazine Repete.