Quick and simple, this Chinese veg fried rice recipe is perfect after a long tiring day at work.
By Anita Mokashi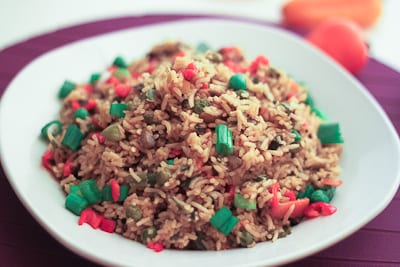 This has been one of the easiest dinner recipes I have posted. After a long tiring day at work when you don't feel like making a whole meal consisting of chapati, vegetable, rice and dal, this recipe is a savior.
Ingredients
2 cups cooked rice
2 tsp oil
6 pods of garlic finely chopped
1 tsp of MSG
5 spring onions chopped
3 mushrooms chopped
1 carrot chopped
⅓ cup green peas
1 cup bell peppers-green and red chopped
2 tbsp dark soy sauce
2 tbsp schezwan sauce
salt as per taste
Instructions
Heat oil in a wok.
Once hot add chopped garlic.
Let the garlic be browned. Then add MSG.
Now add all the chopped vegetables. Let them cook for 15 minutes.
Add the dark soy and schezwan sauce.
Finally add rice and salt. Mix everything well.
Make sure that everything is cooked on high heat.