Cinnamon flavoured chocolate tartlets decorated with rim of mixed nuts and filled with cherries spiced with paprika.
By Sukanya Ghosh
Once again I am here with another chocolate dessert, before you labeled me as a chocoholic, let me tell you, am not the one…, I can assure you that, but who can resist a chocolate. The sweet and bitter chocolate, yes that is my flavor, as soon as it melts in your mouth, you begin to feel happy … almost instantly. The rich flavonoids and anitoxidants work their way up to your mind and heart, and bring smile on your face and that happens every time whenever you pop a small bit of chocolate into your mouth.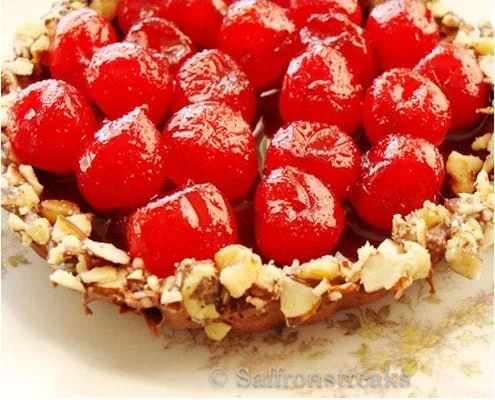 After relishing chocolate hazelnut pots and chocolate coconut slices, it is time to have some complex flavor in our beloved chocolate. Please welcome chili and cinnamon, they both goes together very well in any spicy dishes, but what about the desserts. Have you tried before chili in a dessert ? How was it ? Did you like it or it was too strong for you? Let us know about your experiences, we would love to hear about it.
See Also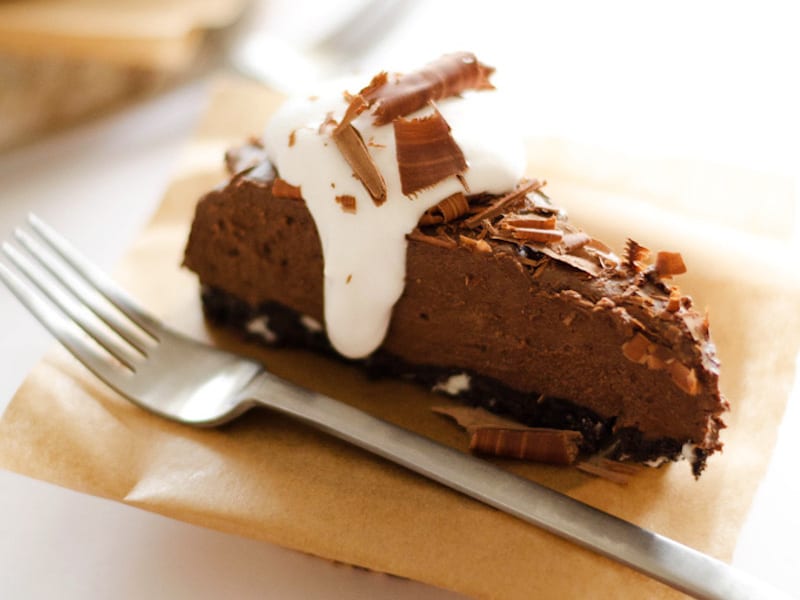 So here we go with our chili and cinnamon spiced chocolate tart shells topped with chili spiced cherries. Now, cherries has that typical sourness in them, not too tart like citrus but that sourness can be a very good match with some hot and pungent paprika powder. Not only that it adds some color, but also spiced up the cherries and for some extra zing add some of it in chocolate too. You will be surprised !!!
Chili Spiced Chocolate Cherry Tartlets
Cinnamon flavoured chocolate tartlets decorated with rim of mixed nuts and filled with cherries spiced with paprika
Ingredients
All purpose flour : 1¼ cup
Unsweetened cocoa : 3tbsp
Butter : ⅔ cup
Sugar (superfine) : 3 tbsp
Water : 2-3 tbsp
Dark chocolate : 1 ounce
Chopped mixed nuts (toasted) : ½ cup
Cherries : 3 ounce
Cinnamon powder : 1tsp
Paprika : 1 tsp
Fruit juice : 3 tbsp
Instructions
Sift together the flour and unsweetened cocoa into a mixing bowl.
Add cinnamon powder and sprinkle some paprika over it.
Cut the chilled butter into small pieces and rub into the flour with your fingertips until the mixture resembles fine breadcrumbs.
Stir the sugar. Add just enough water to mix to a soft dough.
Cover in a plastic wrap and chill the dough in the refrigerator for about 15 minutes.
Roll out the dough on a lightly floured surface and line six four inch tartlet pans.
Prick the dough with a fork and line the pie shells with pie weight or beans or rice.
Bake in a preheated oven at 375 F for 10 minutes.
Remove the pie weight and bake further for 10 minutes until the tart shells are crispy.
Place the tartlets on a wire rack to cool completely.
Melt the dark chocolate in a double boiler.
Spread out the chopped nuts on a plate.
Remove the tart shells from the pans.
Spread the melted chocolate on the tart rims and then dip them in the chopped mixed nuts. Let them set for few minutes.
In a separate pan, add the cherries with the juices, add some grape juice if you like and make a reduction. Add the paprika powder and sprinkle some cinnamon over it.
You can add some honey if you wish to. Let it simmer for few minutes till it thickens.
Arrange the prepared cherries in the tartlet shells.
Serve the chocolate cherry tartlets chilled.
Notes
You can use any fresh fruits of your choice to fill the tart shells. If desired, you can fill the tart shells with little sweetened cream before topping with the fruit.
Sukanya Ghosh
Sukanya writes the blog Saffronstreaks, a food and travel blog where she experiments in the kitchen spiced up with interesting food stories and gourmet travelogues. She loves to cook with fresh produce, enjoy both spicy and sweet and her many dining out experiences become cherished memories. Sukanya is from India but now lives in North Carolina, USA.